NBA Draft Stock Watch: Dekker, Young, Craft, Ross
Taking a look at Florida's Patric Young, Wisconsin's Sam Dekker, and Ohio State's Aaron Craft and LaQuinton Ross.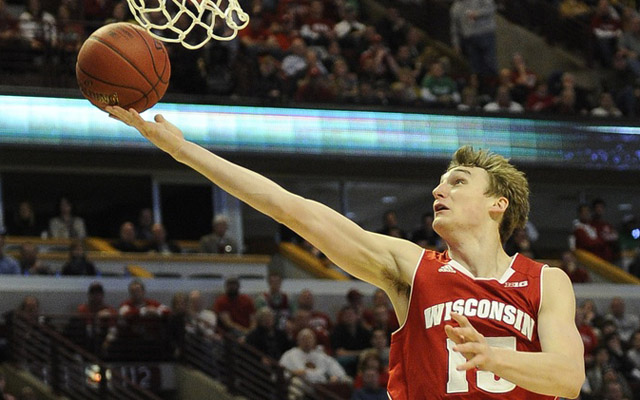 Throughout the college basketball season, we'll take a look at the various NBA draft prospects and how their stock is trending. We take a look at Wisconsin wing Sam Dekker as the Badgers take on Green Bay, Aaron Craft and LaQuinton Ross as the Buckeyes face Marquette, and Florida center Patric Young as the Gators face Arkansas-Little Rock Saturday.
Zach Harper Mock Draft | Gary Parrish Mock Draft |  Doug Gottlieb breaks down Aaron Gordon | Moore Mock Draft with projected draft order
Sam Dekker, SF, Wisconsin
Yet another in a long line of prototypical wings in this draft, particularly at the end of the first round. Dekker at 6-7 has good length when attacking the basket and the ability to rise above defenders closing out. He has smart awareness of spacing and can pump-fake and drive when defenders commit to him.
He's a shooter, no question about that. The sophomore can shoot from range and should be an easy plug-in at the NBA level once he gets his strength and defense up to speed. He shot 39 percent from three last year and his numbers shouldn't fluctuate much once he reaches the pro level. He's versatile and is probably big enough to be used in small-ball lineups as a stretch four.
Dekker has great understanding of how to work in a set, something that's hard to learn in college. He'll do well negotiating screens and knows how to manage space. He's not going to be any sort of passing playmaker, he's a tip-of-the-spear weapon.
He's a willing defender, but strength is going to be an issue for a while. The powerful hyper-athletes on the wing in the NBA are going to overpower him on drives. Whichever team drafts him needs to throw a consistent strength and conditioning regimen to him to give him more upper body strength while not compromising his shooting stroke.
Doesn't take many plays off from what I've seen and is mentally locked in, an underrated asset on the wing.
Overall, in a class loaded up on potential, Dekker's going to be a safe choice and someone teams can plug into their offense immediately and get decent results. If he lands in the right situation that's willing to develop the physical assets he needs to go with his skill set, he projects as a decent-to-good wing option, particularly for a team with a top flight drive-and-kick point guard.
Stock: Up
UPDATE: Dekker finished with 13 points and seven rebounds on 6-of-11 shooting in a squeake vs. Green Bay Saturday. 
LaQuinton Ross, SF, Ohio State
LaQuinton Ross out of Ohio State has some of the physical skills you want in a wing. He has a high release, good size at 6-7 and excellent length. He understands how to space the floor and can work as a catch-and-shoot player.
He's generally projected between the end of he first round and the middle of the second. His ceiling is likely as a top-end 3s-and-D player. He understands how to create shots while working off-ball, and can take advantage of defenders over-playing by going to the rim. The issue is that he struggles around the rim in finishing. He definitely projects as a specialist, spreading the floor, at least right now. He's still prone to not keeping focus in transition, as shown here.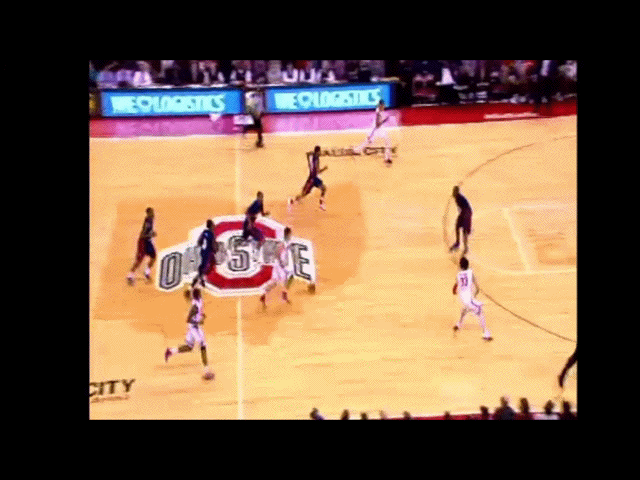 The problem with that formula is the "D." Ross often loses focus not only off-ball but in on-ball situations. He simply doesn't commit himself. He too often half-heartedly contests when the shot is right in front of him. He does respond on drives, though. Essentially, he has to be engaged at all times. A lot of young players develop their defense at the pro level, but you have to factor it when you consider his prospects.
If Ross can put his athleticism to good use, continue his shooting from last season and learn to finish a little better, he'll be a solid 3's and D prospect.
Stock: Waffling
UPDATE: Ross finished with no points on 0-6 shooting. He worked mostly in pick and pop sets with Aaron Craft, but his shot was not in good form, looking flat and not shooting with confidence. Defensively he had some issues as well, even as the Marquette Golden Eagles couldn't hit water if they fell out of a boat. Ross was caught helping too far down and not closing out strong several times. 
Aaron Craft, PG, Ohio State
Kid never stops working, and that's going to get him drafted. But Craft has great natural passing instincts and knows how to probe a defense and then victimize whatever help comes. He's going to struggle with what you'd expect in the size and strength categories, and he's unlikely to develop a shot consistent enough to warrant a starting spot. But there's the possibility he can be a reserve game manager point guard.
He'll struggle with guarding guards with elite speed but in an actual NBA pick and roll set, he could do very well. If the Kings draft him, I'm going to set something on fire. He's like Isaiah Thomas crossed with Greivis Vasquez.
There's no reason Craft can't be a reserve point in the league, and his toughness is probably going to make a GM fall in love with him during workouts.
Stock: Up
UPDATE: Aaron Craft had seven assists Saturday vs. Marquette and continued to show that he can run the pick and roll set masterfully. He also negotiated some screens surprisingly well. Overall his defense was what you'd expect, but pretty good overall. 
Patric Young, PF/C, Florida
Great example of how messed up the draft process is. Young comes out two years ago as a freshman, and he's a project 7-footer with great athleticism drafted as a prospect. Instead, Young stuck around to try and improve himself, didn't, and now finds himself buried in the second round.
Here's the weird thing, he actually has some scoring ability. Young shot 55 percent in the post last season according to Synergy Sports. He's got a nice little turnaround hook, and can make the spin move baseline if the defense commits to the middle.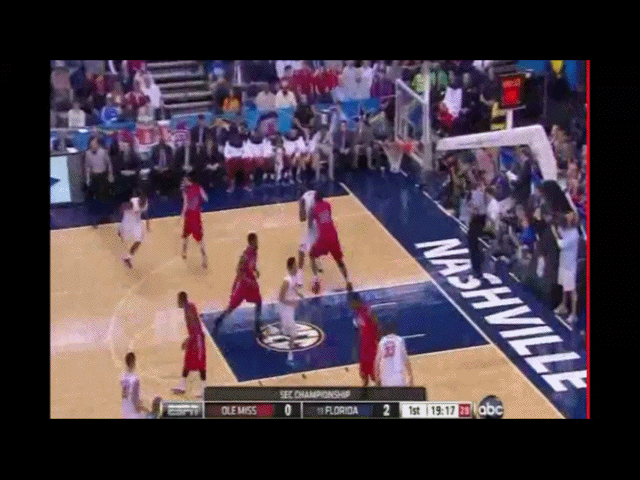 He's better against smaller defenders ... but name me a big man who isn't?
That said, it's not like I'm advocating the kid as a lottery pick. He struggles with passing out of double teams, and at 6-9, isn't going to find those size advantages often at the pro level. Rebounding is the real issue. He struggles to establish position consistently and doesn't have an outside shot.
There are real limitations here, but you can also do worse late in the first round if you're shopping for a big at the end of the first round in a wing-heavy draft.
Stock: Inexplicably down
Update: Young had 10 points and eight boards Saturday on 5-of-9 shooting in a win vs. Arkansas-Little Rock. 
Westbrook's late layup gave the Thunder a 109-108 victory

LeBron became the seventh player in league history to reach the milestone

There were a few things that stood out from Tuesday's All-Star selections
Here are three players from each conference who had legitimate claims to make the game

LeBron achieved the milestone in the first quarter Tuesday

Here are the full lineups for the 2018 NBA All-Star Game