NBA Draft Stock Watch: NCAA Tournament Thursday
Adreian Payne goes off, Aaron Craft goes out and Tyler Ennis does work in the second round of the NCAA tournament.
A look a the draft stock of some of the prospects who played Thursday, March 20th in the NCAA tournament. 
Aaron Craft, PG, Ohio State: Craft was pretty suspect to begin with; he lacks the athleticm and skillset to succeed at the next level. But GMs, particularly old-school ones, tend to shun anything that can be measured in the face of moxie and winning. If you can consistently win big games and make plays, that will trump anything tangible you do. Craft's struggles in the Big 10 tournament final, compounded by his five turnoves and late game foibles in an upset loss to Dayton likely damaged that rep.
It's not fair, and GM's both in favor and against his pro stocks would tell you differently, but we've seen too often guys built on Craft's reputation fall based entirely on anecdotal evidence like this. His absolute-stretch-this-thing-as-far-as-it-will-go ceiling was always a late first rounder, but he's going to have to absolutely kill in some workouts and interviews to get there. Draft stock: slight slip.
LaQuinton Ross, SF, Ohio State: Ross didn't find enough shots, and his role as a spot-up shooter is compromised if he's going to go 0-for-3 in the tournament. He struggled a lot this season, compared to expectations, and a finish like this isn't going to help it. Ross can still be an effective 3-and-D guy in the league, but if he wants to make first-round guaranteed money, he needs one more season. He could be a steal for someone second round because many of his struggles this season (along with Ohoio State's) were slightly random. But another year might put him firmly in the lottery, especially in a lesser class. Draft stock: Trending down.
Tyler Ennis, PG, Syracuse: even in a mismatch, there's a lot to love about Ennis' game, which is why the buzz is growing on him. A few of the assists he accounted for were generous, but he also showed acumen in the pick and roll, a huge asset for him coming into the league. His limited speed is actually a benefit to a degree, he shows patience in finding the right play within the set. Observe. Draft stock: Up, way up.
Some good examples of his vision: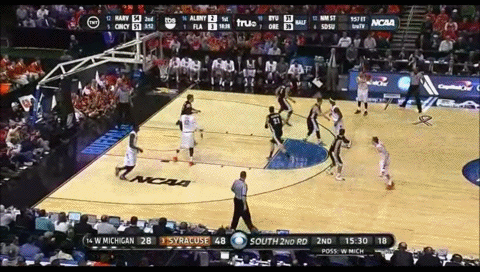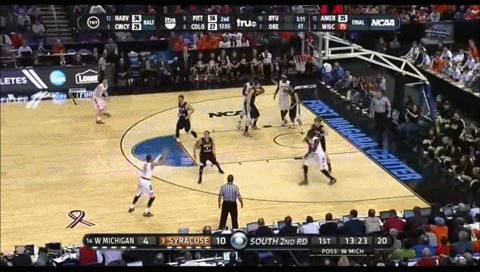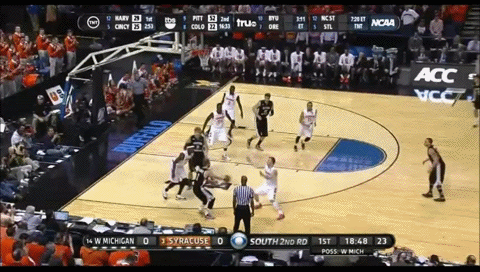 Jerami Grant, SF, Syracuse: Grant put on quite a show Thursday. He can finish off-ball and has crazy athleticism. Everyone knows that. He didn't display anything new against Western Michigan, but he showed really good parts of what he already has. He attacked the offensive glass and showed the ability to make shots off-balance on tip-ins. He also put on that wicked spin-move above for the dunk. Grant probably gained the most, just based on his quickness to the basket and explosiveness. Draft stock: steady.
Watch the spin move: 
C.J. Fair, F, Syracuse: Fair's another guy that seems essentially "what you see is what you get." He's not projected as a first rounder, but is long, athletic, and is going to have been apart of a lot of wins. He did show some nice things in terms of his shot yesterday, especially face-up, which a lot of power forwards coming into the league don't have. Draft stock: slight uptick.
Check out the face-up jumper.
Patric Young, C, Florida: Playing Alabany, he might as well have been going up against the workout "chair" defender on Thursday. Just not enough size to challenge him. But I remain high on him, because the guy's still built like a tank. Draft stock: Let's see if he can do it against anyone with size.
Try and ignore who he's boxing out here and just watch his form on this.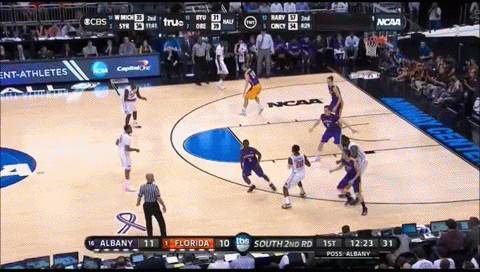 Adreian Payne, PF, Michigan State: Well... he scored 41 points including 10-of-15 from the field, 4-of-5 from three and 17-of-17 from the free throw line (!!!) so yeah, I'd say he had a pretty good day for his stock. He showed the whole array vs. Delaware. Power moves inside, long-range on the trailer three, and a turnaround jumpshot that looks way better than it did at the start of the season. Delaware may have been behind in talent but there was some size and Payne took them to town with skill, not brute force. An impressive display. I've got a fever and the only prescription is more Payne.
Watch. Just watch. (Click to enlarge.)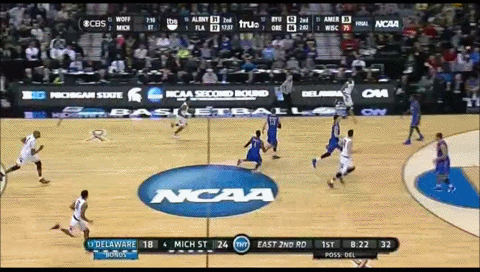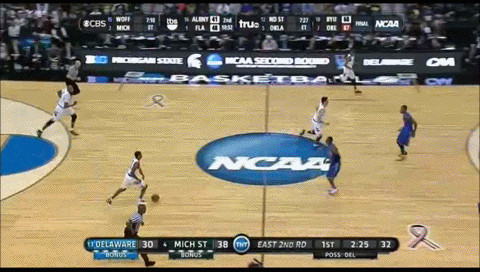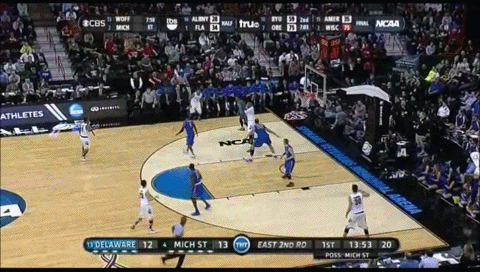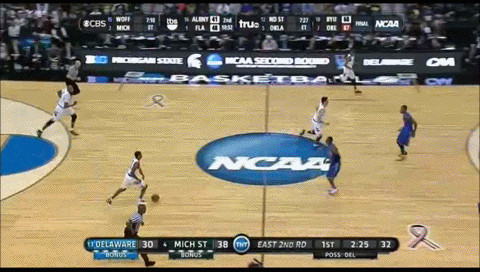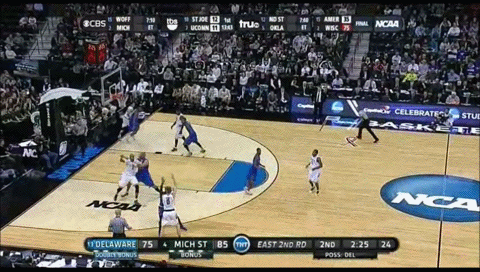 Keith Appling, PG, Michigan State: Payne scored 41 points. He didn't have to do much. Three of his five assists came to Payne, but he also managed the offense. I would have liked to have seen him deal with the trap a little cleaner, but he still made passes, and had good accuracy in traffic. Draft stock: Holding steady.
Here's a little of what he did in traffic: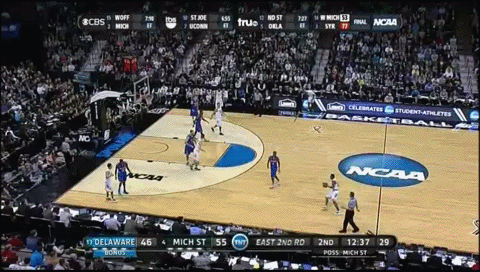 You'll see the awkwardness in the trap here, but he still gets the job done.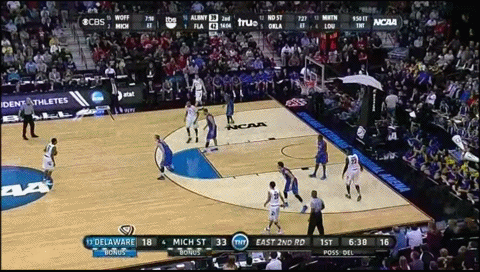 Shabazz Napier, PG, UConn: 24 points on 22 shots isn't exactly going to open a lot of eyes, but he got to the line and missed some looks he can make. He did show some pretty decent stuff in the pick and roll. Small note: Dear UConn opponents: if you're going to overload the strong side like St. Joe's did all day Thursday, Napier's going to slice you like deli meat. That's not advisable. I get he causes problems getting to the rim and if you don't have the talent, you don't have the talent, but that's going to be a problem if you give him easy passes consistently. Draft stock: Holding steady.
This wraparound was nice, though, an important pass at the pro level.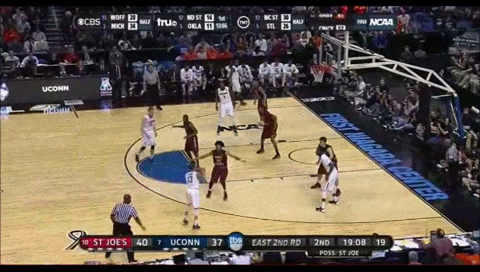 And a solid drive and kick.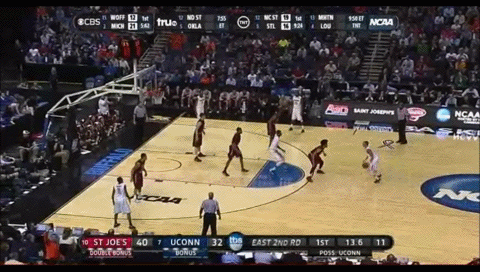 Glen Robinson III, F, Michigan: I mean, it's about what you'd expect. 14 on 6-of-14 shots, some offensive putbacks. Made a few plays. It wasn't a lights-out performance, many of the shots were contested jumpers but the effort was good. Stock: Holding steady.
Nik Stauskas, PG, Michigan: Ran the offense well enough. Scored OK on some good looks. One assist to three turnovers isn't great. Wasn't much of a playmaker vs. Wofford. Stauskas has had better games, but played well enough. Stock: Holding steady.
Coming soon: T.J. Warren, Jahii Carson Russ Smith, Montrezl Harrell
Jordan Bell had himself a night against Portland

The younger Ball brothers are heading to BC Prienai, but that could spell trouble

Not many games, but still plenty of action and intrigue Monday in the Association
SportsLine's advanced computer model simulated Tuesday night's Lakers-Knicks game 10,000 t...

The Reno Aces are concerned about the new WNBA franchise stealing their thunder

Hinkie parted ways with the 76ers in 2016 after drastically changing the direction of the...