NBA Finals: Chris Bosh's 3-point infatuation fails the Heat in Game 1
In Game 1 of the NBA Finals, the San Antonio Spurs received a little help from Miami Heat big man Chris Bosh's errant 3-point shots.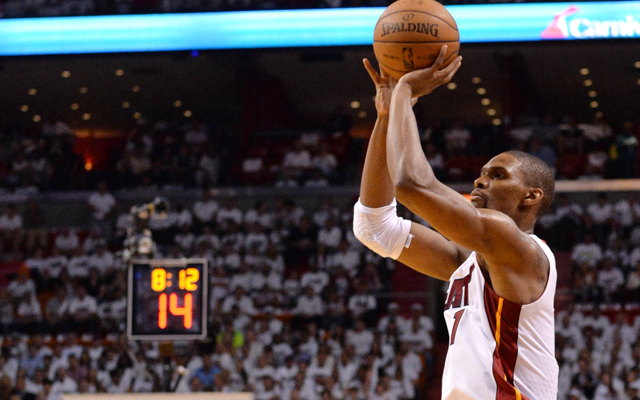 MIAMI -- We've been hearing during telecasts throughout the playoffs that Chris Bosh has added the 3-point shot to his repertoire this season. 
In 74 games during the regular season, Chris Bosh took 74 3-point shots. He took one per game. In 17 playoff games, he's taken 35 attempts, which is double the rate he took them during the regular season. There's a reason he's taking a lot more in the postseason. He's reversed his long-range shooting fortunes during the playoffs.
Even after an 0 for 4 night from beyond the arc in Game 1 of the NBA Finals against the San Antonio Spurs, the Miami Heat big man is still making 42.9 percent of his 3-point shots in the playoffs. It's a revelation of sorts for Bosh because he shot an anemic 28.1 percent from downtown in the regular season. It's simply not a shot he hits with great regularity, despite the small sample of success right now.
Why is Bosh shooting so many 3-pointers when even with postseason success he's still shooting 33.0 percent from there in his 91 games this season? It's by design, but the design might be a little flawed if it's including Bosh's 3-point abilities. 
"We made the right plays kicking it out to our shooters," Bosh said after the 92-88 Game 1 loss. "If our shooters are open, we trust them to shoot the basketball and keep doing what they've been doing."
Bosh's three final attempts from downtown were open and technically good looks for him because of how alone he was on the perimeter. And his team didn't hesitate to find him those shots within the flow of the offense. They just didn't fall from behind the line, even with all of the space he was given, especially when he missed with just a little over a minute left in the game with his team down four points. LeBron James drove into the middle of the lane, was cut off by Tim Duncan, and he found his open teammate on the right wing. 
"He was open," Heat coach Erik Spoelstra after the game. "Probably open for a reason at that point.
You know what, we'll take that shot. He's been making those. It's an open shot in the fourth quarter. It didn't come down to that. There were more plays going down the stretch."
What would have happened if Bosh stepped in a couple of feet and stepped into a midrange jumper? From a couple of feet inside the arc around the same area on the wing, Bosh was on fire. He made 3 of those 5 midrange jumpers, his most accurate spot on the floor. It's easy to second guess him and judge the results instead of the process, but stretched out over the entire season, it's just not a shot he has much accuracy with when he takes it.
He made 50.2 percent of his midrange jumpers this season and 53.8 percent from that right free throw line extended zone. It's a shot he's been deadly with for most of his career, and yet he seems intent on pushing the boundaries on his jumper in an attempt to make the Heat even deadlier. 
The Spurs made a point to cut off the paint (just 14 points in the paint for the Heat in the second half) against the penetration from Miami and decided to spend their efforts chasing shooters or daring guys to step up and knock down shots. Bosh wasn't the only one who missed from downtown either. Ray Allen was 3 of 4 from three and the rest of the team was just 5 of 21. 
"I thought we had looks," Shane Battier said after the game. "I thought we had looks -- good looks compared to the Indiana and Chicago series. Our shooters had good looks and just didn't go down tonight. We'll take those shots."
Battier continued to struggle from downtown, going 0 for 3 to lower his playoff percentage to 21.8 percent. Two of his looks were completely forced, perhaps an act of desperation to get something going for himself and continue his team's first half execution.
"Yeah, the first one I thought was good," Battier said. "The other two were sort of '911 shots.' But the journey of one thousand miles begins with a single step."
Spacing for the Miami Heat's offense is key and if those shots do happen to fall then it's a completely different game. The Spurs made sure to take away the paint and the Heat couldn't take hold of the perimeter surrounding it in an effort to open the paint back up. It was a horribly mismanaged game of Risk. But sometimes, the shots just don't fall for you.
"It's a part of sports," Bosh explained. "You really don't have time to think about it. You just react and that's something I always lived by no matter what the situation is. I have confidence in myself and I know my teammates have confidence in me, and every shot that I shoot I expect it to go in.
Some do and some don't."
In Game 1, they didn't.
Among the questionable decisions by Jackson was signing Noah to a long-term, lucrative dea...

This Akron store doesn't want their hometown hero to leave again

Milwaukee's star did not get cleared to play for his national team due to a painful knee i...
Ball, the second overall pick in the NBA Draft, is receiving even more hype

Rap mogul supports the vision the outspoken father has for his brand and sons

Deciding who to watch on League Pass can be difficult, but these rankings promise to help