NBA Finals Game 2: Heat quicker to the ball in first half
The Heat forced turnovers on the Spurs and San Antonio struggled from the field in the fist half of Game 2 of the 2013 NBA Finals Sunday.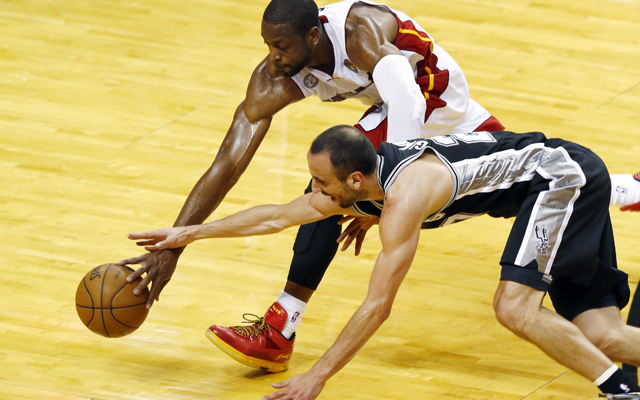 MIAMI-- The first half of Game 2 of the NBA Finals between the San Antonio Spurs and Miami Heat was another high-execution game on both ends Sunday, but Miami managed to take a little more control than it had in Game 1. Most important, the Spurs had seven turnovers to just eight assists in the half -- after just four turnovers in the first half of Game 1. 
The Heat led 50-45 at halftime.
San Antonio shot 9 of 29 from inside the arc in the first half, including just 4 of 13 at the rim. LeBron James, Chris Bosh, and Chris were active at attacking the Spurs guards when driving, and the Heat defense pushed the pick-and-roll much farther out. 
Danny Green was the first-half bright spot for the Spurs, shooting 4 of 4 from 3, nailing corner 3s off blown rotations. 
Meanwhile, James led the Heat at halftime with ... wait, no. James had just four points on 2-of-7 shooting, with four assists and just one rebound. No, the first-half hero for the Heat was Mario Chalmers (I'll let you read that again). Chalmers scored 10 points, while Dwyane Wade had 10 points on 10 shots. 
Miami led points in the paint 26-14 at halftime. 
We've got all the scores, highlights and news from all of Sunday's games

The Rockets beat the Warriors 116-108 on Saturday night

The Cavaliers gave up 148 points in their loss Saturday afternoon to the Thunder
Blatt made the comment before coaching in the All-Star Game in Turkey

Is this rock bottom for the Cavaliers because it sure feels like it is

Wade, as he's done so many times in his career, threw it up to LeBron for the thunderous f...