NBA Finals Game 2 Heat-Thunder Video: Serge Ibaka erases LeBron James
Video: Serge Ibaka skies and erases LeBron James at his apex on a dunk attempt.
He got him at the apex. 

Serge Ibaka with four blocks in the first half, none more special than this one at the end of the first quarter. He got LeBron James, the MVP, the most athletic player in the league, at the top of his detonation. Observe:  



Got him at the apex. 

Proof: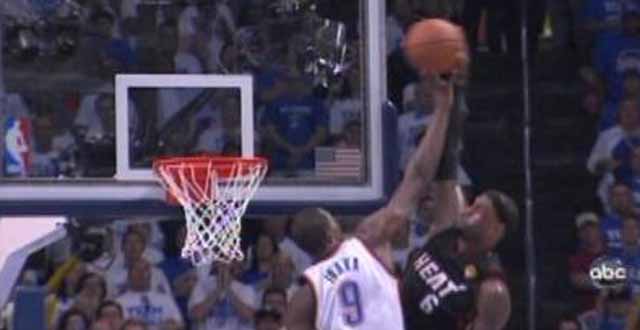 That's just flat-out insane.

This series features the best athletes in the world at basketball. It's a joy. Heat lead 70-55 in the third.
The NBA broke its silence with a statement related to the Lakers-Paul George tampering cha...

The Clippers big man thinks LeBron will reunite with the banana boat crew at some point

Have the Clippers reportedly found their next GM?
The NBA stayed to the point in their response to the Greek basketball federation

The Pacers believe the Lakers tampered with Paul George before they traded him

Among the questionable decisions by Jackson was signing Noah to a long-term, lucrative dea...