NBA Finals Game 2 Heat-Thunder Video: Serge Ibaka erases LeBron James
Video: Serge Ibaka skies and erases LeBron James at his apex on a dunk attempt.
He got him at the apex. 

Serge Ibaka with four blocks in the first half, none more special than this one at the end of the first quarter. He got LeBron James, the MVP, the most athletic player in the league, at the top of his detonation. Observe:  



Got him at the apex. 

Proof: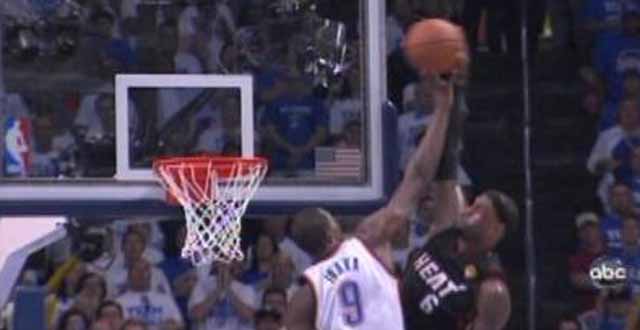 That's just flat-out insane.

This series features the best athletes in the world at basketball. It's a joy. Heat lead 70-55 in the third.
We've got all the scores, highlights and news from an NBA Monday

Leonard was recently shut down again to rehab the nagging quad injury

Durant, who joined the Warriors, says that Capela, the league's most efficient player, has...
Jason Kidd's firing gets the celebratory balloon treatment on Milwaukee's Twitter page

Milwaukee has parted ways with its coach in the middle of his fourth season

Larry Hartstein has his finger on the pulse of the Clippers and locked in a play for Monday's...