NBA Finals Game 7 Live: Photos, video, reaction and more from Miami
Live coverage of Game 7 of the 2013 NBA Finals between the Miami Heat and the San Antonio Spurs with Vine, photos, video and more.
by

Eye on Basketball staff

• 4 min read
NBA Finals Game 7: | Final Stats | Play-by-Play | Recap

Could be a long night on the streets of Miami. | Heat parade set for Monday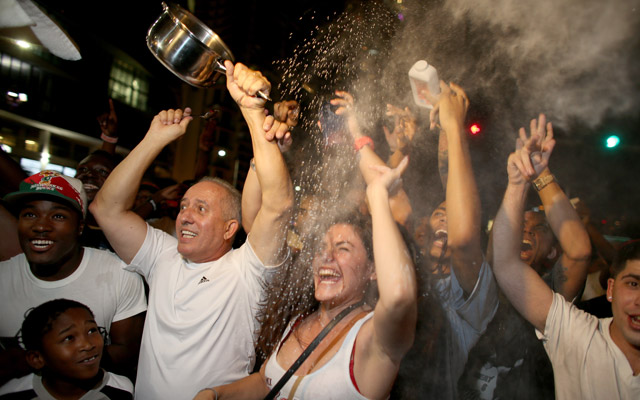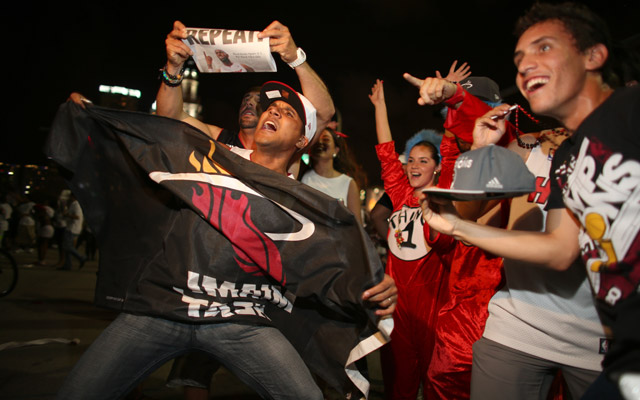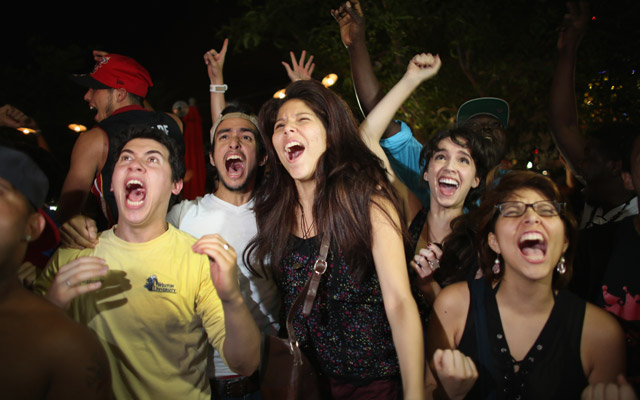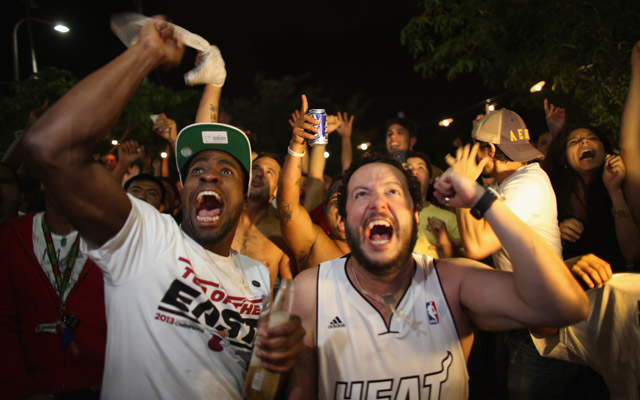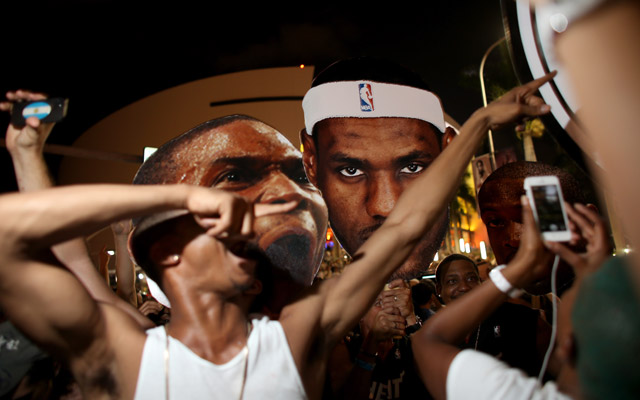 Pat Riley joins in on the fun. More celebration photos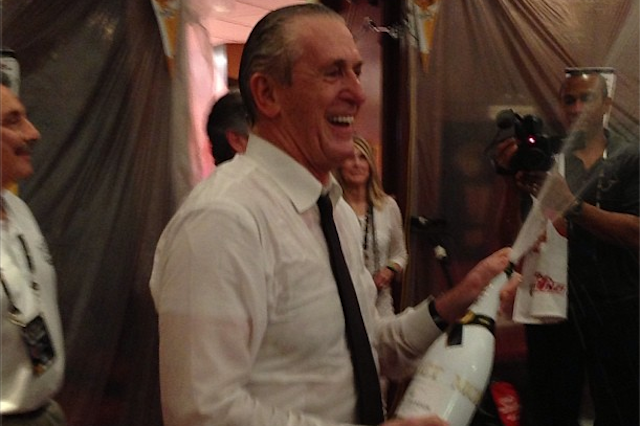 Time for a little eye candy ...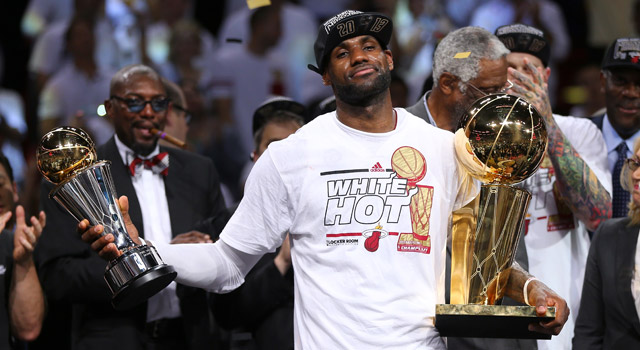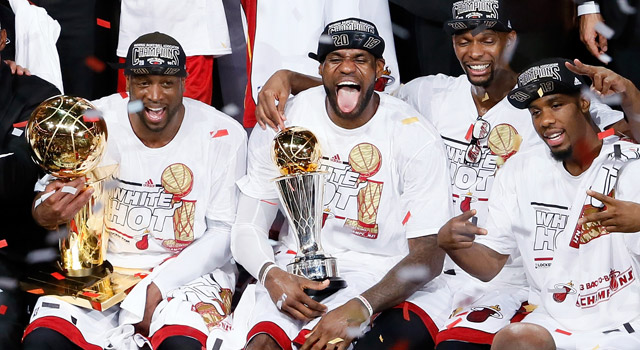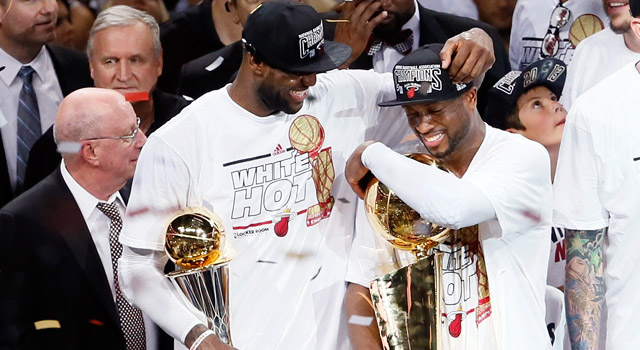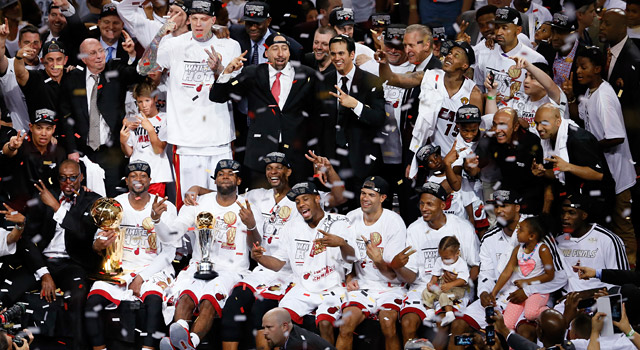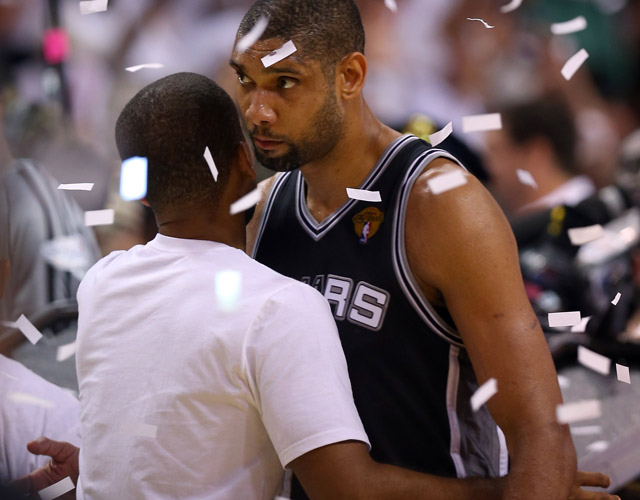 Top scorers in Game 7 history ...
Jerry West - 42 (1969, LAL vs BOS)
Elgin Baylor - 41 (1962, LAL vs BOS)
Bob Pettit - 39 (1957, STL vs BOS)
LEBRON JAMES - 37 (2013, SA vs MIA)
Tom Heinsohn - 37 (1957, BOS vs STL)
James Worthy - 36 (1988, LAL vs DET)
Walt Frazier - 36 (1970, NYK vs LAL)
Jerry West - 36 (1966, LAL vs BOS)
Jerry West - 35 (1962, LAL vs BOS)

Final: Heat 95, Spurs 88. The Miami Heat are back-to-back NBA champions. Plenty to come on CBSSports.com. | FINAL STATS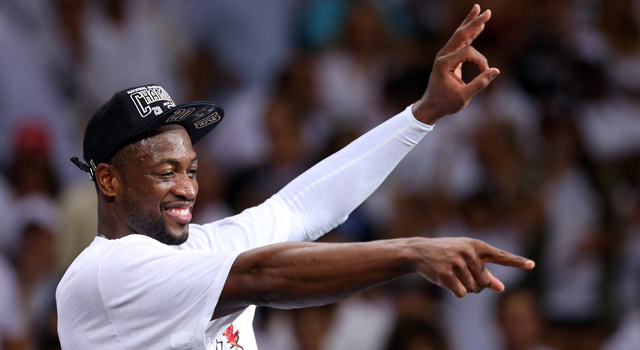 Two minutes. DOS minutos. The score is 90-88 for Miami and this one will, fittingly, be decided at the very end.

5:37 and it's hold onto the rope time for the Spurs. A timeout to settle themselves. Lead is six and they've always responded. I may be writing in rhyme, because this series' awesomeness has damaged my brain. 5:37 to go for the title. - Matt Moore

Killer 3 by Mario Chalmers at 3Q buzzer. Crowd was out of it. Not anymore.

— Gregg Doyel (@GreggDoyelCBS) June 21, 2013

Chris Andersen is plus-13, and Bosh minus-8. And I think, today, that's accurate. Andersen defending Duncan better

— Gregg Doyel (@GreggDoyelCBS) June 21, 2013

Halftime: Heat 46, Spurs 44. Game 7 of the NBA Finals wasn't thrilling like Game 6, but it was closer than the first half of Game 6. The Heat and Spurs exchanged leads, with the Spurs leading for much of the first quarter, and the Heat for much of the second. After the Spurs briefly took the lead late in the second, the Heat responded with a Dwyane Wade (14 points on 7-12 shooting) isolation jumper to take a two-point lead into half, 46-44.
Tim Duncan leads the Spurs with 13 points, five rebounds, two assists, and four steals to go with two turnovers.

LeBron James lead the Heat with 15 points, three rebounds and just one assist, while Tony Parker had 10 points on 3-of-8 shooting and just three assists, while Chris Bosh went scoreless in the first half.

The Spurs managed eight steals on the Heat, many coming on strips of Ray Allen (three turnovers). The Heat were active in getting into the passing lanes and contesting threes with San Antono only shooting 2-of-7 from beyond the arc.

24 minutes left in the 2013 NBA season, and the title is still very much up for grabs.

Wade ends strong first half with jumper

LeBron's ridiculous And-1 finish

First quarter: Heat 18, Spurs 16. These two teams kind of look like a couple squads that just got through playing one of the most grueling, intense games in history just 48 hours ago. 
It was a sluggish first quarter with both teams struggling to find much offensive flow. The Spurs started well, getting out to an 11-4 start, but the Heat found a little drive and kick action and splashed some 3s. Possibly not coincidental: The Heat's offense came alive when Dwyane Wade went to the bench. 
The Spurs don't look hungover or depressed, but they do seem to lack a bit of their normal crisp execution and firepower. 

Tim Duncan steals and goes solo on a fast break. What year is this?

Manu Ginobili picked up his second foul with 6:34 left in the first quarter and was immediately subbed for Gary neal. 

And there goes the crowd for the exits. Kidding! It's a JOKE.

— Gregg Doyel (@GreggDoyelCBS) June 21, 2013

Larry, and his little brother Finals MVP, in their undisclosed location at American Airlines Arena. #Game 7 pic.twitter.com/fbVAray9Pe

— David Aldridge (@daldridgetnt) June 21, 2013

Your starters for Game 7: 
Miami Heat
G Mario Chalmers
G Dwyane Wade
F Mike Miller
F LeBron James
F/C Chris Bosh
San Antonio Spurs
G Tony Parker
G Danny Green
F Manu Ginobili
F Kawhi Leonard
F/C Tim Duncan

LeBron James in a serious mood spoke to reporters before Game 7 of the NBA Finals, fielding ridiculous questions from visiting media and touching on what his two sons told him before he left for this game. 
Meanwhile, Gregg Popovich was in the rarest of form for his pre-game press conference, as Ken Berger of CBSSports.com reports. 

Nothing better than a Game 7 for all the marbles. Will you be watching tonight? #NBAFinals

— Barack Obama (@BarackObama) June 20, 2013

Dwyane Wade: "I'm not getting no sleep tonight one way or another."

No headband. No problem.
This kid is awesome. pic.twitter.com/xeBLZGZQSj

— Hardwood Paroxysm (@HPbasketball) June 20, 2013

Tim Duncan, two hours before gametime, like always. Rock. Hammer. Crack.

The shirts the Heat are putting on every seat tonight: 
Birdman is on a Game 7 shirt. Also, disembodied heads. pic.twitter.com/HyTuP0q6rD

— Hardwood Paroxysm (@HPbasketball) June 20, 2013

A few Game 7 stats to digest:
Home teams are 14-3 in Game 7 history
No road team has ever won a Game 7 in the 2-3-2 format
The last road team to win a Game 7 in the Finals? The 1978 Washington Bullets defeated the Seattle SuperSonics.
Game 7s by decade: 1950s: 5 (51, 52, 54, 55, 57); 1960s: 4 (60, 62, 66, 69); 1970s: 3 (70, 74, 78); 1980s: 2 (84, 88); 1990s: 1 (94); 2000s: 1 (05); 2010s: 2 (10, 13)
Most points in a Game 7: Jerry West with 42 against Boston in 1969
There have been two triple-doubles in Game 7 history -- Jerry West (1969) and James Worthy (1988)
The Lakers have made the most Game 7 appearances with nine (4-5). The Celtics are 8-1 in Game 7s. 

Want to sit courtside at Game 7? Prepare to shell out a smooth $30,000 to do it. 

Miami is favored by six. Here are the CBSSports.com expert picks.

Gregg Popovich says the uncertainty of Game 7 "drives you crazy." 

Chris Bosh says he'll take a Game 7 at home for the title. 
Tim Duncan arrives for the last shootaround of the season.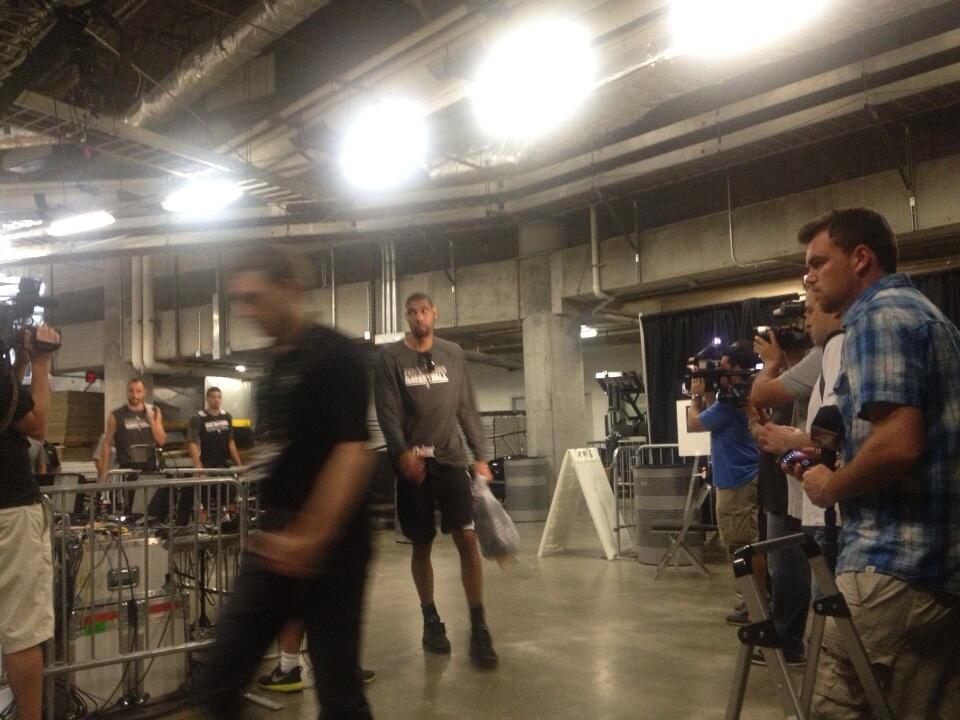 The last walk: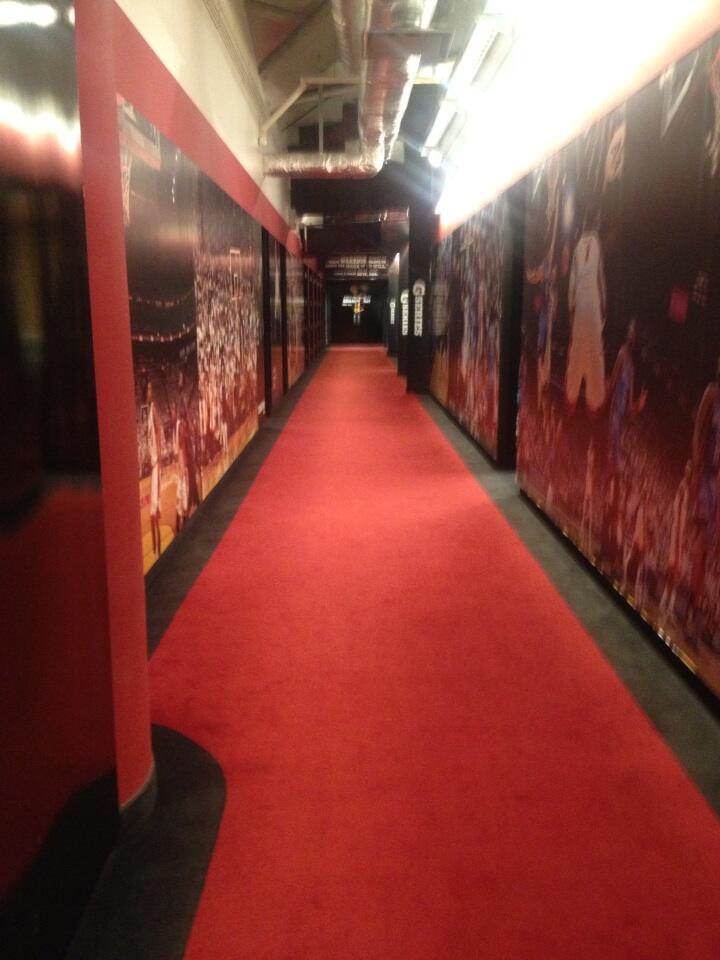 Two legends talking before Game 7: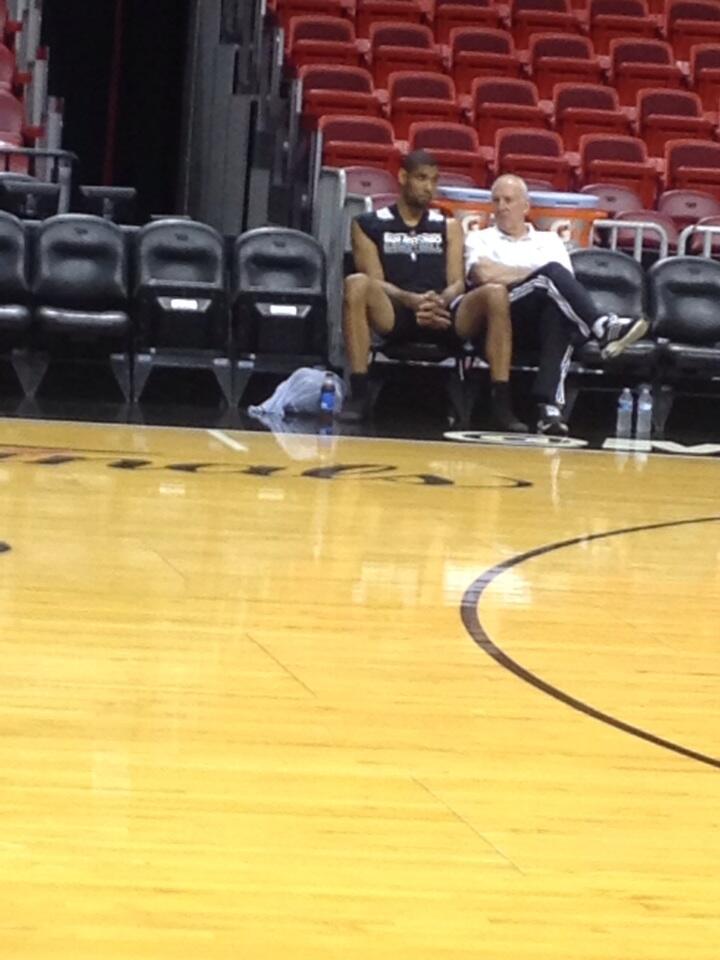 Kawhi Leonard warms up or, as we call it, Kawhi So Threerious: 
Knicks forward had his truck stolen out of his driveway

The Celtics will send No. 34 to the rafters in Boston when they take on his old rival

It's never too early to look at June's NBA Draft
Cousins uses some colorful language to get his point across

The awards are voted on by peers in the NBA and adds to Russ' league MVP award he won this...

Minnesota is facing even bigger expectations headed into next season, and they'll be difficult...