NBA Finals: Heat find new ways to attack Tim Duncan
Tim Duncan struggled against a new Heat attack in Game 2, and Miami rolled to a 19-point victory.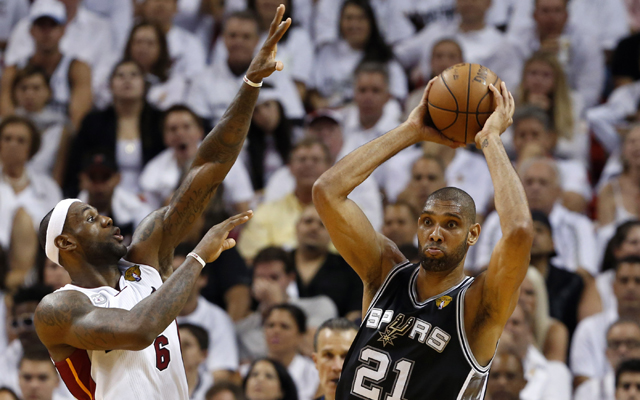 MIAMI -- Tim Duncan played at an MVP-level all season and throughout the 2012 playoffs, but on Sunday, the Miami Heat found an effective strategy for playing him. Heat F Chris Bosh said after the game they didn't want him to just "settle" in and have the Heat play to his back. But the Heat's best strategy against Duncan was playing him straight up with smaller defenders. 
Udonis Haslem has guarded Duncan almost half the time, and when Haslem is off the court, Duncan has shot 50 percent in the Finals. When Haslem is on?
Three of 16, including a 1-of-8 performance in Game 2. 
"I know I played awfully," Duncan said Sunday night. "Whatever it may be, they responded better than us. I look at my shots and they are the shots I want. Obviously, they're contested shots, but they're shots I feel I can make. So whether it be them or me or whatever it may be, I'm going to get back in the gym tomorrow and hopefully come out with a better stroke." 
Of the eight shots Duncan took with Haslem ont he court, Haslem was the primary or help defender on six of them. Duncan was 1 for 6, with only one jumper falling. Many of the shots were well within Duncan's wheelhouse, but were still exceptionally well-contested. 
Tony Parker has moved to be the primary discussion point for Spurs discussion, but Duncan is still the lifeblood. And the Heat seemed to find ways to make Duncan uncomfortable. Bosh said after the game that their objective was to make him work and throw some new things at him. It certainly seemed to work. Duncan finished with nine points on 3-of-13 shooting, and a minus-14. (Read: Gregg Doyel goes in on Spurs' stars not showing up.)
There will be adjustments, the Hall of Famers will respond. But the Heat have showed one very important element in two games of the NBA Finals. Udonis Haslem may be able to do the work on Duncan he was not able to do on Dirk Nowitzki in 2011. If that's the case ... the Spurs could have a much bigger problem on their hands. 
(Stats provided by NBA.com.)
This composition is absolutely amazing

Stephen Curry, who grew up in North Carolina, wants to be part of the next Panthers ownership...

Vince Carter is destined for a Raptors reunion; he doesn't know when it'll happen
Thomas has a target date for his return, and with the Cavaliers scorching, this could be h...

LeBron James once again is using his platform to be socially active

Not many games, but still plenty of action and intrigue Sunday in the Association