NBA Finals Heat-Spurs Game 4 Preview: A familiar feeling
The Heat are down 2-1 just like the were last year to the Spurs. But now San Antonio has home court. Will things be different from Game 4 last year?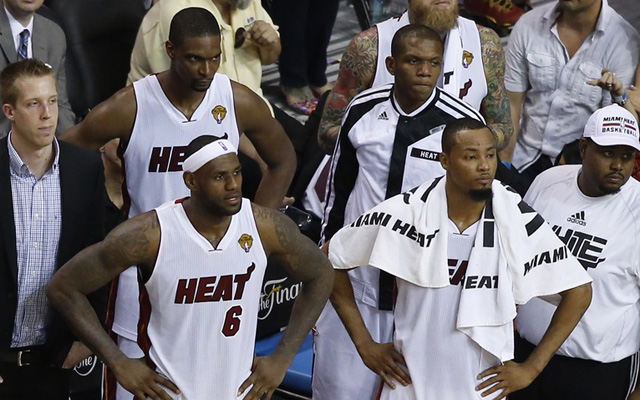 More postseason coverage: Playoff schedule, results | Latest news, notes
Previewing Game 4 of the Heat-Spurs NBA Finals.
1. The Facts: Thursday, 9 p.m. ET (ABC). Follow the action here. Everyone is healthy.
2. Where We Are: For Tuesday's Game 3 preview, I said "This looks exactly like last year." And in Game 3 of 2013, the Spurs blew out the Heat 113-72. And in Game 3 of 2014, the Spurs blew out the Heat 111-92 to take a 2-1 lead. Last year it was on the road, this year in Miami. Miami won Game 4 last year, but now, the Spurs have regained home court. 
So the question is whether the pattern of wins and losses being similar to last year is relevant or not. The Spurs just blew out Miami on the road, which is quite a bit more impressive than the squeaker they won in Game 1 on South Beach last year. But the pattern's still holding, with Game 6 looming in the distance. But let's throw out last year. Let's pretend, for a moment, that these teams are nothing like they were last year, despite eight of the starters being the same. 
Was Game 3 San Antonio's desperation game coupled with their "best game?" I mean, I'm all for praising offensive efficiency and ball movement, but San Antonio shot 19-21 to start the game. Under no circumstance is that statistically likely to be replicated, nor sustained, as evidenced by their horrific third quarter in which Miami cut the lead to seven before they ran out of gas. 
Or are the Heat really that outmatched? Is San Antonio that good? That's what we'll find out in Game 4. 
3. The Big Number: 12. That's the number of touches that Chris Bosh had in Game 3. That can't happen. It just can't. Wade is still great, LeBron James is the engine, wheels, and air conditioning of the Heat, but Bosh is vital for their success. I almost never advocate for isolation plays, but the Heat need to trust Bosh to create some offense and either draw fouls or double-teams to open up plays for teammates. 
Bosh has a 1.3 points per possession mark in this series. It sounds crazy with James and Wade on the floor. But Bosh needs more touches. 
4. Key Adjustment: How is Miami going to respond to Kawhi Leonard's Game 3 outburst? Last year, LeBron James habitually left Leonard, daring the young player to make them pay for it. He did. The same thing happened when Leonard came out with nothing but sound and fury on Tuesday. So do the Heat devote more resources, mental or physical, to preventing Leonard from getting going? Or do they dare Leonard to replicate that performance? 
LeBron James has the most to do with this. If he attacks Leonard out of the triple-threat, which is tough because Leonard is constantly swiping at him when he faces up and never getting tagged for touch fouls, he can draw fouls on the drive and disengage Leonard. That has impact on the other end. James has to manage his effort across both ends, but the reality is that for the Heat to win, he needs to completely detach Leonard from the game like he did in Game 2. 
5. The Big Story: Can San Antonio end this series quickly? Winning Game 4 ends it. There's no coming back from 3-1, not against a team this good. The Heat outplayed the Spurs to a large degree in Game 1, and lost. The Spurs outplayed the Heat in the first half of that game, though, and in the first 2.5 quarters of Game 2 and for three quarters of Game 3. If we're scoring these teams like a boxing match, San Antonio has won roughly 7.5 of 12 possible quarters. 
So are they just better? San Antonio can avoid the spectacle, drama, and honestly, horror of a Game 6 in Miami with a win Thursday and then finishing the team off in Game 5 in San Antonio. This is a huge opportunity for San Antonio. They know they can win in Miami. They know they can get what they want offensively. They just need one more exceptional game on the road, and they will have effectively assured the title. They're not losing three straight. This is their chance. Do the Spurs thing and exhibit no emotion, remorse, or joy. Just put the boot to the throat and they can head back to San Antonio to start planning the parade. 
The former Clipper apparently had some tricks up his sleeve after a chippy game

The Rockets were apparently looking for Austin Rivers and Blake Griffin after a chippy gam...

If they don't meet in the Finals again, let's appreciate every one of the 27 matchups since...
D-Wade picked up the steal and got creative on the fast break as the Cavs headed into half...

Despite the embarrassing hiccup, the youngest Ball had himself a pretty great day on the c...

The players were both ejected in the closing seconds, then continued their discussion off the...