NBA Finals: LeBron James to start Game 7 with headband on
LeBron James says he will wear his headband in Game 7 of the NBA Finals vs. the San Antonio Spurs.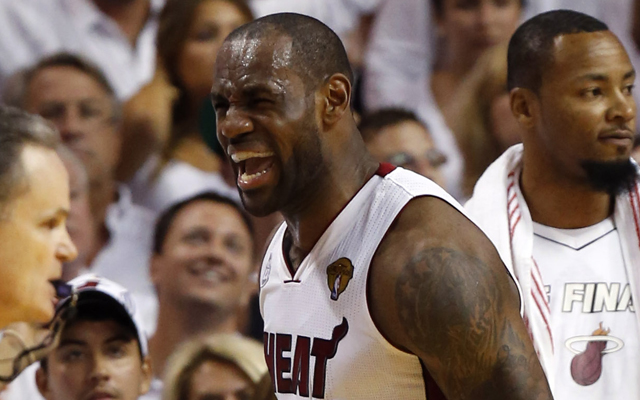 Without television, the moment might have passed into history without anyone noticing. But instead, when LeBron James lost his headband in the fourth quarter of the Heat's 13-point comeback Tuesday night to force Game 7 in the NBA Finals, it resonated as a moment of visceral impact. The turning point. It honestly did seem like James turned it up a notch after he lost the headband. 
This is purely for fun, but LeBron's No-Headband PER was 30.98.

— Couper Moorhead (@CoupNBA) June 19, 2013
So naturally, as ridiculous as it is, the media had to ask about The Headband going into Game 7.
James said Wednesday he plans to wear the headband to start Game 7 Thursday. 
"I'll probably start off with it, man, " James said, laughing. "A little superstitious. If it gets knocked off, then me and him will have a discussion if he will return." 
So, yeah, the greatest basketball player in the world will be having a conversation with his headband should it get knocked off. This is a thing being talked about. 
Heat forward Chris Bosh said James losing his headband was "like Bruce Lee seeing his own blood," and Dwyane Wade said he was confused because he'd never seen James go without his headband. 
"I was like, 'What is going on?' He was just in that moment. He just said 'Listen, it doesn't matter.' I think he said the might have come out of his jersey if he had to. I don't think the NBA would have liked it. 
"He was about whatever it took." 
So James will go back to the headband he has sported for four MVP trophies, two gold medals, an NBA championship, a Finals MVP, and a chance at a second title on Thursday. But as much fun as the story is, Shane Battier put it best on Wednesday:
"The power is not in the headband, good people. The power is in LeBron James." 
Curry could be back for the start of the playoffs

We have all the latest news from around the NBA on Saturday

This is not what Danny Ainge envisioned when he signed Gordon Hayward and traded for Irvin...
Irving has not played since March 11, and it appears he will miss Boston's first-round playoff...

People all across the country marched on Saturday for stricter gun regulations

Pop says while everyone wants Kawhi back, the team needs to act as if he won't return