NBA Finals: Oddsmakers say LeBron James will wear headband in Game 7
Even after going on an incredible run after his headband got knocked off in Game 6, Miami Heat forward LeBron James still wants it on him.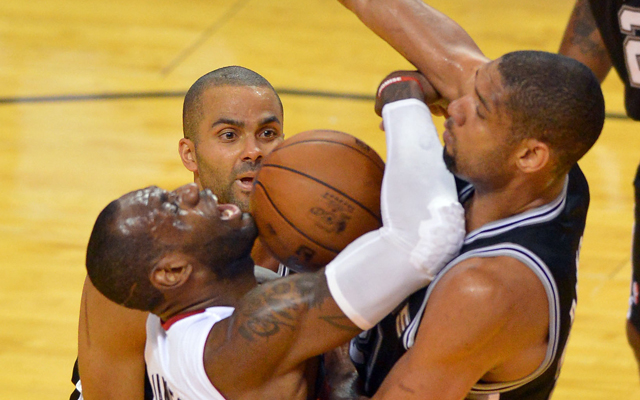 Miami Heat forward LeBron James is known for many things and one of them is wearing his signature headband. It's a signature look for him because so many people seem to be obsessed with why he wears one. Is it superstition? Is it because his hairline is receding from his forehead like a defender backpedaling against him in transition? Does he just want to keep the sweat out of his eyes?
Whatever the reason (it's totally the hairline thing), it was noticable in the fourth quarter of the insanity that was Game 6 of the 2013 NBA Finals when James went on a huge, aggressive run against the San Antonio Spurs after his headband was knocked off. It's easy to get caught up in hyperbole but he did seem like a completely different player than what we had seen previously. 
Because of that, there has been a question about whether or not James will don a headband in Game 7. Bovada has even made the subject a prop bet for Game 7.
Will LeBron James be wearing a headband at tip off of Game 7?    

Yes                   -200     (1-2)

No                    +150     (3-2)
This may seem like a crazy thing to bet on, but you should see some of the Super Bowl prop bets like how long the national anthem will be. Also, this may be the closest thing you'll ever get to free money if you trust the word of James (I know, Cleveland; I know). When asked about the headband and the possibility of not wearing it in Game 7, James responded with this:
LeBron says he will start with headband: "I'm a little superstitious. If it gets knocked off, me and him will have a little discussion."

— Ethan J. Skolnick (@EthanJSkolnick) June 19, 2013
James is going to start the game with the headband on. If you feel like he's telling the truth, you can win 50 cents on the dollar right now!
But if you feel like he's lulling you into a false sense of financial security before going on national television and telling the world he's taking his talents to the Hair Club For Men, then go the other way and rake in the money as you laugh at all of the suckers who believed him when he said he was going to cover up with the sweatband across his brow. 
The younger Ball brothers are heading to BC Prienai, but that could spell trouble

Keep it right here for all of the news, notes, scores, and highlights from around the Asso...

SportsLine's advanced computer model simulated Tuesday night's Lakers-Knicks game 10,000 t...
The Reno Aces are concerned about the new WNBA franchise stealing their thunder

Hinkie parted ways with the 76ers in 2016 after drastically changing the direction of the...

SportsLine's Mike McClure, a DFS pro with more than $1M in winnings, gives optimal lineup...