NBA Finals: Pop takes advantage in coaching matchup vs. Spoelstra
It's not the blowout everyone seems to think it is, but Gregg Popovich took back the lead for the coaching advantage in Game of the NBA Finals over Erik Spoelstra.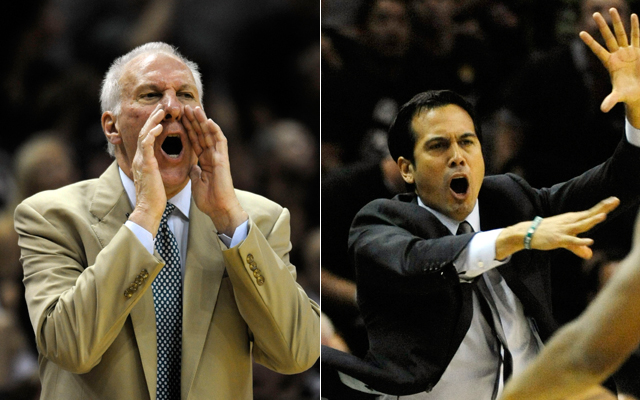 SAN ANTONIO -- Come with me for a moment, past Overreaction Hill, beyond the 24-Second News Cycle Forest, all the way to the mystical land of perspective. The Miami Heat trail 3-2 in the NBA Finals' best-of-7 series and now the hounds will set upon Miami that they are awful, terrible, lack heart, focus, and guts. In reality, they trail 3-2 in an extremely competitive series that has alternated result with every game and features an extremely high level of execution. 
And somewhere inside the context of this fantastic series of amazingly compelling blowouts is a chess match being waged which was taken to a new level on Sunday night. 
The predominant storyline is that Erik Spoelstra is getting worked by Gregg Popovich, that he's a neophyte to the wise old Grouch, and being completely outclassed. There's about as much truth to that as the assertion that Miami's losing because they lack character. This is the NBA. It's about execution. 
That said, it's time for a check of the scorecard in what few people really seem to understand is an extremly tense coaching battle. 
The Spurs took first blood, but Game 1 was more of a feeling out game than anything. It spun on its axis for 12 minutes and happened to land heads for the Spurs. Game 2 was about an adjustment to intensity, focus and tactical exploitation from the Heat, the equal and opposite reaction. 
Games 3, 4, and 5 is where the meat of this battle has been. Before you leap to "Pop won two of them, so..." understand that it's more complicated than that. 
Spoelstra blasted his team, for the first time on this stage, after Game 3. It was easy, considering how they played, but to do so publicly was a shot across the bow, and it got the team's attention.
Spoelstra was the first to "blink" so to speak, moving Mike Miller into the lineup for Game 4, and committing fully to small ball. It's difficult for a coach to let go of certain ideas he has, certain tenets, certain beliefs. Spoelstra moving Udonis Haslem, with the bond he has with Haslem from so many years coaching him, was a big move. It was also admitting the Spurs drew first blood. But the move worked very well, and the Heat blew out the Spurs in Game 4. 
Popovich responded Sunday night with the biggest gamble of all, not only going small, but gambling on Manu Ginobili, who has struggled so much in these Finals, to lead them as a starter. The effect was electric. For the crowd, for the team, for Ginobili. Popovich said after the game that the decision to start Ginobili was made "sometime in the last few days," cryptic as ever. 
"Everything that happens happens because of Pop," Duncan said after the Spurs' Game 5 win. "He makes all the calls. He let us know yesterday that (Manu) was going to start, and we were all excited about it." 
Ginobili said he didn't think starting really affected him, but you could tell the impact it had on the team. It gave them energy, it gave them life, it gave them aggressiveness. Shane Battier attributed that aggressiveness as the differential in what the Spurs brought to Game 5. 
And that's maybe the part where you can give Popovich the significant edge in this matchup. For every open Danny Green three, which seems inexplicable but is actually the result of a series of offensive maneuvers which force the Heat defenders into poor decisions, like every team before them vs. the Spurs, there's a Ray Allen three, a lane for Wade to slice to, an opening for James. The tactical matchup is fairly even.
But both teams and both coaches have spoken to this point: The tactical adjustments have been almost entirely evened out. It's about effort, it's about focus, it's about will.
And Popovich's team has brought that effort more consistently than Spoelstra's. In part, that's the central differential in the two team's makeups. Popovich's iron clad enforcement of the system may not have been successful with a team of egos like Spoelstra has. And Spoelstra's system of trust may not work with a team of role players like Popovich's. But in Games 1, 3, and 5, the Spurs have bent the Heat defense to their will. The Heat have responded in 2, and 4. 
But Game 5 was supposed to be the difference. LeBron James talked about it being "time" to win two straight. Chris Bosh said "enough was enough" at shootaround Sunday. And yet, the Spurs caught the Heat on their heels, bent them back, and then swept the leg, Cobra Kai style. 
Popovich has reached his players better on the biggest stage, and that's honestly the biggest advantage in this coaching matchup. It goes beyond Popovich's individual game coaching, though, to the system, to the organization. But Popovich is still a huge part of it. When his guys win, it's because they brought the necessary focus and intensity. When Spoelstra's Heat lose, it's because of the same. 
Lost in all this is the fact that both coaches have honestly done a tremendous job and the intricacies of the matchup would show you the same. But we want a winner, and for now, after Game 5, it's Popovich, mostly because of the handicap Spoelstra is shackled with due to his talent, and the fact that for now, the Spurs lead 3-2 and are one game from the title. 
But both have made succesful, dramatic adjustments. Five games down, a do-or-die game on Tuesday for Miami, a chance at immortality for San Antonio. 
Let's see what the next move is, as the most underrated matchup of the Finals continues. 
"Our focus now, which is what we wanted to do in this game and we were a far cry from it, is to focus on playing our best game. Can we put together our best game on both sides of the floor in Game 6? We do feel good that we're going home for that game. But we've got to earn back that home court. And so our focus is only on the next game." -- Erik Spoelstra, June 16th, 2013. 
Okafor has played only 25 minutes this season

Capela's shoe slipped off, and was sitting near the free throw line

The Magic will instead play in the Las Vegas Summer League
Ball walked away from an altercation between the Lakers and Suns on Friday night

Keep it right here for all your Friday NBA scores, updates and highlights

The Celtics have won 14 games in a row