NBA Finals: Spoelstra reportedly considering starting Mike Miller
Heat coach Erik Spoelstrais reportedly considering starting Mike Miller for Game 4 against the San Antonio Spurs in the NBA Finals.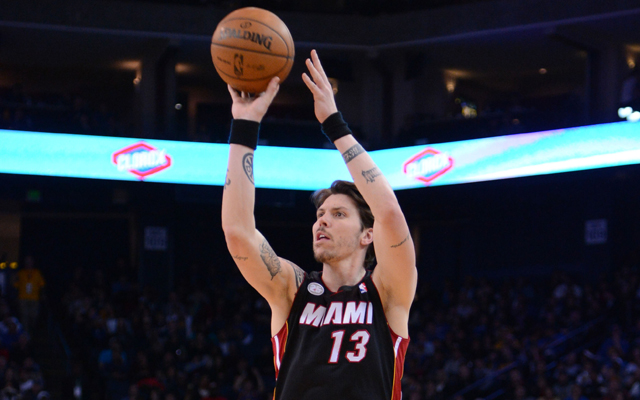 Trailing 2 games to 1 to the Spurs, Heat coach Erik Spoelstra is considering changing his starting lineup in the NBA Finals by moving wing shooter Mike Miller in for Udonis Haslem, according to ESPN. 
Spoelstra is looking to jump-start a sluggish offense by inserting the hot-shooting Miller into the starting lineup of Thursday night's Game 4.

Replacing Haslem with Miller would give the Heat more shooters in an attempt to spread the floor. The Spurs have been successful in packing the paint over the series first three games and it has cramped the driving space for LeBron James and Dwyane Wade .
via 2013 NBA Finals -- Miami Heat consider moving Mike Miller into starting lineup for Game 4, sources say - ESPN.
At shootaround Thursday before Game 4, Spoelstra said he doesn't expect a dramatic increase in Miller's minutes. When asked if the Heat would play Miller more, Spoelstra indicated the quality of minutes was more important.
"We'll see," Spoelstra said. "He's already been a big part of this series. He's playing good minutes. Whether that's more, we'll see.

"He's giving us everything he's got. At this point, those efficient, impactful bursts are the key."
No coach ever wants to make the first move to adjust the starting lineup, and Haslem has been key in containing Tim Duncan. A move like that would necessitate James playing defensively as a 4 or 5 more, something he's been hesitant to do in the past. It would certainly seem that down 2-1 on the road with two more games to go against the Spurs in San Antonio, the Heat are starting to get a bit desperate, particularly after the demoralizing loss in Game 3. 
The former Clipper apparently had some tricks up his sleeve after a chippy game

The Rockets were apparently looking for Austin Rivers and Blake Griffin after a chippy gam...

If they don't meet in the Finals again, let's appreciate every one of the 27 matchups since...
D-Wade picked up the steal and got creative on the fast break as the Cavs headed into half...

Despite the embarrassing hiccup, the youngest Ball had himself a pretty great day on the c...

The players were both ejected in the closing seconds, then continued their discussion off the...