NBA Finals: Spurs counting on experience; no speeches needed
Gregg Popovich talks about relationship with Tim Duncan and the rest of the Spurs before Game 6 of the NBA Finals.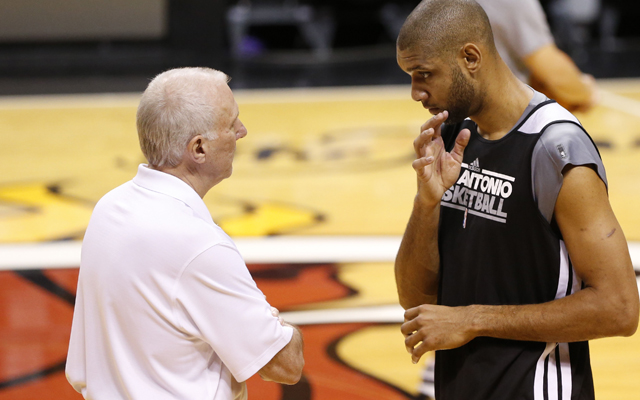 MIAMI -- At San Antonio's shootaround Tuesday, the Spurs were basically what you would expect. Confident. Collected. Respectful of the effort they expect from the Miami Heat in Game 6. No bulletin board material. No looking ahead. All the talk about what's in front of them. 
But Tony Parker spoke to how confident it makes him to be going into a potential title-clinching Game 6 with Tim Duncan and Manu Ginobili, with whom he has three titles. Danny Green spoke to how the Big 3 were "always there" and constant with their discipline to keep the team in the right mind-set. 
As for Gregg Popovich, he said there's not much to tell the team at this point. 
First, Popovich said he doesn't tell the players anything about what the media says or doesn't say. He also said that when he says he doesn't tell the team much, he's not being "closed or uninformative, but I don't tell them too much." 
Most interesting, Popovich says there are times when the players tune him out because they've heard it all before, and times when the star that has brought so much success to San Antonio let's him know.
"[Sometimes Tim Duncan] looks at me and says 'I got it.' And that's when I know I don't have to say anything." 
Later, Popovich and Duncan were seen on the sideline at the shootaround, joking. They (probably) weren't even talking about the game. But it was definitely a memorable moment, seeing two men who have accomplished so much together, on the verge of another championship in this sport they've given their lives to. 
Nothing changes, nothing new, no big dramatic speeches. 
Sometimes all you need is your future Hall of Famer telling you "I got it." 
Game 6 of the 2013 NBA Finals is Tuesday night at 9 ET. 
Kidd was fired by the Bucks on Monday afternoon

We've got all the scores, highlights and news from an NBA Monday

Leonard was recently shut down again to rehab the nagging quad injury
Durant, who joined the Warriors, says that Capela, the league's most efficient player, has...

Jason Kidd's firing gets the celebratory balloon treatment on Milwaukee's Twitter page

Milwaukee has parted ways with its coach in the middle of his fourth season