NBA Finals: Spurs prepared if Tony Parker limited by hamstring
The Spurs were adamant on Wednesday that they can win Game 4 vs. Miami even if Tony Parker misses time with a hamstring strain.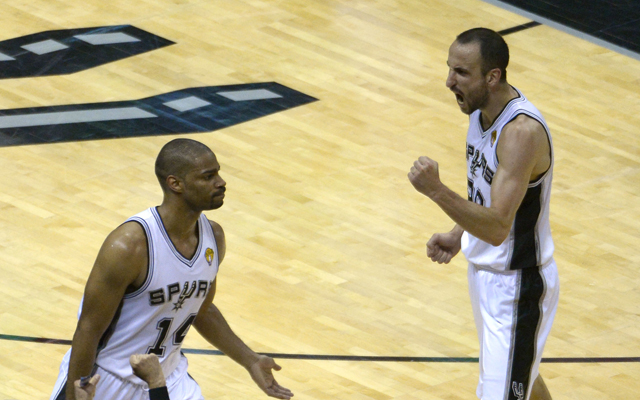 SAN ANTONIO -- The San Antonio Spurs understand how important MVP candidate Tony Parker is to their success, but remain confident in their ability to adapt should Parker's hamstring injury limit him in Game 4 vs. Miami. Parker sustained a "slight hamstring strain" in Game 3 which held him out for most of the second half of Game 3. Parker made it clear he doesn't feel pressure to play in Game 4 against the Heat and that if it were a regular-season game, he'd probably miss it. 
Manu Ginobili did tell reporters Wednesday at practice that there's an obvious adjustment without Parker should the point guard not play: 
Well, it's going to be difficult,'' Ginobili said. "If he's limited, it's going to be hard, because we know we need his speed, his judgment, his pick-and-rolls. Because after that, from that we create a lot of offense. And if we don't have him or if we have him limited, it's going to be very, very difficult. But we'll have to figure it out and find other answers."
Those other answers include Gary Neal, who scored 24 points in Game 3 and Cory Joseph who added four assists in San Antonio's blowout victory. Neal however, said that his role likely wouldn't change much, with Ginobili taking over more of a role. 
"If Tony wouldn't be able to play," Neal said, "it wouldn't change my role any. Manu might handle the ball more, but my role would still be the same. I would still get the same amount of minutes, have the same role in the offense and go in the game looking to score in open opportunities."
Joseph, 21, said that his entire experience with the Spurs, from his time with the team's D-League affiliate in Austin, Texas, to his in-game experience in the Finals has him ready to go if called upon. 
"You've got to be ready whenever you're called upon," Joseph said. "My time in Austin helped me greatly. The time I spent there, the games, the coaching staff, getting accustomed to the system there, helped a lot."
That system is the Spurs' greatest asset, coached at every level in every practice, and dependent on role players understanding their positioning, spacing, and assignments. Losing Parker would be a huge blow to San Antonio, no doubt, but doesn't preclude the Spurs from being able to take a 3-1 series lead in Game 4. 
Their system is too well coached and their players too prepared for this not to be a fight, regardless of Parker's position. 
The awards are voted on by peers in the NBA and adds to Russ' league MVP award he won this...

Minnesota is facing even bigger expectations headed into next season, and they'll be difficult...

When the NBA MVP odds came out, it got us thinking: Will stat-compiler Russell Westbrook win...
Durant labeled the Cavs' situation as a regular problem in the NBA

James takes to Instagram for a better look at the Cavs' new Nike-made uniforms

Kevin Durant says he doesn't agree with what President Donald Trump agrees with