NBA Finals takeaways: What we've learned through three games
After three games, this NBA Finals matchup is looking like a classic. Here's what has stood out.
• 4 min read
More NBA Finals coverage: Schedule, results | Latest news, notes
The San Antonio Spurs own a 2-1 lead over the Miami Heat in the NBA Finals and, after three games, who could ask for more? Aside from the fourth quarter of Game 1 and the first half of Game 3, these two teams have been about as even as possible, and even at those times there was no shortage of drama. It's still worth wondering what would've happened if LeBron James hadn't cramped up, and Tuesday's game was the most exhilarating 19-point blowout I can recall. Let's take a look at what we've seen and learned so far.
Hot damn, those dominant Spurs stretches: To beat a team like the Heat and a player like James, San Antonio needs every bit of ball movement and shooting it can muster. It needs to make Miami make decisions on every possession, it needs to wear the Heat out. I can only imagine how frustrating it is, mentally, to endure these Spurs spurts. Miami deserves credit for not giving up after the latest onslaught. 
This series, @Spurs have recorded the 2 best shooting Qtrs (87.5%,4th,Gm1; 86.7%,1st,Gm3) & half (75.8%,1st half Gm3) in #NBAFinals history

— NBA.com/Stats (@nbastats) June 11, 2014
Mario Chalmers is more important than we realized to Miami: He has more fouls (12) than points (10) in the series, making only 3 of 12 shots. His decision-making has been suspect, and the struggles appear to be getting to him. Chalmers has always been known as a gamer, and it'll be interesting to see how he responds. It's to the point he's talking about 5 a.m. film sessions and his teammates are being asked to pinpoint what's wrong:
LeBron on Chalmers: "He can't lose confidence in himself.... That's one thing he can't do."

— Ethan J. Skolnick (@EthanJSkolnick) June 11, 2014
Wade: "Mario is a big piece of what we do. And we're missing that piece right now.... We're not going to leave him out on an island."

— Ethan J. Skolnick (@EthanJSkolnick) June 11, 2014
LeBron on Chalmers: "Maybe I need to get on him the way I did in the past." Laughs.

— Ethan J. Skolnick (@EthanJSkolnick) June 11, 2014
Boris Diaw is a plus-minus monster: San Antonio outscored Miami by 30 points with him on the floor in Game 1, and it's not a stretch to say the spacing created when he was inserted into the starting lineup had something to do with what happened in Game 3. He led all players in that stat once again in that win, finishing with a plus-20 mark. He has also been rather quotable: 
Boris Diaw on how Spurs' offense compares to "Seven Seconds or Less" Suns of Nash & D'Antoni: "It's 10 seconds or less."

— Michael Lee (@MrMichaelLee) June 8, 2014
James does as much for the Heat as he did the Cavs: Obviously, his two main co-stars are better than any of his Cavaliers teammates, but the Heat have fallen apart when he goes to the bench. While the most obvious example was Crampgate, it's more than that. Miami is being outscored by 30 points per 100 possessions in the 34 minutes in which he has been sitting down. Also, it feels almost tired to talk about his excellence, but let's marinate on the fact he's shooting 60 percent overall and 70 percent from 3-point range vs. the Spurs. 
Kawhi Leonard is a game-changer: Before exploding for 29 points on 10-of-13 shooting (!), he had to answer questions about two tough games. It is difficult to play with force on offense when exerting as much energy as he is against James on the other end, but he refused to make excuses. After his brilliant night, in typical Leonard fashion, he did not have a ton to say about it:
Maybe Leonard's best quote from last night, after career game in Finals: "That's one game. I have to keep going." Again, 22 years old.

— Dan McCarney (@danmccarneysaen) June 11, 2014
Chris Bosh really, really matters: He has been candid about the way his role has changed and how he's learned to ignore criticism, and Miami might be down 3-0 if not for what he did down the stretch in Sunday's Game 2. He barely even touched the ball Tuesday, and that will need to change because the Heat largely go as Bosh does. 
Tim Duncan is absurd: The man is 38 years old, and he is averaging 17.7 points and 10 rebounds through three Finals games. He's shooting 64.5 percent, and has only attempted three shots outside of the paint. Miami needs to do a better job of sticking with him and not letting him get the looks he wants, but that's so much easier said than done with how the Spurs move the ball.
What is up with Chris Andersen? The backup big man missed a couple of games vs. the Pacers with a left thigh contusion, and perhaps that is still bothering him. He has made only 2 of 7 shots in the Finals, unable to provide his usual burst of energy. Andersen has been a reliable reserve for them, and even with him at his best they have a disadvantage when it comes to depth.
Turnovers, turnovers, turnovers: For such a well-played series, both teams have coughed it up more than you'd expect. The Spurs are turning the ball over on 17.2 percent of their possessions, the Heat 19.9 percent, per NBA.com, but the real difference is transition defense. Miami is usually deadly in the open court, but has been limited to 13 points off of turnovers per game, compared to 21.3 per game from San Antonio. If that trend keeps up, it could be the difference.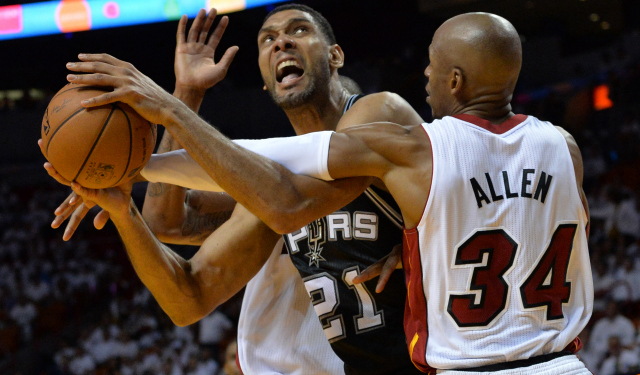 LeBron said he was frustrated by the President's recent actions

A look at the various actors and elements in the latest sensational blockbuster trade in the...

Blockbuster deal doesn't change the Thunder's projected finish in the West
The Thunder strike again this offseason, and Knicks, entering a new chapter, also make out...

The Warriors have responded to the White House rescinding their invitation

Carmelo Anthony has to change his game in Oklahoma City