NBA Finals: Tony Parker 'trusts his body' to be ready, fears durability
Spurs guard expects to play, but admits some fear over durability.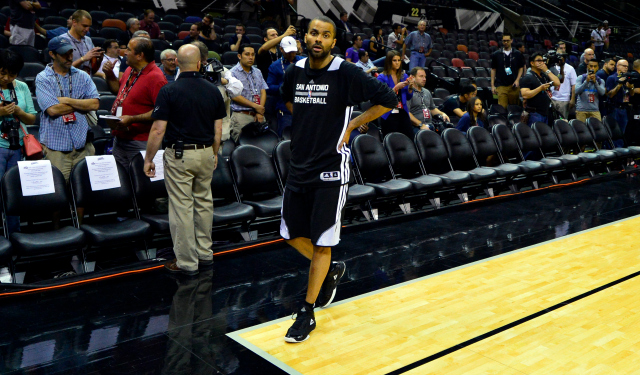 SAN ANTONIO -- At Wednesday's practice and the first media availability before the start of the NBA Finals in Game 1 Thursday, Spurs guard Tony Parker said that while he's concerned about his ankle injury, he "trusts his body" to be ready when San Antonio faces off with Miami. 
When asked how much fear he has about how the injury could develop, Parker admitted some. 
"A little bit, a little bit," Parker said, "because you never know how it's going to feel. But I'm trying to be very positive, trying to do everything I can, eat healthy, get my rest, do all the treatment.
"I just trust my body; I've been playing for four years nonstop, since 2010, no vacation, made three conference finals, made two finals with the national team so we always go all the way. But I'm very proud, my body, and yes, I had little stuff, wear and tear, but I'm still here and I trust my body to hold up."
Parker practiced with the team Wednesday, but Gregg Popovich later said that doesn't mean anything as it was a light day for the Spurs. 
"We didn't do anything competitively. He just shot and went up and down the court, but I expect him to play."
Popovich said he didn't have any concerns about durability with Parker, and that he thinks he'll be "fine." Parker played 15 minutes per second half in last year's Finals, battling a hamstring injury instead of the 18 he played in the first halves. 
He averaged 7.3 assists in the first half of the final four games last year, and just 3.2 with 2.6 turnovers in the second halves of the deciding three games, according to NBA.com.
We've got all the scores, highlights and news for Thursday night

There were some weird discrepancies between the fan, media and player votes

LeBron and Steph will be the captains for the 2018 NBA All-Star Game
Arron Afflalo was involved in an altercation with Timberwolves big man Nemanja Bjelica on...

Fergie and Canadian rock band The Barenaked Ladies will sing their respective national ant...

Based on Gentry's tongue-in-cheek price, Boston is highly unlikely to acquire the big man