NBA Finals: Unsung as always, Chris Bosh saved the Heat's season
Ray Allen hit the big shot. LeBron James lost his headband and had a big fourth quarter. But Chris Bosh really is the one that should get the credit.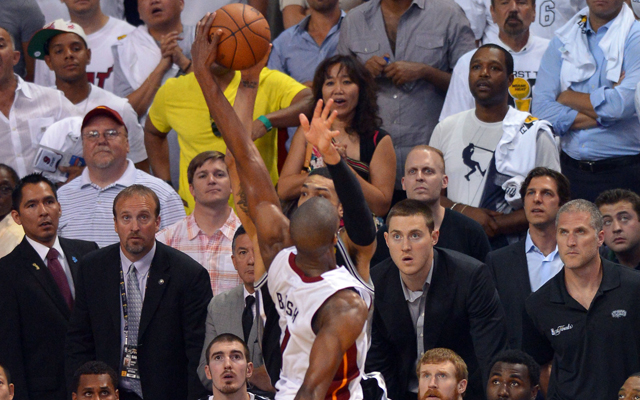 MIAMI -- Standing exhausted in front of his locker, a hundred yards or so from the postgame interview podium reserved for the game's stars, Chris Bosh said it simply.
"[Ray Allen] saved the season," he said.
Wrong, Chris. You saved the season. 
It was fitting, though, that there Bosh was in a steamy, sweaty locker room with only a gaggle of reporters around him, while Allen cruised to the sprawling interview room with cameras and a live stream to NBATV set up. I mean, it was Allen who sunk the shot that capped an improbable comeback for the Heat, overcoming a five-point deficit with 28 seconds to go to force overtime. It was LeBron James who rose like a phoenix in the fourth quarter, coming to life to score 16 points and lead a furious comeback charge. 
But it was Bosh, after LeBron clanged a game-tying attempt long with seven seconds left, that sprung over two Spurs and immediately located Allen backpedaling to the corner and hit him perfectly on time to even present the opportunity to tie the game. 
"CB made some unbelievable plays tonight," LeBron said. "He got the offensive rebound, hit Ray, and once Ray got them feet down, I seen it in the air and I was like 'it's going in, it's got a chance, it's going in.' And he drained it. Gave us another life."
(It needs to be noted: On Bosh's rebound, notice who he's grabbing it over. It's Manu Ginobili and Danny Green. And while he's far more aggressive attacking the ball on it, missing from your picture was Tim Duncan, who Gregg Popovich curiously decided to sit.)
It was Bosh who switched on Tony Parker and got a piece of his potential go-ahead jumper with 32 seconds left. It was Bosh who crammed Danny Green's potential game-tying 3 as the final buzzer sounded. It was Bosh who fought Tim Duncan on the block the entire second half and overtime holding him to just five points on 2-8 shooting, after Duncan had just dominated with 25 points on 11-13 shooting the first 24 minutes. 
The Spurs were about to celebrate a championship on Miami's floor. They had it locked up. It was over. The locker room was getting covered in plastic, the shirts were getting unboxed, the hats were getting laid out. But Bosh, and his Heat teammates, weren't ready to say goodbye to their season.
"They started bringing out that yellow tape and I got pissed off," Bosh said.
Bosh has always been the easy target, the obvious scapegoat, the subject of blame and frustration. He's often criticized for being a so-called "soft" player, or that he doesn't rebound, or that he doesn't stay aggressive. 
His final line doesn't pop -- 10 points, 11 rebounds, two assists, two blocks -- but those three plays stand tall above everything else that happened over the course of 53 absolutely insane, unbelievable, completely classic minutes. 
"Chris was tremendous down the stretch for us," said Erik Spoelstra. 
Pretty fitting, too, that on a day Bosh made headlines for proclaiming that Green wouldn't get open, that he was the one that completely smothered Green's game-tying attempt in overtime. Green was most definitely not open on that play, and it was largely because of Bosh's stellar awareness. The Spurs ran a clever diversion set and skipped a crosscourt pass to Green in the opposite corner. A play that would've been easy to lose someone on, but Bosh was all over it and denied the shot. 
Bosh isn't the one that gets the credit. Heck, he wouldn't even give it to himself after the game. He named Allen, he named LeBron, he named everyone else. But if he doesn't grab that rebound, if he doesn't find Allen in the corner, if he doesn't block Parker, if he doesn't defend Duncan, if he doesn't smother Green -- the Heat's season would be over. 
"I don't know how we won that game," he said.
I do, Chris. Look in the mirror. 
Trump rescinded Curry's invitation to the White House after Curry said he wasn't interested...

Silver said he was hoping Warriors would get chance to share their views directly with the...

Along with the Thunder, those were the three teams most involved in the Anthony trade talk...
LeBron said he was frustrated by the President's recent actions

A look at the various actors and elements in the latest sensational blockbuster trade in the...

Blockbuster deal doesn't change the Thunder's projected finish in the West