NBA Finals: What's wrong with Manu Ginobili?
Manu Ginobili has quietly kind of stunk it up so far in the NBA Finals. What's going on and can the Spurs win without him?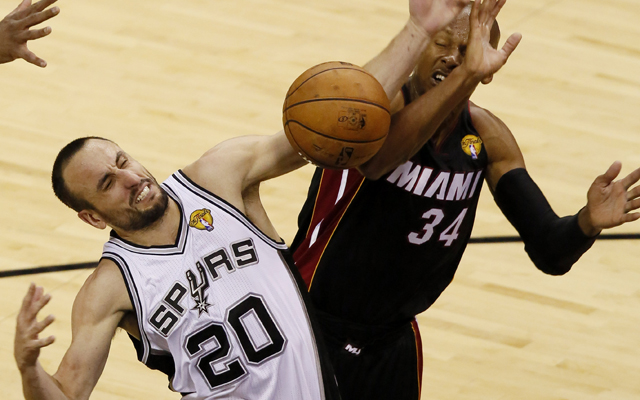 SAN ANTONIO -- I don't think anyone summarized the disappearance of Manu Ginobili better than CBSSports.com's Gary Parrish did in 140 characters or less.
"Manu Ginobili has finally started playing like you'd expect a man with a large bald spot to play," he tweeted. 
Thank you, and goodnight.
It's been quietly overlooked in these four games, though, of the NBA Finals that Ginobili, 35, has kind of stunk it up. Actually not kind of. Really. He's really stunk it up. 
His numbers so far in the Finals: 7.5 points on 34.5 percent shooting, 1.5 rebounds and 3.0 assists. In Game 4, he scored five points (two coming in garbage time) on 1-5 shooting and was a team worst -22. His best game in the series was Game 1 where he scored 13 on 5-11. The last three, he's scored a total of 17 points on a combined 6-18 shooting. 
Ginobili's old, we get that. The simple answer as to what's wrong is that he's finally over the hill for good. He's not the Ginobili that was slashing and passing and cutting up defenses everywhere five years ago. But age isn't the problem. He's just not playing well, at all. 
"Yes I am surprised," Ginobili said of his individual performance. "I wish I could score more, but it's not happening. I've got to try and do other stuff, I've got to move the ball if the shot is not falling. I've got to be sharp feeding the bigs, and finding shooters. And when that happens, I don't have to force it. Usually that's not what I do and that's not what I'm asked to do."
On a night Miami's Big 3 scored a combined 77, the Spurs produced just 40. And Tim Duncan and Tony Parker combined for 87.5 percent of that. Ginobili is a player that has always supplemented his teammates with scoring, but he's just not doing that right now. 
"That's what they've been all season long, it's not that I scored 30 a game this year," Ginobili said of his scoring. "I'm not feeling pressure that I have to score 20 to win. It's not who we are."
Said Duncan: "I think he's just trying to be incredibly unselfish right now. I think he's trying to make the right play at the right time. He's trying to make the right pass, make the defense move instead of looking more for his own. So I think he's just trying to make the right play more than anything. We need him to be a little more aggressive, be a little more selfish, maybe and hopefully we can find him a way to get him to do that."
Duncan identified the problem as Ginobili needing to be more selfish. Maybe that's the easy explanation. Ginobili is only taking 7.3 shots a game, and is immediately looking to pass on almost any touch he gets. The Heat are doubling and trapping screen-and-rolls with Ginobili, and it's turning him into a complete pass-first player. The Ginobili of five years ago, the one with flowing locks of hair, would be attacking that double before it got there, assaulted the rim, collapsing help defenders and then kicking to a teammate. 
Instead, Ginobili looks like a dad that just woke up from an afternoon nap and immediately started trying to dribble a basketball. Simple things, like splitting a double or going behind his back have become a chore. At times, it's like he's never touched a basketball before, stumbling and losing handle of the ball. He doesn't look like himself. Not even himself from two weeks ago.
"I don't know [what the problem is]," Gregg Popovich said. "If I knew that I would have already fixed it."
It seemed intentional that as Popovich pulled his starters with about four minutes left that he actually subbed Ginobili back in with the garbage time unit. Down 15 and playing alongside Nando De Colo, DeJuan Blair, Cory Joseph and Boris Diaw, Ginobili handled the ball, defended LeBron James and was a bit more aggressive as the offensive focal point. He made his only shot of the game -- a mid-range pull-up and got to the line for two free throws.
Clearly, it was an effort to spark Ginobili and help him find a rhythm. Because it's obvious that unless Gary Neal and Danny Green plan to rain fire from the heavens again, having Ginobili as a scorer and creator is extremely necessary.
"We definitely need Manu," said Tony Parker. "I think everybody, we need to help him to try to get his confidence going. But I have a lot of confidence in Manu. I'm sure he's going to break out of that slump. I've been playing with him for a long time. I know he's going to have a big game soon."
It could also be that the Heat have identified Ginobili as a potential problem. Allow him to get his slash, score and kick game going and the Spurs' offense becomes that much more lethal. 
"He's a big-time player," said LeBron James. "Against big-time players you just try and take it tough on them."
A lot of folks wrote Dwyane Wade off for dead before Game 4 and he reversed the clock to 2006 responding with 32 points, six rebounds, four assists and six steals. And might've saved Miami's season because of it. 
Now, it might be Ginobili's turn to do the same for the Spurs.
We've got all the scores, highlights and news from all of Sunday's games

The Rockets beat the Warriors 116-108 on Saturday night

The Cavaliers gave up 148 points in their loss Saturday afternoon to the Thunder
Blatt made the comment before coaching in the All-Star Game in Turkey

Is this rock bottom for the Cavaliers because it sure feels like it is

Wade, as he's done so many times in his career, threw it up to LeBron for the thunderous f...