NBA fines Doc Rivers $25,000 for comments after Game 5
Doc Rivers fined $25,000 for criticizing the officials after Game 5 loss.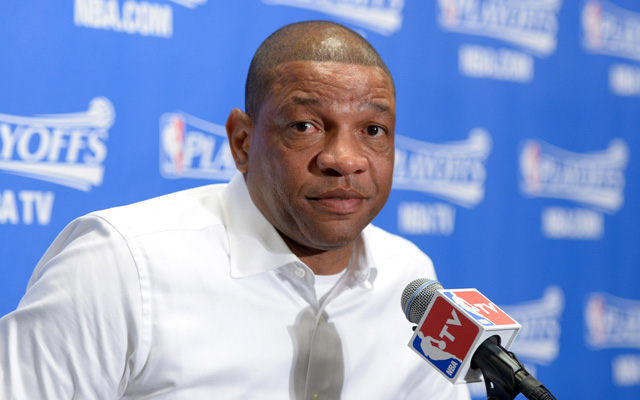 More postseason coverage: Playoff schedule, results | Latest news, notes
After Doc Rivers' Game 5 freakout following the controversial call, the NBA fined the Clippers coach $25,000 on Thursday for his comments. The Clippers lost 105-104 Tuesday after Matt Barnes' swipe of the ball was ruled off Barnes instead of Reggie Jackson.
Rivers didn't seem to mind the punishment.
"I thought it was deserved," he  told the Associated Press. "It's one of the rare times you actually earned one. I don't mind that."
Here's how we broke down the call, which the league stood by on Wednesday. Here are Rivers' comments.
Rivers also reportedly yelled at Thunder owner Clay Bennett about the call due to the lack of replay angles,
Here's the play in question:
The Pistons put out a long list of details regarding their new uniforms

The Pacers traded the forward to OKC for two former lottery picks who have yet to reach their...

Gilbert said what was expected, but didn't necessarily sound all that confident
Altman addressed the media about Irving during his introductory news conference

Toronto's center has an uncertain future; can we still talk about this 25-year-old's poten...

Oakley was vague with his response on when he'd attend another Knicks home game