NBA fines Hawks F Ivan Johnson $25,000 for flipping off Celtics fan
The NBA has fined Atlanta Hawks forward Ivan Johnson $25,000 for flipping off a fan of the Boston Celtics following a Game 6 loss.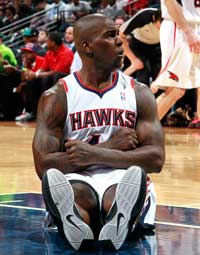 The NBA has fined Hawks forward Ivan Johnson.
(Getty Images)
Losing with dignity simply shouldn't involve a one-finger salute.
The
NBA
announced on Saturday that Atlanta
Hawks
forward
Ivan Johnson
has been fined $25,000 for "directing an obscene gesture toward fans" after a Game 6 loss to the Boston
Celtics
on Thursday night.
Johnson was caught putting his left middle finger in the face of a fan wearing a Celtics jersey as he left the court following Boston's series-clinching victory.
This image
 shows Johnson's obscene act.
It was an unsurprising end to the volatile 28-year-old rookie's first season in the NBA as Johnson was
banned from the Korean Basketball League
for making an obscene gesture towards a referee.
Johnson averaged 6.4 points and 4.0 rebounds in 16.7 minutes per game for the Hawks this season.
Hat tip: SBNation.com
.
We've got all the scores, highlights and news from all of Sunday's games

The Rockets beat the Warriors 116-108 on Saturday night

The Cavaliers gave up 148 points in their loss Saturday afternoon to the Thunder
Blatt made the comment before coaching in the All-Star Game in Turkey

Is this rock bottom for the Cavaliers because it sure feels like it is

Wade, as he's done so many times in his career, threw it up to LeBron for the thunderous f...