NBA Free Agency: Looking outside the superstars for elite talent
Eric Bledsoe and Greg Monroe highlight a class of unsigned free agents that could make a huge impact.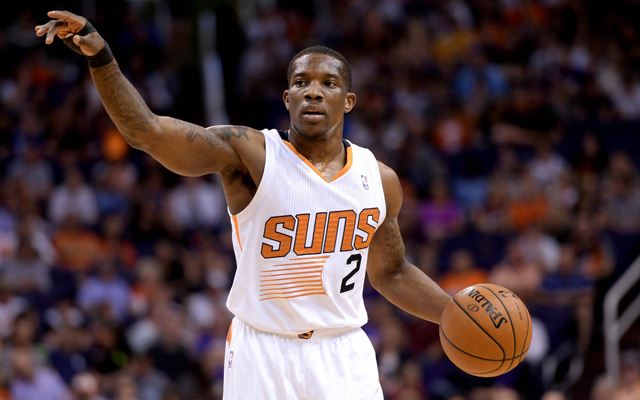 More Offseason Analysis: Updating Free Agency news | Top 40 free agents
The whole NBA world is waiting on two guys. LeBron James and Carmelo Anthony are taking their sweet time deciding where they're going to play next season. As a result, no one can make any moves.
Agents for the other players don't want to commit to anything because a better deal could open up after a team whiffs on one of the Big 2. Teams don't want to commit to anything because they might get someone at a discount if a competitor for that player ties up cap space on one of the bigger names. 
So we're stuck in limbo. 
But while the universe watches every move that James and Melo make, most of which have been Instagram photos of fishing from Anthony's account, there are players beyond the top guys who can make a difference. 
Here's a quick look at the Best of the Rest as of July 6. First, take a gander at our Free Agency Tracker to get acquainted. 
Eric Bledsoe, PG, Phoenix Suns: Bledsoe is a restricted free agent, and the thought process is that unless the Suns are able to land Anthony or James, Phoenix will match any offer for him. But there's reason to test the Suns' resolve. Bledsoe is good on every level. He's young, with upside that indicates he could improve to dominant status in the next four years. He can rebound and block shots like a forward with his athleticism, gets up the court as fast as any point guard, and has added a more refined offensive game.
Bledsoe won't make you into an instant contender, but if a team like Dallas or Houston gets ahold of him, it would go a long way toward pushing them up a rung. He could make the Lakers at least decent alongside Kobe Bryant. Bledsoe is an athletic superfreak with a tenacious attitude. High-value signing if you can pry him out of the desert. 
Greg Monroe, PF, Detroit Pistons: As we outlined, Monroe's in a sticky situation in Detroit next to Josh Smith as a restricted free agent. But he's a player that many teams are probably overlooking. The reality is that post scoring in the modern NBA comes at a premium, but it's also on the verge of an explosion of talent. The last four draft classes have brought in some guys with exceptional post scoring talent. This is going to be an area of need for teams to compete with in the future, and Monroe is particularly skilled. 
Yes, he's a defensive liability, but he's also strong as a moose, as his nickname implies, and has great court awareness. Monroe may not be worth the max, but if you have a good core around him, he can get you to the next level. The Bulls might want to consider an offer if their plans for Carmelo Anthony fall through. 
Lance Stephenson, G/F, Indiana Pacers: Stephenson's in a tough spot. His antics in the playoffs hurt his value and now the market isn't what he was hoping for. But he's remaining patient and eventually someone's going to see an opportunity and take a stab at him. Charlotte could use his ability to make plays off the perimeter as well as his overall stat-stuffing approach, but there are concerns on how his attitude meshes with Steve Clifford and a Hornets locker room that has good chemistry. 
It's frustrating because Stephenson is the rare player who is as good on defense as he is offensively at a high level, and who is a playmaker as well as a scorer. If he just wasn't a lunatic, he'd have his pick of max offers. It will be interesting to see if a surprise team comes out to grab him. 
Chandler Parsons, F, Houston Rockets: Another restricted free agency victim of limbo. Indications have been that even if the Rockets were to add Carmelo Anthony, they would re-sign Parsons, and definitely do so if Anthony goes elsewhere. 
And while Parsons has been great in Houston, it's a shame we don't get to see him elsewhere. His combination of athleticism and perimeter shooting would be fantastic on several teams. Phoenix, in particular, would be a great fit for him, and Boston would find a lot of what they're looking for in Parsons as well. 
Other names that can still make an impact: 
Gordon Hayward, F, Jazz: Limited because of restricted free agency and shot poorly last year from both 3 and the field, but Hayward is a stat stuffer and someone whose skills make him plug-and-play with nearly any team. 
Luol Deng, F, Cleveland Cavaliers: Deng is a hot commodity for a reason. He's able to score and defend as a veteran. He's slipped more as he's gotten older than you'd think but he's still a high-impact player, which is why teams like the Clippers are trying to make a run at him. Atlanta is a rumored destination, and he'd be a great fit in Mike Budenholzer's system. 
Pau Gasol, F, Los Angeles Lakers: The finesse-4 has been tied to interest from San Antonio, Miami, Oklahoma City and the Knicks as well as the Lakers. What can Gasol do to change your team at this point in his career? He spaces the floor and makes your team smarter, makes passing easier for everyone. You had better have rim protection behind him, though. 
Isaiah Thomas, PG, Sacramento Kings: Talented, fast, versatile, efficient. But short. Thomas has a tough-as-nails attitude and brings a fight with him every time he steps on the floor. But the Kings just don't believe he can be a starter. For a team with defensive size, he could be a steal if they can put the offer just big enough to keep Sacramento from matching. 
Gobert, who missed 11 games earlier this season with a knee injury, will have an MRI

Get all the latest scores, news and highlights from Friday's NBA games

Porzingis is questionable for Carmelo Anthony's return to MSG on Saturday
The Spurs and Rockets will renew their in-state rivalry on Friday night

Anthony will play at Madison Square Garden on Saturday for the first time since being trad...

SportsLine's Mike McClure, a DFS pro with more than $1M in winnings, gives optimal lineup...