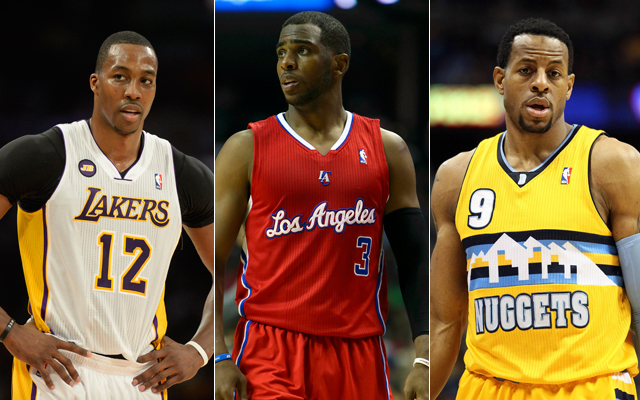 NBA Free Agency 2013: Free Agent Tracker | Trades | Latest rumors and news
Free agency begins Monday at midnight ET/Sunday 9pm PT, and front office executives will be ready at the doors of many of the top free agents. To get you prepared for the madness that is about to begin (and of course the next Dwightmare), we've got a breakdown of the top 10 free agents at each position.
1. Chris Paul, unrestricted, 28 yrs old, 4yr $62.5m: We can talk about Dwight Howard all we want, but if this was a truly open market without any restrictions, Chris Paul would be the prized possession in the free-agent class. He's the best point guard in the world and someone who commands the respect of players around the league. However, his reps say he's staying with the Clippers.
2. Brandon Jennings, restricted, 23 yrs old, rookie contract: It seems like Brandon Jennings has all of the talent, but does he have the mental makeup to be what teams need him to be? He wants to be in a big market with the spotlight on him, but what if the Milwaukee Bucks don't let him leave? Will he be a malcontent or will he try to make the best of it?
3. Jeff Teague, restricted, 25 yrs old, rookie contract: Jeff Teague is someone the Atlanta Hawks are likely to match, but since they're trying to carve out cap space for Dwight Howard and maybe one more player, if you get Teague's signature on a big offer sheet early, the Hawks might not be able to match.
4. Jarrett Jack, unrestricted, 29 yrs old, 4yr $20m: Jarrett Jack had a fantastic year with the Golden State Warriors, finishing third in Sixth Man of the Year voting. Jack was a crunch-time option for a Warriors team that surprised the league with a second-round presence in the playoffs. Is he OK with the backup role or does he want to run a team again?
5. Jose Calderon, unrestricted, 31 yrs old, 5yr $45m: Jose Calderon is one of the best point guards in the league when it comes to shooting and taking care of the ball. He always has one of the top assist-to-turnover ratios in the league, but his defense means you may just want him as a backup. 
6.  Beno Udrih, unrestricted, 30 yrs old, 5yr $32.3m: This may seem really high for Beno Udrih but he's become one of the more underrated backup point guard options in the NBA. He's as good as anybody shooting in the pick-and-roll situation and you can trust him to run the second unit.
7. Mo Williams, unrestricted, 30 yrs old, 6yr $51.2m: Mo Williams is coming off a big contract and he still has the confidence that often makes him more of a gunner than a point guard. But he can light it up. The rest of his career may be in a backup role, but he'll have to shelve some ego to agree to that.
8. Nate Robinson, unrestricted, 29 yrs old, 1yr $1.1m: With Derrick Rose missing the entire season, Nate Robinson and Kirk Hinrich had to fill in for the 2011 MVP. Robinson turned a one-year minimum contract into what should be a very lucrative opportunity. He showed a great ability to score the ball efficiently in a Sixth Man role.
9. Darren Collison, restricted, 25 yrs old, rookie contract: Collison has had a tough couple of seasons. He lost his starting gig at the end of the 2011-12 season to George Hill with the Indiana Pacers and then somehow lost his starting job to Mike James on the Dallas Mavericks this past season. You can't lose your starting job to Mike James in 2013 and feel good about getting paid.
10. C.J. Watson, player option, 29 yrs old, 2yr $2m: Watson could be another backup option teams around the league are dying to sign. He's been pretty good in backup roles for the Chicago Bulls and Brooklyn Nets over the last two seasons. He should be able to at least triple his yearly salary and secure a prime backup position with a contender.
Others to consider: Devin Harris (U), Rodrigue Beaubois (R), Patrick Beverley (U)
1. Manu Ginobili, unrestricted, 35 yrs old, 3yr $38.9m: The reason Manu Ginobili is at the top of this list after the worst season of his career is because I think he can still offer plenty of scoring and distributing for a team and his price tag will be cheap this year. If he re-signs with the Spurs, he may give them a big enough discount to maintain flexibility while still giving them some scoring off the bench.
2. Monta Ellis, early termination option, 27 yrs old, 6yr $66m: Monta Ellis have it all but does Monta Ellis want to be the star still? Ellis would be great as a secondary scorer or even the third option on a team. But that's asking him to stop thinking he's in the conversation for the top shooting guard in the NBA. 
3. Kevin Martin, unrestricted, 30 yrs old, 5yr $53m: Kevin Martin is someone who has shown he can put up a lot of points very efficiently. Re-signing with the Oklahoma City Thunder would allow them to keep showing something tangible from the James Harden trade, which could work in his negotiating favor.
4. Tyreke Evans, restricted, 23 yrs old, rookie contract: What do you do with Tyreke Evans if you're the Sacramento Kings? He was a historic rookie four years ago and now he's someone you'll let walk with a big offer sheet. He can still be a force driving to the basket, but if his jumper isn't improving then he's not worth the usage rate.
5. J.R. Smith, player option, 27 yrs old, 2yr $5.7m: Is J.R. Smith going to give the New York Knicks a discount to keep him in the City That Never Sleeps or will a bigger paycheck somewhere else draw his attention? Being with the Knicks is probably the play for Smith, but he could also angle for a team that is willing to give his brother a shot.
6. J.J. Redick, unrestricted, 29 yrs old, 3yr $20.1m: J.J. Redick wants $10 million per season in his next contract, which could lessen the appeal for teams going after him. But if the market can cut that number by a few million, then he'll be one of the most sought after shooters this summer.
7. O.J. Mayo, player option, 25 yrs old, 2yr $8.2m: In the first half of O.J. Mayo's contract year, he looked like a guy ready to make the leap into a serious weapon on the court. In the second half of the season, he struggled to make 41 percent of his shots for the Mavericks. It's possible he'll never get that big payday. 
8. Nick Young, unrestricted, 28 yrs old, 1yr $5.6m: Nick Young wants to shoot. He probably doesn't care where that happens. He just wants to put up shots. 
9. Tony Allen, unrestricted, 31 yrs old, 3yr $9.4m: Tony Allen has shown the league over the last couple of years just how important it is to have a perimeter defender like him. But will his offensive woes hurt his market value?
10. Gerald Henderson, restricted, 25 yrs old, rookie contract: Gerald Henderson could be the steal of this free agency class. He's restricted so teams would have to overpay him to keep the Charlotte Bobcats from matching, but he can be one of those incredible defensive wings who can slash to the bucket.
Others to consider: Gary Neal (R), Randy Foye (U)
1. Andre Iguodala, early termination option, 29 yrs old, 6yr $80m: Andre Iguodala is taking a big risk by optioning out of a deal that pays him so much next season, but when you're one of the best defensive players on the planet, you can have that kind of confidence. With George Karl's ousting in Denver, will he want to return to the Nuggets?
2. Andrei Kirilenko, player option, 32 yrs old, 2yr $20m: Kirilenko will opted out of a deal that pays him $10 million next season, after proving this past season that he's still a very valuable role player. He'd be a great pickup for the next two years.
3. Mike Dunleavy Jr., unrestricted, 32 yrs old, 2yr $7.5m: Dunleavy has had a little bit of a renaissance. He was a huge weapon for the Milwaukee Bucks the last couple of years and is another one of those valuable shooters who could bring about a nice little bidding war.
4. Corey Brewer, unrestricted, 27 yrs old, 3yr $7.5m: Corey Brewer continues to improve but is his erratic play a deterrent to potential suitors? He's one of the best players in the league at getting into transition and he can defend pretty well. But a more consistent 3-point shot would go a long way with him.
5. Kyle Korver, unrestricted, 32 yrs old, 3yr $15m: Is Kyle Korver the best shooter in the NBA? He's certainly in the conversation and you can see how tense defenses get when he's coming off of screens. He could command a very nice salary this season and end up making around the same amount as Redick.
6. Chase Budinger, unrestricted, 25 yrs old, 4yr $3.2m: Chase Budinger didn't get a chance to show his full capabilities last season, missing months with a lateral tear in his meniscus. But the hyper-athletic, sweet shooting wing player will be a great asset to the teams in need of shooting. His own Minnesota Timberwolves will make re-signing him a key this offseason.
7. Al-Farouq Aminu, unrestricted, 22 yrs old, rookie contract: Al-Farouq Aminu was great at moving without the ball and working with Greivis Vasquez to score at the rim. His defense and slashing ability will get him plenty of interest. And he's so young that you can still hope he develops a consistent jumper.
8. Dorell Wright, unrestricted, 27 yrs old, 3yr $11.4m: Dorell Wright is another athletic shooter who could command a similar type of deal to what he received three years ago. Is he good enough to command a midlevel exception from somebody?
9. Matt Barnes, unrestricted, 33 yrs old, 1yr $1.2m: Barnes is looking to get paid. He's had too many one-year deals in his career, but who is going to be willing to give him the kind of security he's looking for? He's not a consistent outside shooter, but his defense is pestering to opposing players.
10. Martell Webster, unrestricted, 26 yrs old, 1yr $1.75m: It feels like Martell Webster should be 35 years old because he's been around so long. After back problems that plagued him for a couple of seasons, he had a nice bounce-back year with the Washington Wizards. He made a career-high 42.2 percent from 3-point range.
Others to consider: Carlos Delfino (U), Francisco Garcia (U), Wes Johnson (U)
1. David West, unrestricted, 32 yrs old, 2yr $20m: David West may be getting up there in age but he proved his importance with the Indiana Pacers during a playoff run that took them to Game 7 of the Eastern Conference finals. He and the Pacers have expressed mutual interest for getting a deal done, but it doesn't hurt to ask his agent. 
2. Paul Millsap, unrestricted, 28 yrs old, 4yr $32m: Paul Millsap is one of the big decisions the Utah Jazz have to make this summer. They have Derrick Favors and Enes Kanter looking for more playing time. They also have Al Jefferson as a free agent. Could it be easy to steal Millsap away from them with an aggressive offer?
3. Josh Smith, unrestricted, 27 yrs old, 5yr $58m: Josh Smith should be near the top of the free agent wish list for every team based on talent alone. Unfortunately for him, he seems to like taking jumpers that he's not very good at making. If you can eliminate that tendency from his game, he's an All-Star-caliber player.
4. Carl Landry, player option, 29 yrs old, 2yr $8m: The Warriors' front office admitted they couldn't believe how cheaply they got Carl Landry last offseason. This summer, he'll be looking for a much bigger paycheck and with the Warriors flirting with the luxury tax, they might not be in a position to retain him.
5. Elton Brand, unrestricted, 34 yrs old, 1yr $2.1m: Elton Brand is pretty old for a big man but he's still capable of being a valuable third big man in a rotation. He was an amnesty casualty before the Mavericks picked him up off waivers, so expect his yearly salary to increase. 
6. J.J. Hickson, unrestricted, 24 yrs old, 1 yr $4m: J.J. Hickson had great scoring and rebounding numbers last season. So why are the Blazers looking happy for him to explore his options in free agency? Because he doesn't play any defense.
7. Jason Maxiell, unrestricted, 30 yrs old, 4yr $20m: Jason Maxiell could be the exact tough big man teams are looking for to bring a little attitude and snarl. He isn't afraid to attack and protect the rim. Even though he's undersized, he brings a lot to your lineup.
8. Tyler Hansbrough, restricted, 27 yrs old, rookie contract: It will be interesting to see how much the Pacers value Hansbrough. He's a restricted free agent and they already have depth issues. Can you mess up their salary cap situation by forcing them to overpay to match an offer sheet?
9. Andray Blatche, unrestricted, 26 yrs old, 1yr $1.1m: Andray Blatche is probably fine taking a veteran's minimum deal with the Brooklyn Nets because it means the Washington Wizards have to continue to pay a huge chunk of his amnestied salary. 
10. Chris Copeland, restricted, 29 yrs old, 1yr $473k: It could be very hard for the New York Knicks to justify going even deeper into the luxury tax dungeon of the NBA by matching a deal for Copeland. He's incredibly versatile and can shoot the 3-ball. He would be a great steal for your second unit. 
Others to consider: Brandan Wright (U), DeJuan Blair (U), Antawn Jamison (U)
1. Dwight Howard, unrestricted, 27 yrs old, 5yr $83.2m: Grab your Affliction T-shirts and fire up the old TMZ website. It's Dwightmare 2.0!
2. Andrew Bynum, unrestricted, 25 yrs old, 4yr $57.2m: With the Philadelphia 76ers trading for Nerlens Noel and looking ready to tank for Andrew Wiggins or one of the top players in the 2014 draft class, it looks unlikely they'll feel pressured to re-sign Andrew Bynum. Do you want a really good center with a scary knee history?
3. Al Jefferson, unrestricted, 28 yrs old, 5yr $65m: Al Jefferson is one of the best post scorers and rebounders in the NBA. It would make sense for the Utah Jazz to retain him and let Millsap go because of his size advantage, but can you keep making up for inconsistent defense?
4.Nikola Pekovic, restricted, 27 yrs old, 3yr $11.8m: Nikola Pekovic could be one of the most sought-after free agents on the market because of his ability to score and rebound, but it will take overpaying him to pry him from the Timberwolves. How close to the max deal zone are teams willing to go for a guy that misses a fair number of games?
5. Tiago Splitter, restricted, 28 yrs old, 3yr $11m: Tiago Splitter looked prime for a big payday before the Miami Heat turned him into Andris Biedrins out there. But he still is a very active, mobile big man who has good touch around the basket. Will it take much to get the San Antonio Spurs not to match an offer sheet?
6. Zaza Pachulia, unrestricted, 29 yrs old, 4yr $19m: When healthy, Zaza Pachulia might be the best backup center in the NBA. He's a good defender, massive around the hoop and a good rebounder. He could be a nice target for teams looking for interior depth.
7. Marreese Speights, player option, 25 yrs old, 2yr $8.7m: Marreese Speights can play the pick-and-pop and knock down spot-up jumpers. His rebounding is good, too. But is he someone you feel comfortable signing for depth on a contending team?
8. Timofey Mozgov, restricted, 26 yrs old, 3yr $9.9m: Yes, Blake Griffin dunked on him something awful, but Mozgov is actually a pretty decent defender and big body to have in your rotation. But he'll probably get dunked on again.
9. Chris Kaman, unrestricted, 31 yrs old, 1yr $8m: Chris Kaman can score but you never want him to make his first jumper because then he falls in love with it. He also is a terrible defender. If he wants anything close to his last yearly salary, run away.
10. Chris Andersen, unrestricted, 34 yrs old, 1yr $540k: Will the Birdman leave Miami? Does he want to just hang out and catch dump-off passes from LeBron James? It might be hard to pry him from Miami's grip.
Others to consider: Byron Mullens (R), Samuel Dalembert (U), Greg Oden (U)