NBA free agency: What 'sacrifice' really is to guys like Big 3, Anthony
As NBA free agency starts, be sure you understand -- under new rules -- what 'taking less' means to the likes of Miami's Big Three and Carmelo Anthony.
More free agency: Top 40 free agents | Top 20 PGs | Top 20 bigs | Latest news
As we brace for the 2014 free-agent frenzy in the NBA, it's time to clear up some misperceptions about what realistic options are on the table for superstar free agents LeBron James and Carmelo Anthony.
We need to do a better job of understanding what is meant by "taking less" and "sacrificing" to team up with other stars.
First, let's look at precedent. When James, Dwyane Wade and Chris Bosh decided to team up in Miami and form the Heat's Big Three in 2010, they mutually agreed to take less money in order to fit under Miami's spending restrictions at the time. This happened under a previous, less restrictive collective bargaining agreement, so it was easier to pull off.
The maximum salary that all three were eligible for in the first year of their new contracts was $16.2 million. James and Bosh started at $14.5 million, Wade at $14.2 million.
Not to minimize their sacrifice, but the money left on the table at that time pales in comparison to some of the speculation about how much less they would be willing to take now -- and how much Anthony would be willing to sacrifice to join them or to team up with someone in another city.
Through the compounding effect, James and Bosh left about $9.6 million on the table in the first four years of their six-year contracts with the Heat. Since he started slightly lower, Wade left a little more on the table. All three will now exercise the early termination options in their contracts, making them unrestricted free agents at 12:01 a.m. ET on Tuesday.
James will have multiple maximum offers, so he isn't losing a penny by opting out -- unless he wants to. His motivation was mostly about giving Heat president Pat Riley the flexibility he needs to upgrade the roster -- and applying pressure for him to do so -- while keeping the Big Three together.
Bosh's situation depends on whether there will be a max market for him outside of Miami. Despite reports he's seeking a deal starting at $15 million to $16 million to stay with the Heat -- a notion that one person familiar with his plans rejected -- I believe there will be. There are at least a half-dozen teams chasing a LeBron-Melo partnership, yet there is only one LeBron and one Melo. Bosh at the max, or close to it, would be a reasonable consolation prize for one of the teams that loses out on the LeBron-Melo chase. Don't forget every free-agent decision is a negotiation, and the market dictates the price.
Wade's circumstances are different. At 32, having missed a third of the 2013-14 season because of injuries and preventive measures, he is clearly on the physical decline. At this stage, one high-profile agent representing multiple free agents this summer said Wade would have trouble getting a deal starting north of $10 million on the open market. So why would he opt out of the final two years of his deal with Miami that would've paid him close to $42 million? Simply put, he must have assurances from his conversations with Riley, James and Bosh that he'll be brought back at a number that will make him whole on the money he's owed but also open up short-term flexibility to fortify the roster.
"There's one thing you never do," the high-profile agent said. "Walk away from your biggest payday."
Unless you know something.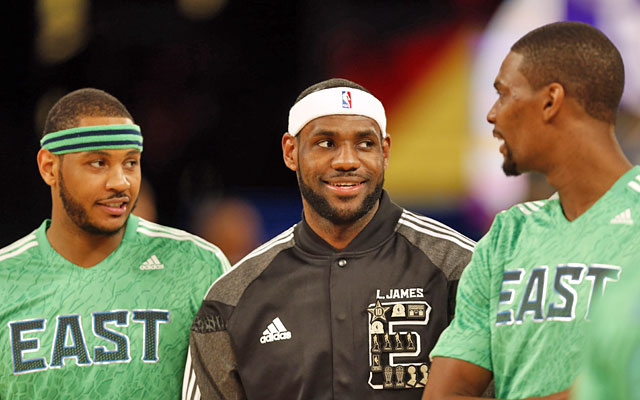 Based on the past behavior of these stars, you can see why the notion of the Big Three teaming with Anthony -- a move that would require each to give up millions and sign deals starting at around $15 million -- is unrealistic. Melo and LeBron teaming up on the Lakers, who will have about $32 million in cap room if they waive and stretch Steve Nash's $9.7 million contract? Talk about a stretch.
The idea of "taking less" has been corrupted to the point where people have an entirely unrealistic view of what that means. In the case of LeBron's last deal, it meant sacrificing less than $10 million over four years -- not $7 million to $8 million per year.
Anthony's past behavior is even more instructive on this point. In 2006, James, Wade and Bosh decided to sign four-year deals with opt-outs after three years with their respective teams so they could all be free agents at the same time. Anthony was a free agent, too, and went for the five-year, $80 million max extension with Denver.
When Anthony decided he wanted to go to New York, he did so under a provision in the previous CBA that allowed him to get a three-year, $65 million max extension as part of the trade. He opted for the more lucrative route to New York, even though that mean gutting the team's assets. Does anything about Anthony's business decisions to this point in his 11-year career indicate that he would opt for pennies on the dollar to team up with anybody?
But here is another point that should be made: If Anthony opts for the max money again -- a five-year, $129 million deal that only the Knicks could give him -- does that make him greedy? Does that mean he doesn't care about winning? No, and no; that's not fair. Similarly, if he decided to go the Dwight Howard route -- leaving his team to take a shorter max deal with another -- does that mean his decision was completely altruistic? No, it doesn't mean that, either.
None of these decisions are personal; they're just business.
What's more, here's an aspect of the business decisions James and Bosh made in 2010 that have lingering consequences. Under the old CBA, the maximum contract length was six years, which a player could get by re-signing with his existing team or in a sign-and-trade. Now, the maximum length is five years. If a player leaves his existing team, either through an outright signing or a sign-and-trade, he's limited to a four-year deal. (See Howard's decision to spurn the Lakers' five-year, $118 million offer for Houston's four-year, $88 million deal.)
With max length and max raises still accessible to free agents in sign-and-trades in 2010, James and Bosh made sure that's how they got to Miami. In turn, Miami gave up draft picks to complete the trades. Now, four years later, James and Bosh have opted out of the final two years of those deals and James is asking for roster upgrades -- upgrades that could've been made through the draft with the picks traded away.
Funny how things work out sometimes, and how they aren't always what they seem. All decisions have consequences, and remember: All NBA decisions are strictly business.
The inaugural BIG3 season comes to a close Sunday with the championship game

Thomas was traded to Cleveland yet some fans are taking it out on him ... and his jerseys

The Celtics dealt the No. 1 pick to Cleveland as part of the Kyrie Irving-Isaiah Thomas tr...
Thompson was rumored to have been a point of discussion with the Cavs regarding Kyrie Irvi...

What the Celtics and Cavs look like after the Eastern Conference powers swap point men

Simmons was the No. 1 pick in the 2016 NBA Draft but did not play last season