NBA has updated the media guidelines for the 2013-14 season
The NBA has updated its media guidelines for the 2013-14 season, which changes up rules on how players with long-term injuries are handled.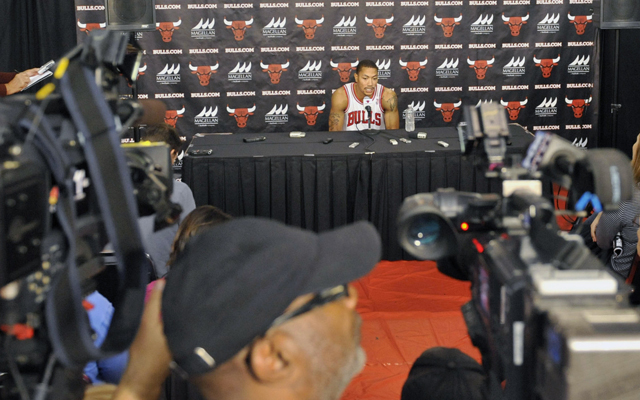 Derrick Rose is an incredible basketball player. Even though he missed the entire 2012-13 season for the Chicago Bulls, he's been so good in his career at such an early age that he had a rule in the Collective Bargaining Agreement named after him. The rule allows players who have been exceptionally successful during their rookie deals (multiple All-NBA teams, voted to star All-Star Game multiple times, or named MVP) to re-sign for 30 percent of the team's salary cap as opposed to the standard 25 percent.
That might not be the only rule named after Derrick Rose now. The NBA updated its media guidelines for the 2013-14 season and a heavy part of it is centered around players that have been diagnosed with long-term injuries or injuries late in the season to still find time to meet with the media at a certain rate throughout the healing process, whether they've returned to games or not. From Brian Mahoney at the Associated Press:
The old rules required players to be available at the morning shootaround and before the game, though most picked only one and some did neither. Now, they can choose one, but if their team doesn't hold a morning workout, they will be required to be available at pregame if requested.

Players frequently didn't talk when injured, and in the case of recent late-season injuries to Derrick Rose and Kevin Garnett, their teams' seasons ended before they ever spoke to reporters after getting hurt. The new rules require a player with a long-term injury to meet with the media within a week of the diagnosis, if medically possible, and speak once a week after he returns to practice, even if he hasn't resumed playing in games.
After Rose was absent from games for all of last season and left without any real pressure to speak to the media for updates on his condition and when he might return, it looks like the league gave a little bit on these new guidelines for talking to injured players in exchange for some concessions that NBA media types weren't looking forward to back in the playoffs when it sounded like these particular changes were coming.
Here are more changes that restrict the amount of time players are required to speak to media members while also allegedly guaranteeing that they will be available to speak to the media no longer than 45 minutes following the end of any given game:
- Practices must be open to reporters, either at the beginning or end, for 15 minutes, down from 30.

- Locker rooms will be open before games for 30 minutes, down from 45. However, both coaches will speak before that window begins. Most coaches previously spoke during the 45-minute window.

- Players must be available within 45 minutes after a game ends.
If you've been staying up late to watch post-game interviews with Kobe Bryant, Carmelo Anthony, or Kevin Garnett, then these rule changes will be huge for your sleep patterns.
(H/T - Ball Don't Lie)
Milwaukee's star did not get cleared to play for his national team due to a painful knee i...

Ball, the second overall pick in the NBA Draft, is receiving even more hype

Rap mogul supports the vision the outspoken father has for his brand and sons
Deciding who to watch on League Pass can be difficult, but these rankings promise to help

Veteran forward signed a one-year deal with the Knicks in offseason

Knicks forward had his truck stolen out of his driveway