NBA holds drawings to decide lottery and draft order
The NBA has determined the order for the lottery and first round.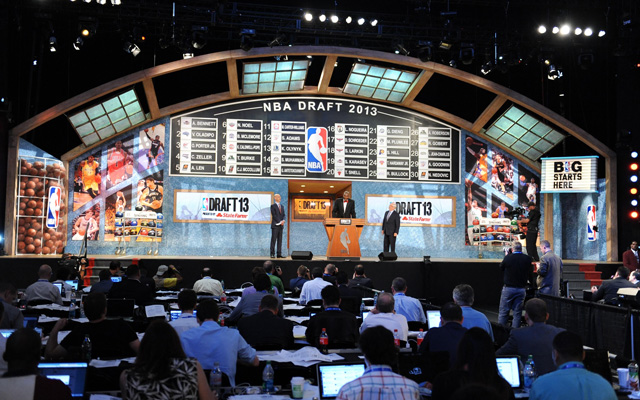 More Draft: Emmert meets with owners | Early entries this year | Draft news
The NBA lottery and first round order is set.
The NBA held random drawings on Friday to determine tiebreakers for the 2014 NBA Lottery and Draft order. Here are the results: 
· Utah (25-57) won a tiebreaker with Boston.
· Brooklyn (44-38) won a tiebreaker with Washington.
· Chicago (48-34) won a tiebreaker with Toronto.
· Portland (54-28) won a tiebreaker with Miami and Houston; Houston then won a tie-breaker with Miami.
(NOTE: Utah has the right to swap the 34th and 35th pick based on the results of the lottery. The swap will occur after the lottery results.)
The NBA lottery and draft order: 
1. Milwaukee
2. Philadelphia
3. Orlando
4. Utah
5. Boston
6. LA Lakers
7. Sacramento
8. Detroit
9. Cleveland
10. New Orleans
11. Denver
12. New York (To Denver or to Orlando via Denver)
13. Minnesota
14. Phoenix
15. Atlanta
16. Charlotte
17. Brooklyn
18. Washington
19. Chicago
20. Toronto
21. Dallas (To Oklahoma City via Houston and LA Lakers
22. Memphis
23. Golden State (To Utah)
24. Portland (To Charlotte)
25. Houston
26. Miami
27. Indiana (To Phoenix)
28. LA Clippers
29. Oklahoma City
30. San Antonio
2014 SECOND ROUND DRAFT CHOICE ORDER
31. Milwaukee
32. Philadelphia
33. Orlando (To Cleveland)
34/35. Boston (To Dallas)
34/35. Utah
36. LA Lakers (To Milwaukee via Minnesota and Phoenix)
37. Sacramento (To Toronto)
38. Detroit
39. Cleveland (To Philadelphia)
40. New Orleans (To Minnesota)
41. Denver
42. New York (To Houston)
43. Atlanta
44. Minnesota
45. Charlotte
46. Washington
47. Brooklyn (To Philadelphia via Dallas and Boston)
48. Toronto (To Milwaukee via Phoenix)
49. Chicago
50. Phoenix
51. Dallas
52. Memphis (To Philadelphia via Cleveland)
53. Golden State (To Minnesota)
54. Houston (To Philadelphia via Milwaukee)
55. Miami
56. Portland (To Denver)
57. Indiana
58. LA Clippers (To San Antonio via New Orleans)
59. Oklahoma City (To Toronto via New York)
60. San Antonio
Annual NBA rookie survey yielded some surprising results, but none more stunning than this...

Iverson says the King always has a shot to win it, and gives him the upper hand in 2017

Could be an awkward meeting, whether Melo suits up for the home team or the visitors
If Chicago was fleeced -- the prevailing thought -- when dealing its star, so were a lot of...

I.T. is optimistic about returning in time from a hip injury, but it all depends on how things...

Noel, now being represented by Rich Paul of Klutch Sports, reportedly feels he's worth a max...