NBA investigates Twitter threats sent to the Washington Wizards
The NBA has investigated an incident in which the Washington Wizards were sent threats on Twitter during their series win over the Chicago Bulls.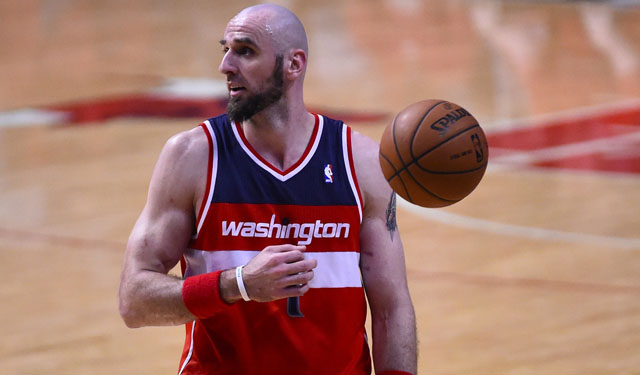 More postseason coverage: Playoff schedule, results | Latest news, notes
The NBA has investigated a person who sent threats to the Washington Wizards and their players during their opening round playoff series against the Chicago Bulls. The Wizards won the series in five games, taking all three games in Chicago in the series. The person under investigation didn't take too kindly to the success of the Wizards, making terrorist threats to the team, according to Marcin Gortat, and threatening the team with bombs and harm to their families.
The Wizards say the NBA has investigated a person who made threats to the team on Twitter during its first-round series against the Chicago Bulls.

Center Marcin Gortat said Thursday after practice that there was "one gentleman who really threatened us, actually made some terrorist threats to us."

Gortat, who is from Poland, said that "he was saying there was a bomb on the plane and stuff, that my country's going to get bombed and all my family's going to die, just stuff like that."
While the NBA won't comment on security matters, a Washington Wizards' spokesman told the Associated Press that the person in question had already received a visit from some people. This is probably not the way to handle your team losing or really any situation in life.
The Wizards are awaiting the winner of the Pacers-Hawks series to find out who their second round opponent will be. The franchise was last in the second round of the playoffs in 2005 when they beat the Bulls in six games in the first round before being swept by the Heat.
The Hall of Famer's jersey was retired by the Celtics in 1982

It's rare to see a legit punch in an NBA fight, but this was definitely one of them

We've got all the scores, highlights and news from an NBA Tuesday
The former Slam Dunk Contest champion will take his talents to Tri-State

Do NBA players have look-a-likes from famous paintings? We found out on the new Arts & Culture...

Larry Hartstein is on quite a run in picks involving the Suns and the Trail Blazers