NBA Mock Draft 3.0: Sixers claim their prize, Jabari Parker
Mock Draft has Duke's Parker No.1, Wiggins No. 2, Marcus Smart No. 3, and Julius Randle No.4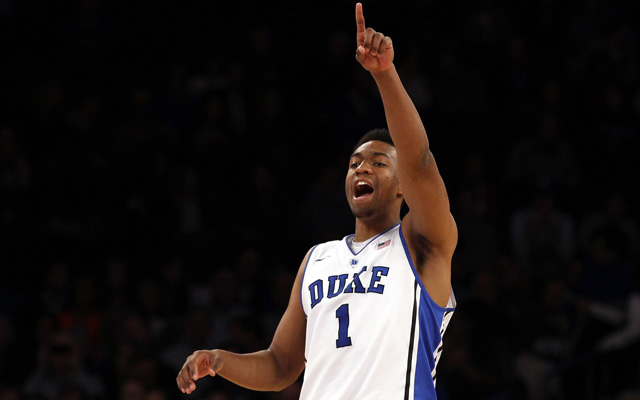 Took a while, but the Philadelphia 76ers are finally in position to get what they want. SRS, Basketball-References's metric to determine overall quality by strength of schedule and win differential, has the Sixers at the bottom. This, despite encouraging play, shows either the downfall of the metric or indicates this Sixers team will succumb to their own tank. 
Jabari Parker remains No. 1, and there's a certain amount of public frustration regarding Andrew Wiggins remaining near the top. The reality: This season is showing what we expected. A top prospect is not showing all-world talent in Bill Self's system, because at least in part, top prospects don't do that under Self at Kansas. Self makes guys into winners, into champions, into better basketball players, but not necessarily better prospects. It's a subtle distinction.
In this mock, Milwaukee lands the franchise player it has needed for a decade in Wiggins, who three years down the line could produce ridicule for those wondering if he could be any good.
In this edition, I wrestled with the Jazz at No. 3. Julius Randle is a top-three talent, and I consider him to be as good if not better than the top two. But he's struggled a bit of late. More importantly, Utah just gave a ton of money to Derrick Favors under his extension. You can't play Favors at the five, nor Randle at the three. The result is them selecting Marcus Smart, despite his flaws, because he fits with Trey Burke . 
I'm not super comfortable with it, but that's how it works out, and Cleveland winds up reaching for another pick. 
Mock Draft 3.0 uses the same formula we used since 1.0, Basketball-References's SRS metric which evaluates strength of schedule and point differential to estimate the draft order. This order was established following the games of Dec. 21, so the order is based on probabilities drawn from team performances to date.
Draft pick debt via RealGM.com
With that, here's the rest of this mock draft: 
1. Philadelphia 76ers: Jabari Parker, SF, Duke: I'm one of the few people that think Parker going ahead of Wiggins doesn't mean Wiggins isn't as good as hyped, but that Parker really is this good. He would tie a lot together: Michael Carter-Williams, Nerlens Noel (if healthy) and Parker is a heck of a core.
2. Milwaukee Bucks : Andrew Wiggins, SF, Kansas: Yes, Milwaukee has the Greek Freak (Giannis Antetokounmpo) but this is pretty simple. Wiggins is the best prospect on the board. He goes here and you build around him.
3. Utah Jazz : Marcus Smart, G, Oklahoma State: Put him at shooting guard with Trey Burke and you have two guys who can create their own shot and run an offense.
4. Cleveland Cavaliers : Julius Randle, PF, Kentucky: He slips here only because he doesn't fit with Utah. I think he'll be a monster and could be the guy Kyrie Irving needs to really go forward.
5. Atlanta Hawks  (via Brooklyn Nets swap): Aaron Gordon, F, Arizona: He gets to start as a fireplug off the bench and learn from two great big men in Paul Millsap and Al Horford , allowing Danny Ferry to then decide after a year whether to go with Gordon and move Millsap or re-sign Millsap.
6. Orlando Magic : Dante Exum, SG, Australia: Same deal as Utah. Pair him with Oladipo in a dual combo-guard lineup. Embiid is the best player available, but with Nikola Vucevic, Andrew Nicholson and Tobias Harris, it's not a great fit.
7. Denver Nuggets  (via New York Knicks swap): Joel Embiid, C, Kansas: The exact type of player that Brian Shaw wants. Exactly. Precisely. 100 percent.
8. Chicago Bulls : Willie Cauley-Stein, C, Kentucky: Gives them another body to throw at the East's bigs and their development plan is always good. If Gordon is available here, they should jump at him, though.
9. Charlotte Hornets : Doug McDermott, F, Creighton: They need a power forward of any kind who can score. This works. If Embiid or Cauley-Stein are available, that's where they should go, though, and move Al Jefferson to the four.
10. Washington Wizards : Wayne Selden, SF, Kansas: I'm not giving up on Selden having a monster second half of the season and tournament, thus valuting him back into the lottery. If he does, Washington gets a replacement for Trevor Ariza , which is a huge need.
11. Memphis Grizzlies : Gary Harris, SG, Michigan State: If he can shoot, which he can, then they should draft him.
12. Los Angeles Lakers : Andrew Harrison, PG, Kentucky: Can he run the point and not get injured? Then they should draft him.
13. Cleveland Cavaliers (via Sacramento Kings): Zach LaVine, SG, UCLA: Explosive scorer to pair with Irving and gives them every reason to move Dion Waiters , finally.
14. Boston Celtics : Rodney Hood, SF, Duke: I'd love for Selden to drop here and the Circle of Truth starts all over, but Hood would be a great fit here as well. Brad Stevens could do magic with him.
15. Charlotte Bobcats (via Detroit Pistons): Mario Hezonja, SG, Croatia: I'm not as big on Hezonja as some, but the Bobcats can afford to swing for the fences here. 
16. Philadelphia 76ers (via New Orleans Pelicans): Noah Vonleh, PF, Indiana: They may be committing to Anthony Davis at the five, and while Ryan Anderson is great, Vonleh gives them a bigger bench option.
17. Toronto Raptors : Montrezl Harrell, PF, Louisville: Just a beast. He and Jonas Valanciunas together would be special as the Raptors' future.
18. Boston Celtics (via Brooklyn Nets via Atlanta Hawks): Aaron Harrison, SG, Kentucky: I'm worried about Harrison's playmaking ability, but he could provide Brad Stevens with a valuable role player.
19. Orlando Magic (via New York Knicks via Denver Nuggets): Mitch McGary, PF/C, Michigan: He'll probably go higher, all things considered, but if he doesn't, the Magic could use McGary or one of their many other talented big men in trade.
20. Dallas Mavericks : Dario Saric, SF, Croatia: I'm not a Saric guy, but he'd fit exceptionally well with Rick Carlisle's system. Might not be ready quite yet, though.
21. Phoenix Suns : James Young, SF, Kentucky: Sneaky, sneaky pick. I love what Young brings to the table in toughness, scoring ability and playmaking. He'd fit terrific on a Suns team stacked with young talent.
22. Utah Jazz (via Golden State Warriors): Adreian Payne, PF, Michigan State: Payne likely will go higher than this, but he'd give Utah some great depth at power forward and a pure muscle-and-effort guy off the bench.
23. Phoenix Suns: Glen Robinson III, SF, Michigan: Another steal for Phoenix, given Robinson's ability to come in immediately and make shots.
24. Houston Rockets : Semah Christon, PG, Xavier: They already have Jeremy Lin, Patrick Beverley, Aaron Brooks and Isaiah Canaan. But Christon has so much potential, you'd have to think they'd at least consider it.
25. Los Angeles Clippers : James McAdoo, F, North Carolina: They need frontcourt guys who can score, and there's still worlds of potential left unlocked in the frustrating McAdoo. Doc Rivers might be able to bring that out.
26. Miami Heat : Sam Dekker, SF, Wisconsin: Dekker could become a rotation guy in his first year with the likely retirement of Shane Battier and their shortage of shooting from the wings after this season.
27. Charlotte Bobcats (via Portland Trail Blazers): Alex Poythress, PF, Kentucky: Upside pick, not hard to think about.
28. Phoenix Suns (via Indiana Pacers): Spencer Dinwiddie, SG, Colorado: Gives them a scoring component off the bench and yet another guy who can operate with the ball.
29. Oklahoma City Thunder : Jerami Grant, F, Syracuse: The Thunder always manage to find guys with this kind of talent late and stash them while they develop.
30. San Antonio Spurs : Jahii Carson, PG, Arizona State: Nando De Colo ain't exactly working out and I love, love, love what Carson brings offensively. Could be great in their system.
Wall says the NFL won't change until important players like Brady and Rodgers speak out

Popovich spoke at length about sports, race, culture, and politics during Spurs media day on...

Carmelo Anthony finds the idea of coming off the bench very funny
Lonzo's signature shoe, the ZO2 Prime, was recently re-released after the original design was...

The Bucks will soon need to decide whether they should maintain their patient approach or make...

Frank Vogel had nothing but praise for his former star player in Paul George