NBA players union calls for arrest, resignations in Trayvon Martin case
The National Basketball Players Association has issued a statement regarding the ki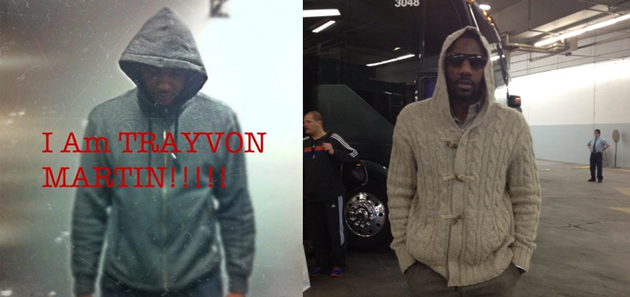 Carmelo Anthony and Amar'e Stoudemire express support for Trayvon Martin's family.
(Twitter)
Dwyane Wade
took a stand
, the rest of the Miami Heat
had his back
and now the National Basketball Players Association has issued a strongly worded statement regarding the death of Trayvon Martin, calling for immediate action.
Martin, a Florida teenager, was allegedly shot and killed by a neighborhood watch captain named George Zimmerman. No charges have been filed in the case.
On Friday, the NBPA
issued a statement on its website
, one that not only expressed support for Martin's but also called for charges to be filed against Zimmerman and for police officials to step down.
The National Basketball Players Association (NBPA) offers its condolences to the family and loved ones of Trayvon Martin in their time of need. The NBPA is saddened and horrified by the tragic murder of Mr. Martin and joins in the chorus of calls from across the nation for the prompt arrest of George Zimmerman.

The reported facts surrounding Mr. Zimmerman's actions indicate a callous disregard for Mr. Martin's young life and necessitate that he stand trial.

The NBPA also calls for the permanent resignation of Sanford Chief of Police Bill Lee and a full review of the Sanford Police Department, for dereliction of duty and racial bias in this matter and others. Their silence in the face of this injustice is reprehensible and they cannot be trusted to safe guard the citizens of the Sanford community equally.

The NBPA seeks to ensure that Trayvon Martin's murder not go unpunished and the elimination of the injustices suffered by the innocent.
While the NBPA is an organization that generally doesn't seek or receive much press unless it's time to renegotiate the
NBA
's collective bargaining agreement, this isn't the first time the organization has issued a statement on a hot button issue. In 2011, the NBPA
expressed support for workers
during a labor disagreement in Wisconsin. In 2010, the union
took a similar stand
in support of professional basketball players in Greece as they considered a strike.
Still, given the national attention paid to the case, the scrutiny that is sure to follow and the nature of this statement's demands, this is about as bold a stand as the NBPA is likely to take.
Also on Friday, New York Knicks All-Star forward Carmelo Anthony added his voice to the discussion,
posting a photograph
of himself wearing a hooded sweatshirt and the words "I am Trayvon Martin!!!!!" on his Twitter account, which has more than 1.8 million followers. Anthony joins Wade, LeBron James and the rest of the Heat in supporting Martin, who was wearing a hooded sweatshirt when he was shot and killed.
Anthony's teammate, All-Star Amar'e Stoudemire, followed suit. "I got my hoodie, stand up,"
he tweeted
.
The order of the NBA Draft is pretty much set, with only the lottery left to decide how it...

Here's how to watch every NBA postseason game online or on TV

The NBA postseason continues with four games on Sunday
The Celtics square off against the Bucks in the 2 vs. 7 matchup in the Eastern Conference

The current core could have run its course in Portland. Here are five questions about the Blazers'...

The Pacers took a 2-1 lead in the series with a big home win