NBA Playoff Machine: Saturday, April 20
The NBA playoffs began Saturday, April 20 and Playoff Machine will update with news from Knicks-Celtics, Nuggets-Warriors, Nets-Bulls, and Clippers-Grizzlies.
by

Eye on Basketball staff

• 8 min read
We tip off the first round of the 2013 NBA playoffs with our Playoff Machine. Here you'll find updating images, analysis, reactions, video, and more from the action Saturday. This post will update regularly with news, analysis and hilarity, so keep coming back, campers. 
Previews: Eastern Conference | Western Conference
Podcasts: Eastern Conference | Western Conference
Let's get this thing started! 

GAME 1
12:20 p.m. ET (Halftime Update): It's about what we expected. It's ugly, it's tough, there are a lot of fouls, and the Clippers are winning because they can score and Memphis can't. 
Chauncey Billups showed up making big shots like he's got a nickname for that or something. With he and Crawford having 21 points, the Clippers' perimeter offense advantage is too much. Still, the Grizzlies are hanging around, but they need more from everyone offensively to hang. Just seven shots for Zach Randolph in the first half. 

(11:34 p.m. ET)

Clippers' Jamal Crawford baited Grizzlies' defensive guru Tony Allen into another four-point play. Crawford is the all-time leader in four-point plays. 
10:30 p.m. ET -- According to the broadcast, Blake Griffin said his back was only about "70 percent." Definitely something to watch.

GAME 1
10:10 p.m. ET -- 
Deron Williams' double-pump, reverse dunk on the fast break (via The Brooklyn Game)
9:26 p.m. ET -- Brooklyn is all over Chicago by a score of 60-35 at halftime. The Bulls are getting destroyed by the Nets in the first half of this game. Deron Williams has been blowing by Kirk Hinrich whenever he wants to, Brook Lopez is dominating the paint because Carlos Boozer is forced to defend him, and Gerald Wallace has been crashing all over the court to dominate anything Chicago is trying to do.
The Bulls had 35 points in the first half; the Nets had 35 points in the second quarter. That doesn't seem like a recipe for success to me. Lopez has 19 points on 11 shots in the first half, Williams has 15 points and four assists, and even C.J. Watson scored 10 off the bench against Chicago. The Bulls are 4-of-5 from the free throw line, despite having someone called "Mr. Whammy" trying to distract them (via @BuzzfeedSports):
8:47 p.m. ET -- Let's take a look at the Chicago Bulls' shot chart from the first quarter. They only scored 14 points so I wanted to see if we can pinpoint what the issue seems to be.
They're going to have to shoot better than 10 percent in the restricted area if they want to beat the Brooklyn Nets. I'm confident in saying that. 
7:20 p.m. ET: Joakim Noah, who was listed as doubtful for Game 1 against the Nets, is going to play tonight. Noah is battling plantar fasciitis in his right foot and while he might be limited, he's going to at least test it.
Noah didn't practice Friday after confirming he had a setback.
"I mean I've got a tear in my foot, I've got a tear in my foot. It is what it is," he told reporters. "I'm upset at myself because I let this linger for a long time and I have no one to blame but myself. I just wish I was a little bit smarter. I played games in the regular season that I probably shouldn't have played, and it's going to be tough, but these are the cards I was dealt.''
The Bulls went 3-1 against the Nets this season, and possibly not coincidentally, the loss came in one of those 15 games Noah missed (a win came without Noah, too, though). Brooklyn of course has an elite offensive 7-foot center in Brook Lopez and without Noah, a legit contender for Defensive Player of the Year, the Bulls struggled to seal off the middle.
In the 93-89 loss on Feb. 1, Lopez was Brooklyn's high scorer with 20 points on 9 of 16 shooting. In Chicago's 92-90 win on April 4, Noah sat and Lopez scored 28 on 10 of 19 shooting. In the Bulls' 96-85 win on March 2, Lopez scored 22 on 9 of 16, but Noah poured in 21 on 10 of 13 himself, along with 10 rebounds and five assists.
Point is, the Bulls need Noah.

GAME 1
10:10 p.m. ET
So who's got the momentum? How does this series feel? And should the Nuggets be encouraged or concerned?

"I am always encouraged," Nugget coach George Karl said. "I believe so much that winning tough games is tough-mindedness. Our personality is young but we believe, we trust, we fight. Would I like to have an easier game? Hell yeah, I would like to have have an easier game. But playoff basketball is not about the easy games."
After a "weird" Game 1, Mark Jackson says these two teams are "in for a heck of a series" by Matt Moore

9:44 p.m. ET
Asked if he had told the team before the final possession he was taking the shot, Miller said, in true "Old Man" fashion, "I was tired, actually."

You know, like you get when you're 700 years old. But the truth is that in a game where very little went right for the Nuggets, as the Warriors crushed the pace to a crawl and controlled the glass, the Nuggets needed someone with control, with experience, with composure to make a play.

And Andre Miller delivered.
No Joke: Andre Miller's "Old Man Game" comes through for Denver in Game 1 by Matt Moore

8:15 p.m. ET -- Andre Miller game-winner against the Warriors.
7:50 p.m. ET -- Warriors' David Lee suffers a leg injury in the fourth quarter. Video here.
INJURY UPDATE: David Lee w/ probable right hip flexor strain. Is getting x-rays and will not return.

— Golden St. Warriors (@warriors) April 20, 2013
6:50 p.m. ET -- Halftime Update: That went about as well as the Warriors could have expected considering Stephen Curry was 1 for 10 from the field. The Warriors held the pace down and ran a slow-it-down game that is almost impossible to do in the Mile High City vs. a George Karl team.
It was surprisingly a defensive contest with neither team shooting over 40 percent from the field. The Nuggets shot better from the field, controlled the glass (to a degree, they surrendered eight second-chance points), and had 11 more free throws. They held Stephen Curry to 1 for 10 shooting... and are down 4 at the half. That's a bad sign.
Key for the second half will be controlling the pace as the Nuggets will undeniably try to ramp the speed up, and whether Curry keeps shooting like this (unlikely). 
Big first half for the Warriors as they try and take control of this series and establish home-court  advantage
6:45 p.m. ET: Hey Andrew Bogut, look out. Here comes JaVale McGee.
6:00 p.m. ET: So JaVale McGee did one of those awesome things he's known to do. But unfairly, it got wiped out by a bogus goaltending call. He earned that call on reputation only. Because that was a clean block.
4:25 p.m. ET: All we know about Kenneth Faried's playing status so far is that he'll be in uniform:
Faried in uniform for Denver, that's all George Karl will confirm.

— Hardwood Paroxysm (@HPbasketball) April 20, 2013
"Faried will be in uniform, that's all I'm gonna say," - Karl said. My understanding is Faried won't play though (ankle)

— Benjamin Hochman (@nuggetsnews) April 20, 2013

GAME 1
6:15 p.m. ET: Doc Rivers postgame summarzing what went wrong:
Doc Rivers: "I thought each guy held the ball and tried to make their own play. That's now who we are. We can't play that way."

— Boston Celtics (@celtics) April 20, 2013
5:35 p.m. ET: Knicks beat the Celtics in Game 1, 85-78. Carmelo Anthony had a bit of a rough time finding his rhythm, but he finished with 36 points on 13-of-29 shooting and six rebounds and four steals. Jeff Green had 26 points on 8-of-15 from the field for Boston, but only six of those points came after halftime. 
The key to the entire game was the turnover battle. Through the first three quarters, the Celtics had forced the Knicks into 13 turnovers, which is a pretty significant number for New York. However, in the fourth quarter the Knicks didn't turn the ball over once. Boston, on the other hand, had eight turnovers just in the fourth quarter and only managed eight points in the final 12 minutes of the game. The Knicks had seven steals on those eight turnovers, just slapping the ball away on passes and whenever a Celtics player brought the ball down low in the paint.
In the entire second half, the Celtics only made seven shots compared to their 11 turnovers, while Melo made seven shots on his own. The Knicks had a dominant second half to take the 1-0 series lead. 
4:25 p.m. ET: Celtics lead the Knicks 53-49 at the half. Jeff Green is leading all scorers with 20 points on 7-of-10 shooting. Carmelo Anthony has 19 points on 6-of-15 shooting, but that's after starting 4-of-4 from the field. 
The Knicks aren't taking care of the ball either. They had eight turnovers in the first half. If that keeps up in the second half, it would be only the 12th time they've turned the ball over 16 times or more in a game this season. They led the NBA in lowest turnover rate during the regular season.
3:30 p.m. ET: J.R. Smith gave the Celtics the... dunk in the first quarter. He gave them the dunk. A big one.
2:35 p.m. ET: Referee assignments for this game are Monty McCutchen, Bill Spooner and Gary Zielinski.
According to Basketball-Reference.com, here are the breakdowns for each official's playoff statistics in terms of home team vs. visitors against the league average in the respective games they've officiated:
(As Basketball-Reference explains it: "These columns take the referee's value for 'Home Minus Visitor' and subtract the league average. For example, if the home team outscored the visiting team by 3.5 points per game in games officiated by this referee and the league average was 3.0 points per game, then the associated 'Relative to Average' column would have a value of 3.5 - 3.0 = +0.5.")
McCutchen (98 games): home team takes +1.5 free throw attempts, commits -1.0 fouls, scores +5.0 points
Spooner (87 games): home team takes +3.4 free throw attempts, commits -1.6 fouls, scores +4.6 points
Zielinski (9 games): home team takes +6.7 free throw attempts, commits -3.6 fouls, scores +8.4 points
1:35 p.m. ET

Knicks starters: Felton, Shumpert, Copeland, Anthony, Chandler. ... Prigioni and Stoudemire inactive.

— Howard Beck (@HowardBeckNYT) April 20, 2013
1:30 p.m. ET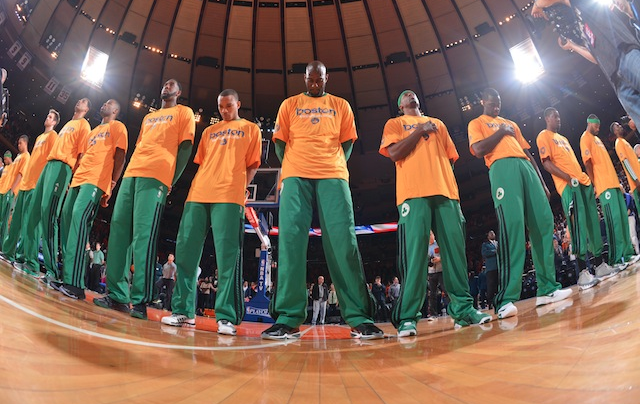 Fredette's shoe is with the Chinese brand 361

There's been some weird things happening with Durant's social media accounts

Minnesota's first practice is set for this weekend
Dragic and Doncic lead Slovenia to their first EuroBasket title on Sunday

Curry was in London for the big Chelsea-Arsenal match on Sunday

The league also appears to be moving in a more technology-driven approach