NBA Playoff Picture and Magic Numbers: Heat-Pacers, last time
The Heat and Pacers face off for the final time in the regular season, as we take a look at playoff scenarios and magic numbers entering Friday.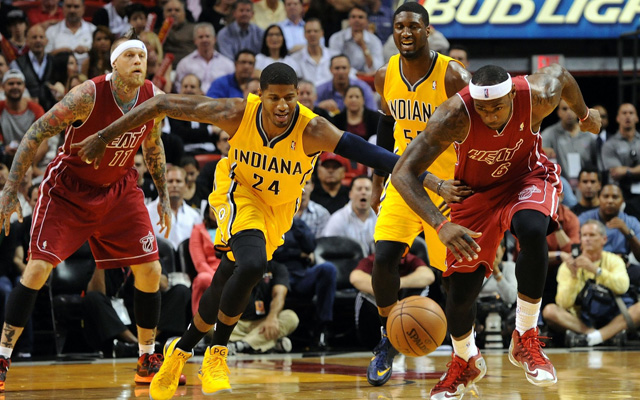 More NBA: Power Rankings | Expert Picks | Seasons in Review | Playoff Picture
For previous updates, click here.
Results entering Friday's games (April 11):
Clinched playoff berth: Pacers, Heat, Spurs, Thunder, Clippers, Raptors, Bulls,Nets, Wizards,  Rockets, Bobcats,Trail Blazers
Clinched division title, top-four seed: Pacers, Heat, Spurs, Clippers, Thunder
Magic Numbers (combined wins and losses with closest non-qualifying team) for playoff berth: 
Hawks: 2
Warriors: 1
Mavericks: 2
Suns: 3
Magic Numbers for division title:
Raptors: 1
Current matchups: 
Eastern Conference
Pacers (1) vs. Hawks (8)
Heat (2) vs. Wizards (7)
Raptors (3) vs. Bobcats (6)
Bulls (4) vs. Nets (5)
Western Conference
Spurs (1) vs. Suns (8)
Thunder (2) vs. Mavericks (7)
Clippers (3) vs. Warriors (6)
Rockets (4) vs. Trail Blazers (5)
East Nos. 1-2: Heat, Pacers (No action Thursday.) 
Don't try and figure out what's going to happen with this. There is no predicting anything. The Heat had the Grizzlies on the ropes and got clocked in the fourth quarter. The Pacers sat their starters, all five of them, and beat Milwaukee on a buzzer beater. 
Total. Chaos. 
Indiana and Miami face off Friday on South Beach, but this isn't as big a deal as you think it is. Here's why. A Miami win would tie the season series. After that, tiebreaker goes to conference record. The Pacers lead Miami in that category by three games. Miami can't catch Indiana in that category without beating them out in overall record. 
Here are the contingencies based on what could happen Friday: 
If Indiana wins and goes 3-0, Indiana gets the No.1 seed. 

If Indiana wins and goes 2-1, Indiana gets the No. 1 seed. 

If Indiana wins and goes 1-2, Miami must go 3-1 to get the No. 1 seed. 


If Miami wins and goes 4-0, Miami gets the No.1 seed. 

If Miami wins and goes 3-1, Indiana must go 2-1 to get the No. 1 seed. 

IF Miami wins and goes 2-2, Indiana must go 1-2 to get the No. 1 seed.
Relevant games Friday: (Matt puts on his monster truck announcer voice.) FRIDAY FRIDAY FRIDAY, IT'S THE BIG ONE ON THE BEACH, THE DEATHMATCH IN DADE COUNTY, THE HULK-UP FOR HOMECOURT. BE THERE! 
Pacers travel to Miami to face the Heat Frida night. This is pretty much it for homecourt. If Indiana wins, they'll have a 1.5 game lead on Miami and homecourt advantage with tiebreaker advantage. 
For the Pacers to lose this game would be devastating not only to their hopes of winning homecourt (though it wouldn't end them as they have a chance at tiebreaker with conference record if they win their final Eastern Conference game), but psychologically. The Heat have less on the line, but a chance to really put the screws to the Pacers. 
Monster game. 
East Nos. 3-5: Raptors, Bulls, and Nets (No action Thursday)
Huge night for the Raps on Wednesday. Their magic number going into the night was four, based on tiebreaker. But their win over the Sixers clinched a better division record than Brooklyn. So they gained one on the magic number with the win, one with getting tiebreaker, and then the Magic beat Brooklyn. 
So they're magic number for the division is down to one. 
The Bulls won to keep pace, and have clinched no-worse than the fifth seed. Their magic number for homecourt in the first round is one.  
Relevant games Friday: Toronto can clinch their first Atlantic since 2007, second in team history with a win over the Knicks Friday. It won't lock up the three seed, they need to win Friday to lock up the division and gain tiebreaker. Then their magic number would be three. 
The Bulls face the Pistons at home. A win locks up homecourt advantage in the first round. 
The Nets pretty much need everyone to lose out and for them to win out to make any moves. A win and a Charlotte and Wizards loss cliches no-worse-than-fifth for them, so a Toronto, Chicago, and Brooklyn win combined with Wizards and Bobcats losses locks up the 3-4-5.
Brooklyn faces Atlanta at Barclays with big implications for both teams. 
East Nos. 6-7: Bobcats, Wizards (No action Thursday.)
Washington suffered a crushing loss in overtime at home to Charlotte. The result? Charlotte moves into a tie and they have tie breaker over the Wizards. It's looking like the Wizards are headed towards another meeting with LeBron James. Meanwhile the Bobcats could wind up against the Raptors. Is that a better matchup than Indiana? That's a toss-up. But they control their own destiny to choose their first-round opponent. 
Relevant games Friday: Both of these teams play lotto dogs Friday, with the Wizards in Orlando to take on the Magic and Charlotte in Boston. The problem is that both Boston and the Magic can be dangerous at home, especially against non-elite teams like these two. 
These two are going to jockey for the rest of the season, but Charlotte can cut its magic number for sixth to two with a win and a Wizards loss. 
East Nos. 8-9: Hawks, Knicks
Well, the Hawks screwed around for most of the game, but finally took care of business vs. Boston on the back to back. Magic number for them to clinch a playoff berth and eliminate New York is down to two. 
Relevant games Friday: This might be it for New York. A Hawks upset vs. Brooklyn and a loss to the Raptors for New York and that's all she wrote for the Knickerbockers. 
Toronto plays well at home, has owned New York this season, and is playing to clinch their division title. New York's likely alive, however, as the Hawks' chances against Brooklyn aren't great. But a loss Friday and the Knicks are on life support. 
A win and a Hawks loss and the Knicks are a half-game back, but Atlanta has tiebreaker. New York must win at least three of their final four to make the playoffs, and get help from Atlanta. 
West Nos. 1-2: Spurs, Thunder, Clippers 
The Spurs' win over Dallas drops their magic number to one for homecourt throughout the playoffs. A win or Thunder loss Friday and San Antonio will not play a Game 7 on the road throughout their postseason run.
Relevant games Friday: The Spurs are on a back to back, so half the team may sit. They're facing Phoenix at home, who has a lot to play for, but Goran Dragic is a gametime decision with an ankle injury. 
Oklahoma City faces the Pelicans at home. The Pels shut down Eric Gordon and Anthony Davis for the rest of the season. 
West No. 4: Rockets (No action Thursday)
The back to back in Denver takes another victim. Houston's 2.5 games back of the Clippers, and on the verge of elimination for anything higher than four. But even after Portland's loss, Houston remains 1.5 games ahead of the Blazers. 
Houston's magic number for homecourt in the first round remains two. 
Relevant games Friday:  Houston plays Minnesota. A win and a Blazers loss to Utah clinches the fourth seed and home court in the first round for the Rockets. 
West Nos. 5-6: Blazers, Warriors (No action Thursday)
Portland snuck out a win vs. the Kings on a buzzer beater by Dorrell Wright Wednesday. They're 1.5 back of Houston and two up on Golden State. Their magic number for the fifth seed is three. 
Golden State lost at home to the Denver Nuggets, who were on a road back to back Thursday. It's extremely unlikely since the Warriors have tiebreaker, but Phoenix is just a game back for sixth... the Warriors need to get themselves together.
Relevant Games Friday: The Warriors face the Lakers. They win, and they clinch a playoff berth. That would be good for the collective spirit. 
The Blazers face Utah. A win clinches no-worse than sixth for Portland, a win and a Warriors loss clinches no-worse than fifth for Portland. 
West Nos. 8-9: Suns, Mavericks, Grizzlies
The Phoenix Suns were out of the playoffs two weeks ago and their chances looked slim. A win and a Warriors loss and they'll be tied for sixth. That's insane. 
The Mavericks loss to the Spurs moved them behind Phoenix and puts a little more pressure on Dallas. 
Relevant games Friday: The Grizzlies face the Sixers Friday. The way this Western Conference playoff race has gone, Memphis will somehow lose to Philly and then beat Dallas and Phoenix over the weekend. 
Dallas' magic number to clinch is one with a Memphis loss. Phoenix slips back behind Dallas with a loss to San Antonio, moves a full-game up on Dallas with a win. A Suns win and a Memphis loss drops their magic number to three.
The versatile forward has one glaring weakness, but Toronto can see it turning into a stre...

The investigation detailed a hostile workplace environment

Cousins suffered a torn Achilles tendon on Jan. 26, and will miss the rest of the season
Ingram has become one of the team's go-to players with Lonzo Ball sidelined with an injury

Giannis skipped EuroBasket last summer, and has missed four games this season with knee so...

Some of the best and worst from the league as we head into the home stretch of the season