NBA Playoff Picture and Magic Numbers: Indiana on the edge
The Pacers could lose their lead on Miami for the No. 1 seed in the East, the Wizards can clinch a playoff spot and more in the playoff update.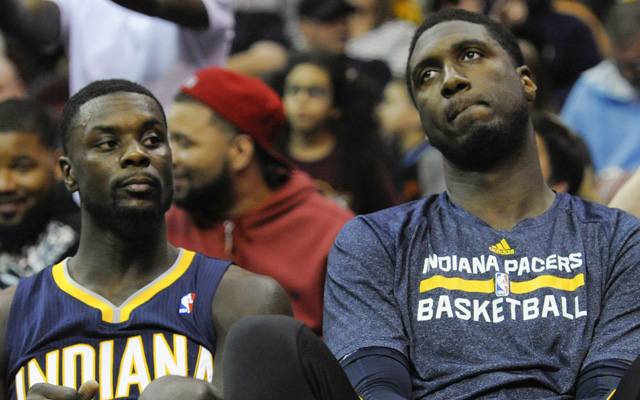 More NBA: Power Rankings | Expert Picks | Latest news, notes
More NBA: Power Rankings | Expert Picks | Latest news, notes
For Sunday's update, click here. 
Results entering Sunday's games (March 29):
Clinched playoff berth: Pacers, Heat, Spurs, Thunder, Clippers, Raptors, Bulls
Clinched division title, top-four seed: Pacers, Heat
Magic Numbers (combined wins and losses with closest team out of the playoffs) for playoff berth: 
Nets: 1
Wizards: 1
Bobcats: 5
Hawks:9
Rockets: 3
Warriors: 8
Suns: 9
Mavericks: 9
Magic Numbers for division title:
Raptors: 8
Spurs: 2
Thunder: 2
Clippers: 3
East Nos. 1-2: Pacers, Heat
Indiana leads Miami by one game entering Monday.
Losing to the Cavaliers isn't exactly going to help matters for Indy. That progress they'd built earlier last week including the win vs. Miami has been wiped out. The gap is getting narrower and narrower. 
Indiana needs some combination of nine wins and Heat losses over their remainig 19 combined games. That number drops by two if they win the final regular-season matchup (April 11), securing tiebreaker for the Pacers. 
Relevant games Monday: Well at least the Pacers get a break with a back-to-back road game vs. the league-best San Antonio Spurs. Oh, wait. Meawhile, Miami hosts Toronto who usually plays them tight, but loses. The Heat can clmib back into a tie Monday with a win and a Pacers loss. 
East Nos. 3-6: Raptors, Bulls, Nets and Wizards
Toronto, Chicago, and Brooklyn won, pulling the Nets within one game of clinching a playoff berth. The Raptors have done a good job of staving off the Bulls for the 3rd seed. The Nets keep winning but can't seem to gain any more ground. 
The Wizards can clinch a playoff berth with a win, the Nets can clinch a playoff berth with a New York loss. 
Relevant games  Monday: If Toronto wants to keep Chicago off its heels (and stay in Washington's matchup), they need to knock off the Heat in Miami. Tough challenge. Chicago has a home-and-home matchup with Boston who took them to the wire Sunday while the Wizards have a rematch with Charlotte who they beat earlier last week. Beating a team twice in a week is difficult, and both teams have a lot to play for.
East Nos. 7-9: Bobcats, Hawks, Knicks
The Knicks lost to the Laker and beat the Warriors. I give up. It was a monster win that pulled them within a game of the Hawks. It also helped because Cleveland is all of a sudden starting to chase them down. We might see the Cavs included by the end of the week.
Charlotte needs to get their last five wins over with to clinch a playoff berth and stop worrying.  
Relevant games Monday: Atlanta, with the Knicks just a game behind them, finally hit a soft opponent, facing Philadelphia. The Bobcats have the Wizards who just clocked them again, and the Knicks face Utah on a back to back. What shoud happen is Charlotte loses, New York loses, Atlanta wins. But this race keeps getting wackier and wackier. 
West Nos. 1-2: Spurs, Thunder
San Antonio leads Oklahoma City by three games after the Thunder trounced the Jazz. 
Both the Spurs and Thunder can clinch division titles as early as Tuesday. OKC's starting to figure things out again, so if San Antonio slips at all, the Thunder can sneak in the back door to make this a race again. 
Relevant games Monday: San Antonio faces Indiana, which would be tough if the Spurs were human and the Pacers weren't a hot mess right now. 
West Nos. 3-4: Clippers, Rockets
LA has a two-game lead on the Rockets entering Monday. The Clippers gained  game on the Warriors after Golden State's loss is three. 
The Clippers' magic number for home court in the first round is 3, for Houston it's 6. 
Relevant games Monday: The Clippers face a feisty Minnesota club in Minnesota. 
West Nos. 5-6: Blazers, Warriors
Portland had been bleeding and the Warriors had a chance to tie them with a win and a Blazers loss to Memphis. Instead, the Blazers whupped the Grizzlies and the Warriors fell to the Knicks. So now the lead is two. That's big on account of the Warriors having tiebreaker heads up. 
Portland's magic number for a playoff beth is five, for Golden State it's 8 due to tiereaker. 
Relevant Games Monday: Both teams are off before Tuesday's huge Warriors-Mavericks game.
West Nos. 7-9: Suns, Grizzlies, Mavericks
I don't know how Dallas does it, but their best performances in climbing the rails come from opponents running ito walls. The Suns lost to the Lakers, no really, the Suns lost to the Lakers, and the Grizzlies got destroyed by Portland. 
Memphis has a mixed bag schedule with a few early week teams, but this one hurt. The Suns loss hurts more. They didn't lose ground on Golden State, but they have a brutal finishing schedule. That one could come back to bite them. 
Relevant games Monday: Memphis has the dreaded back-to-back-in-the-altitude vs. Denver. At least it was a weekend earlier game in Portland so they won't be in town at like 4 a.m. But to be honest, Monday's a must-win-ish game for Memphis. It's not a must win, but it's pretty important they beat a wounded Denver team, even on the road. Another loss drops them out of a tie with Dallas and puts them a full-game back. 
Fergie: 'I'm a risk taker artistically, but clearly this rendition didn't strike the intended...

Victor Oladipo had a successful R&B album over the offseason and Jamie Foxx is a fan

Klay Thompson makes sure he stands out during All-Star Weekend
There's no shortage of moments to choose from

The Trail Blazers almost traded for Charles Barkley, but when they didn't, it put them in debt...

The self-proclaimed ASG snub Williams may be bitter about Butler requesting to sit out Sun...