NBA Playoff Picture and Magic Numbers: Knicks, Grizzlies fall back
The Heat and Spurs widen their advantage, the Grizzlies and Knicks slip back, and Portland's headed to the playoffs.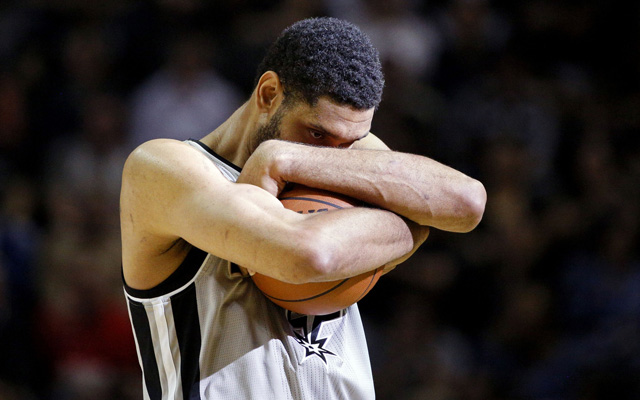 More NBA: Power Rankings | Expert Picks | Seasons in Review | Playoff Picture
For previous updates, click here.
Results entering Tuesday's games (April 8):
Clinched playoff berth: Pacers, Heat, Spurs, Thunder, Clippers, Raptors, Bulls,Nets, Wizards,  Rockets, Bobcats, Trail Blazers
Clinched division title, top-four seed: Pacers, Heat, Spurs, Clippers, Thunder
Magic Numbers (combined wins and losses with closest non-qualifying team) for playoff berth: 
Hawks: 4
Warriors: 3
Mavericks: 3
Suns: 5
Magic Numbers for division title:
Raptors: 4
Current matchups: 
Eastern Conference
Heat (1) vs. Hawks (8)
Pacers (2) vs. Bobcats (7)
Raptors (3) vs. Wizards (6)
Bulls (4) vs. Nets (5)
Western Conference
Spurs (1) vs. Suns (8)
Thunder (2) vs. Mavericks (7)
Clippers (3) vs. Warriors (6)
Rockets (4) vs. Trail Blazers (5)
East Nos. 1-2: Heat, Pacers
So last time we told you that the Pacers' game vs. Atlanta was a big game. And Indiana disagreed. Because it got completely destroyed like it wasn't even there. The Pacers went from "Hey, they're not playing so well" to "You guys don't look so good" to "You guys are pretty sick" to "Someone call 911 in two months." 
They're now one full game behind Miami because ...
The Heat slammed the door on New York and may have shut the door on the playoffs for the Knicks, too. Miami's magic number for home court in the East is five. 
Relevant games Tuesday: Miami hosts the Nets. Brooklyn has won all three meetings, but is running out of opportunities to catch the Raptors for the division. The Nets need this one. Miami may gear down a bit given the state of the Pacers, but they also tend to get a little feisty this time of year vs. teams that have had success against them. They like to make statements. They can make one Tuesday while putting the boot to Indiana's neck.  
East Nos. 3-6: Raptors, Bulls, Nets and Wizards (No action Sunday)
Toronto was down at the half to Milwaukee and the game came down to the final minutes, but they pulled away late, because, well, it's the Bucks. The win locked no-worse-than-fifth for Toronto.
Chicago obliterated the Wizards. The Wizards are now 2.5 back of Brooklyn, and can't finish higher than fourth. More concerning? They're a game ahead of Charlotte who all of a sudden can make a play for the sixth seed. 
Brooklyn took care of business vs. Philadelphia after a close call. Brooklyn's magic number for the fifth seed is four. 
Relevant games Tuesday: Brooklyn can move within two games of Toronto, and still have a shot at tiebreaker, if they can get a win vs. Miami. 
East Nos. 7-9: Bobcats, Knicks, Hawks 
For a recap of where the Hawks and Knicks are at after Sunday, click here. 
Relevant games Tuesday: Atlanta has Detroit, which should be a win. Then again the Pacers should have been a loss so who knows. A win drops their magic number to two. A loss moves Charlotte's magic number for the seven-seed to one. 
West Nos. 1-2: Spurs, Thunder, Clippers 
That may be it for the race for the No. 1 seed in the West. San Antonio's win combined with Oklahoma City's loss moves the Thunder 4.5 back of the Spurs. San Antonio's magic number for home court throughout the playoffs is two. They have already clinched home court vs. the East should they reach the Finals for a second straight year. 
Oklahoma City's problems have gotten more complicated. The Clippers have tied them in the wins column after thrashing the Lakers on Sunday, and they're only one back of OKC for the two-seed. The Thunder's magic number for the 2nd seed is four. This is tense.
The Clippers have won 7 of 10 and are right on OKC's heels. Their magic number for the three-seed is two. 
Relevant games Tuesday: San Antonio plays Minnesota while Oklahoma City visits the Kings. The Spurs have the Thunder on the ropes for home court. A win and a Thunder loss clinches home court throughout the playoffs for San Antonio. 
A Thunder win drops their magic number for the two-seed to three. 
West No. 4: Rockets
Houston won again Sunday over the Nuggets, though it took overtime. They haven't been great this week but they're plugging along. 
Relevant games Tuesday: Houston plays the Lakers, so they'll be moving 2.5 ahead of Portland. Additionally a win or a Mavericks loss secures no-worse-than-sixth for the Rockets. 
West Nos. 5-7: Blazers, Warriors, Mavericks
Portland beat the Pelicans, and in doing so, secured their first playoff berth since 2011. The Warriors pantsed the Jazz, so the gap remains 1.5 games. The Warriors stayed 1.5 games ahead of Dallas. 
I'm moving Dallas into this grouping since they're only 1.5 back and have a magic number of three for the playoffs. They have the edge on Phoenix and Dallas by tiebreaker. They're not in, but they're very close. 
Relevant Games Tuesday: The Mavericks play the Jazz, so there's a good chance the Warriors' lead for the 6th seed will be down to one. 
West Nos. 8-9: Grizzlies, Suns 
This got interesting in a hurry. The Grizzlies lost to San Antonio (expected) and the Suns beat OKC (not expected). So now all of a sudden the Suns have a full game on Memphis, which is huge since they don't have tiebreaker. Dallas moves out of reach of Memphis barring a major collapse. And the Grizzlies don't control their own destiny. 
Relevant games Tuesday: The Suns and Memphis are off. A Dallsas loss, unlkely as it is, would provide some drama with games against Phoenix and Memphis coming up. 
The Cavaliers are reportedly very close to acquiring the 10-year veteran point guard

Kobe Bryant is now an Oscar nominee. Here's how you can watch his short

Players such as Metta World Peace, Baron Davis and Nate Robinson have signed on
The guard is doing everything he can to make a name for himself (and making Cavs fans sweat...

Bryant is getting recognition for his off-the-court exploits in retirement

Our advanced computer model simulated Tuesday's Spurs vs. Cavs game 10,000 times