NBA Playoff Picture and Magic Numbers: Knicks lose a key one
The Knicks slip, the Rockets strike back, and Charlotte is on the verge as we look at playoff scenarios and matchups Saturday.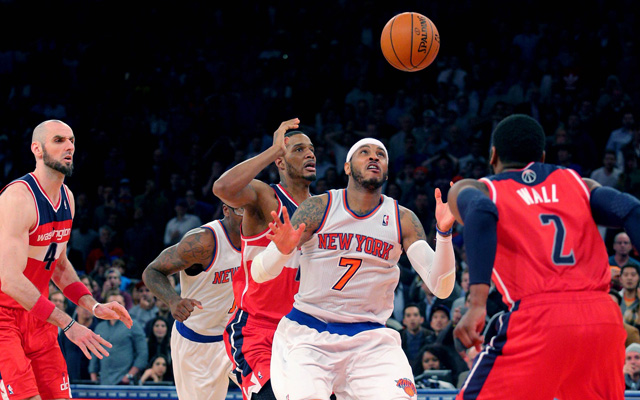 More NBA: Power Rankings | Expert Picks | Seasons in Review 
For previous updates, click here.
Results entering Saturday's games (April 5):
Clinched playoff berth: Pacers, Heat, Spurs, Thunder, Clippers, Raptors, Bulls,Nets, Wizards, Rockets
Clinched division title, top-four seed: Pacers, Heat, Spurs, Clippers, Thunder
Magic Numbers (combined wins and losses with closest team out of the playoffs) for playoff berth: 
Bobcats: 1
Hawks: 6
Warriors: 4
Mavericks: 4
Grizzlies: 6
Magic Numbers for division title:
Raptors: 5
Current matchups: 
Heat (1) vs. Hawks (8)
Pacers (2) vs. Bobcats (7)
Raptors (3) vs. Wizards (6)
Bulls (4) vs. Nets (5)
Spurs (1) vs. Grizzlies (8)
Thunder (2) vs. Mavericks (7)
Clippers (3) vs. Warriors (6)
Rockets (4) vs. Trail Blazers (5)
East Nos. 1-2: Heat, Pacers
Both teams failed to capitalize on an opportunity Friday. The Pacers fell to the Raptors who were without Kyle Lowry and Amir Johnson, about as bad a loss as you're going to find. The Heat fell at home to Minnesota in double overtime without Dwyane Wade (and Greg Oden). 
It's a big blown opportunity for both teams to gain an advantage in the race for home court.  
Relevant games Saturday: Both teams are off Saturday, which is kind of like sending them to their rooms and telling them to think about what they've done. 
The Magic number is seven with seven remaining. 
East Nos. 3-6: Raptors, Bulls, Nets and Wizards 
Toronto and Washington are on the opposite ends of this grouping but have the same problem. Every time they get a big win, their competitors all win too. All four teams won Friday night, as the Raps knocked off Indiana and the Wizard got a big road win vs. the Knicks. Brooklyn meanwhile ouclassed the Pistons and the Bulls beat up on Milwaukee. No change here. 
Toronto's magic number for the division is 5, Chicago's magic number for no-worse-than-fourth is four. Brooklyn's magic number for no-worse-than-sixth is three, for no-worse-than-fifth is six. 
Washington has a two-game lead on Charlotte for sixth, which is probably safe, but bear in mind Washington doesn't have tiebreaker there. 
Relevant games Saturday: Toronto has a back to back against the Bucks who are also on a back to back. Brooklyn gets Tankadelphia. So let's pencil those two in for wins. 
Washington, fresh off a huge road win over New York goes home and gets.... Chicago. The Bulls are also on a back to back, but this one's pretty big. A loss for the Wizards effectively ends their hopes at the fifth seed. Due to tiebreaker, Chicago effectively falls two back of Toronto (assuming the Raps hold on for the division). 
East Nos. 7-9: Bobcats, Knicks, Hawks 
Charlotte's win and New York's loss means the Bobcats can clinch a playoff spot for the second time in franchise history Saturday. They're on back to back, and the Cavs will likely be mad about getting blown out by Atlanta Friday, though. They're a virtual lock, however. Their magic number for the seveth seed is three. 
As for the 8th seed, we'd like to thank the Cavaliers for stopping by. You've been terrific guests, and we have some lovely parting gifts for you. Oh, you already have a lottery pick? Three? Well then. This is awkward. The Cavs weren't just beaten Friday vs. the melted Hawks, they got blown out. Their tragic number (for elimination) is three. That'll petty much do it. 
Atlanta got a monster win in that game, something to make them feel like a good basketball team. Combine that with the Knicks' loss and they're back in the 8th seed alone, two games up in the loss column for conference tiebreaker. 
That loss to Washington was bad for the Knicks. At home, vs. conference opponent, when Atlanta won. Realistically, Atlanta's going to get tiebreaker by conference record. If we factor that as likely, then the magic number for Atlanta is just five, with Detroit and Milwaukee left on the Hawks' schedule, and a game against the Bobcats in which the Cats could rest starters. 
New York's margin for error isn't zero, but it's paper thin. 
Relevant games Saturday: Charlotte can clinch a playoff spot with a win Saturday. None of the other teams play.
West Nos. 1-2: Spurs, Thunder, Clippers
So much for all that progress the Thunder made against the Spurs Thursday. OKC lost to Houston on the back to back, and that might be it for the No.1 seed. San Antonio's magic number for homecourt throughout the playoffs is four. 
The problem for Oklahoma City is that they can't even rest their starters knowing the No. 1 seed is out of reach. The Clippers are two back with tiebreaker. 
The Thunder clinched the division Friday after the Blazers lost. They have clinched homecourt advantage in the first round. 
I'm moving the Clippers into this bracket. They have a three-game lead on Houston, and tiebreaker. Magic number for no-worse-than-third is three. 
Relevant games Saturday: Both teams are off Saturday.
West No. 4: Rockets
Houston's win clinched a playoff berth for the Rockets. Their magic number for homecourt in the first round is four. They're two up on Portland with tiebreaker. 
Relevant games Saturday: The Rockets don't play Saturday.
West Nos. 5-6: Blazers, Warriors 
Portland's loss puts them 1.5 up over Golden State. They're three up on Dallas in the loss column, so that's pretty safe. But the Warriors are making a push for the No. 5 seed. The Warriors have tiebreaker.    
Portland's magic number for a playoff berth is two. 
OK, so this confuses me, but here's the deal. The Warriors' magic number for a playoff berth straight up after their win Friday is five. But since Memphis, Dallas and Phoenix play one another at the end of the season, ensuring at least one team will finish with 32 losses, their magic number is really four. 
Relevant Games Saturday: Neither team plays Saturday.
West Nos. 7-9: Mavericks, Grizzlies, Suns
Mavs win. Grizz win. Suns win. No quarter asked, quarter given. 
Relevant games Saturday: They all get a day off from the gauntlet before it resumes Sunday.
SportsLine's Mike McClure, a DFS pro with more than $1M in winnings, gives optimal lineup...

Leonard was recently shut down again to rehab the nagging quad injury

Ellington is averaging a career high 11.2 points, and shooting 41 percent from 3-point lan...
Multiple players said the meeting did not go well

The Cavaliers, you might have heard, are slipping

Here's how to watch Jimmy Butler and the Wolves take on Blake Griffin and the Clippers