NBA Playoff Picture and Magic Numbers: Miami back on top
A look at the standings, matchups, and scenarios for games entering Tuesday, April 1st.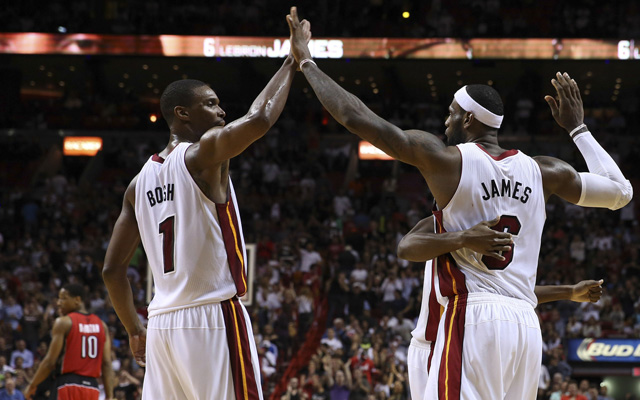 More NBA: Power Rankings | Expert Picks | Latest news, notes
For Monday's update, click here. 
Results entering Tuesday's games (April 1st):
Clinched playoff berth: Pacers, Heat, Spurs, Thunder, Clippers, Raptors, Bulls
Clinched division title, top-four seed: Pacers, Heat
Magic Numbers (combined wins and losses with closest team out of the playoffs) for playoff berth: 
Nets: 1
Wizards: 1
Bobcats: 4
Hawks: 8
Rockets: 3
Warriors: 8
Grizzlies: 8
Mavericks: 9
Magic Numbers for division title:
Raptors: 8
Spurs: 2
Thunder: 2
Clippers: 2
Current matchups: 
Miami Heat (1) vs. Atlanta Hawks (8)
Indiana Pacers (2) vs. Charlotte Bobcats (7)
Toronto Raptors (3) vs. Washington Wizards (6)
Chicago Bulls (4) vs. Brooklyn Nets (5)
San Antonio Spurs (1) vs. Memphis Grizzlies (8)
Oklahoma City Thunder (2) vs. Dallas Mavericks (7)
Los Angeles Clippers (3) vs. Golden Sate Warriors (6)
Houston Rockets (4) vs. Portland Trail Blazers (5)
East Nos. 1-2: Heat, Pacers
Welcome back to the top, Miami. 
Interesting quirk: the Pacers and Heat are tied. The Pacers have one more win and one more loss. The result is that by virtue of winning percentage (being up one in the loss column), Miami takes over the No. 1 spot. 
The Pacers have moved past "Oh, they're struggling a little bit" to "we have some serious issues," to "everyone is unhappy and miserable and facing a complete meltdown the likes of which we may have never seen in the NBA before." 
Miami meanwhile has won 7-of-10 to reclaim the top spot. Three of the Pacers' next four games are against teams under .500 before their April 11th matchup against the Heat in Miami. Three of Miami's next five opponents are under .500. We're about to see how bad each team wants the top seed. 
Both the Heat and Pacers control their own destiny. If either one wins out, they get the No.1 seed regardless of what opponent does. 
Relevant games Tuesday: None
East Nos. 3-6: Raptors, Bulls, Nets and Wizards
Toronto lost, Chicago won, Washington lost. So the Bulls pulled back into a tie with Toronto, and Washington fell back two games behind the Nets. It should be noted that though the Raps and Bulls are two games up overall, they're only one game up in the loss column. Brooklyn can still grab the division, the fourth seed or the fifth seed. 
Relevant games Tuesday: Brooklyn hosts Houston in a monster game for both teams. A win pulls Brooklyn two wins and a loss within Toronto and Chicago and gives them a 2.5 game (three wins, two loss) advantage over the Wizards. 
East Nos. 7-9: Bobcats, Hawks, Knicks
Charlotte got a huge win over Washington. That moves their magic number to four, just as New York's schedule gets much tougher. Even going 2-6 over their last eight would give them an exceptionally high chance of securing a spot. They're a virtual lock.
Atlanta actually won a game! Granted, it was a comeback against the Sixers, but still! They kept their game lead over the Knicks. They play Chicago, Cleveland, and Indiana in their next three, so if the Knicks (or Cavs) are going to make a push, now would be the time. 
Speaking of New York, they kept pace with a back-to-back win vs. the Jazz. This begins the tough part of their schedule, as they face nothing but Eastern Conference playoff teams from here on out. Let's see what they're made of. 
Relevant games Tuesday: None.
West Nos. 1-2: Spurs, Thunder
San Antonio may never lose again, which will make it pretty hard for the Thunder to catch them. The Spurs now lead OKC by 3.5 games with eight games left for San Antonio, nine for OKC. 
Relevant games Tuesday: None.
West Nos. 3-4: Clippers, Rockets
The Clippers knocked off the Wolves, extending their lead for the 3-seed to 2.5, and cutting their magic-number for the division to two. Their magic number for the three-seed is six.
Relevant games Tuesday: Houston is in Brooklyn against the Nets. A loss puts them three back, while a win drops their magic number to two. A loss and a Blazers win cuts their lead for the five to 1.5.
West Nos. 5-6: Blazers, Warriors
No action on Monday for these two, everything's holding steady with the Blazers up two games. Tuesday is huge, though. 
Relevant Games Tuesday: The Blazers face the woeful Lakers who did knock off the Suns Sunday. They're not clinically dead yet (though they are eliminated from playoff contention).
Portland has a chance to extend the lead to three games with a win and a Warriors loss to Dallas. This Mavericks game is huge for Golden State. An opponent desperate to make the playoffs, coming off rest, in Golden State, where the Warriors have coasted too much. If the Blazers get bit by the Lakers, the Warriors can move to within a game of the fifth seed. It's debatable whether Houston or the Clippers is a better matchup for the Warriors, but moving up is less important than putting distance betweenthemselves and the seventh and eight seeds. 
A loss puts Golden State just a game ahead of the Mavericks and Grizzlies. And Suns.
This one matters. 
West Nos. 7-9: Suns, Grizzlies, Mavericks
... So, to let you know how insane the West is, the Suns entered Tuesday night in the seventh position thanks to a complicated tiebreaker over the Mavericks that doesn't matter quite yet. But the Grizzlies' win over Denver pushed them into a three-way tie, and the result of that complicated tiebreaker dropped them... to ninth. 
They started the night in seventh, didn't play in a game, and finished in ninth. That's the West. 
Memphis won a back to back in Denver to get back into the eighth spot. 
Relevant games Tuesday: Dallas is in the Bay to face the Warriors. A loss and they drop from seventh to ninth in a single night. No pressure. 
The Warriors used a huge third quarter to come back from a 23-point deficit to get the win

Three takeaways from Golden State's 24-point rally past the Sixers

Okafor has played only 25 minutes this season
Capela's shoe slipped off, and was sitting near the free throw line

The Magic will instead play in the Las Vegas Summer League

Ball walked away from an altercation between the Lakers and Suns on Friday night