NBA Playoff Picture and Magic Numbers: Pacers get breathing room
A look at the matchups and magic numbers for the playoff race with three weeks remaining.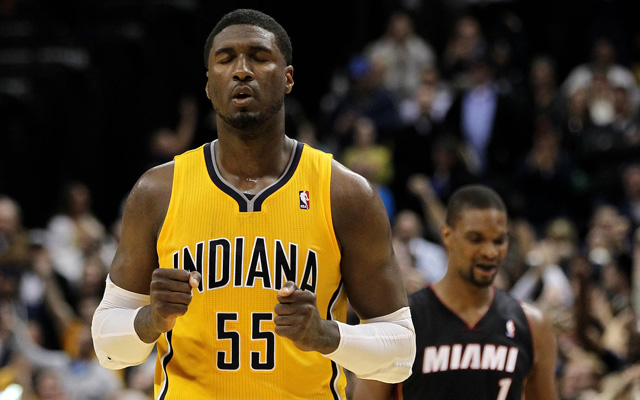 More NBA: Power Rankings | Expert Picks | Latest news, notes
A look at the playoff matchups, magic numbers, and scenarios going into the final three weeks of the season. 
East No. 1 vs. No. 2: Indianapolis Indiana Pacers vs. Miami Heat
Situation: Pacers lead Heat by three games, two in the loss column, lead season series for tiebreaker 2-1.
Miami and Indiana have clinched playoff spots. The Pacers have clinched the Central Division title, and the Heat have clinched the Southeast Division title. The Pacers have clinched a top-two seed in the East. Miami's magic number for homecourt in the first two rounds is four.
Indy's win vs. the Heat Wednesday night was big for confidence, for keeping the gap in place, for a lot of reasons, but it was by no means a virtual clincher for the Pacers. There are still ten games left for Indiana and ten left for Miami, with one of those vs. the Pacers in Miami.
Miami's remaining schedule is a mixture of playoff teams (Indy, Memphis, Brooklyn, Toronto) and bottom-dwellers (Philly, Milwaukee twice, Detroit). Indianapolis meanwhile has much of the same with the San Antonio Spurs , Toronto, Miami, and OKC left on the docket along with Orlando, Detroit, Milwaukee, and Cleveland. The Pacers have one back to back left compared to Miami's three.
After head-to-head, the tiebreaker shifts to conference record, where the Pacers have a commanding lead at 35-9 to 28-14. If the Heat were to win all ten of their remaining Eastern Conference games, the Pacers would still only need to go 4-4 to clinch tiebreaker.
If the Pacers don't win tiebreaker by some weird circumstance, then their magic number for homecourt throughout the Eastern Conference playoffs is 9. Otherwise, it's 8.
East 3-4-5 mashup of doom: Toronto Raptors vs. Chicago Bulls vs. Brooklyn Nets
This thing has tightened up considerably. The Raptors and Bulls are tied at 40-31, and split the season series 2-2. The Bulls have a half-game lead for tiebreaker, but that doesn't matter because of my least-favorite NBA playoff tiebreaker stipulation: the division winner rule. See, if Chicago finishes with a better record than Toronto (or Brooklyn), then even if the other is a division winner, the Bulls get the No.3 seed. But if they wind up tied, then the division winner takes the tiebreaker automatically. Don't ask me, I didn't make this stuff up.
So even if Chicago ties Toronto, and split the season series, and finishes with a better conference record, then the Raptors (or Nets) would get the three seed.
Meanwhile, Brooklyn's slid back a bit and is now 2.5 games back of the division, but is up only two in the loss column. Toronto's magic number for the division, assuming their tiebreaker advantage (four-game conference record advantage) holds is nine.
The Raptors and Bulls' magic number for a playoff spot is 1, Brooklyn's is four pending tiebreaker.
East 6-7-8-9 situation: Washington Wizards vs Charlotte Hornets vs. Atlanta Hawks vs. New York Knicks
Washington went from "Hey, they could get the 3-seed" to "Hey, they could miss the playoffs in about two weeks. Now they're just 1.5 games ahead of Charlotte or 7, or as we've come to know it "the Eastern meat grinder" since whoever lands there has to play Miami or Indiana. They have a five-game lead for the playoffs with 11 to go, to miss the postseason now would take the kind of collapse you can only describe as biblical. They're only 3.5 back from the three-seed, but they're considered in this tier with how they've been playing. Washington's magic number is four thanks to tiebreaker.
Meanwhile, Charlotte has quietly put together a 6-4 stretch to pull themselves further from the edge of oblivion. It's not certain, but a few more wins and they're off the bubble. Their magic number is six.
Atlanta can't stop the slide and they keep getting hammered with good teams. Thankfully their schedule lightens up in April. They've got Philadelphia, Cleveland, Detroit, Boston, and Milwaukee in their final 11 games. They may still need help with some New York losses, but they do have an easier road than the Knicks. If they can just get healthy, they can squeeze in. Atlanta leads New York by 1.5 games after their loss Thursday, and tiebreaker is pending. Their magic number is 10.
New York: OK, so here's the basics of the situation. They have 10 games remaining. Nine of those games are against teams currently in the playoffs. Five of those 10 are on the road. They have two back-to-back. They trail by 1.5 games for the 8th seed, two back in the loss column. This is doable, but it's going to be tricky. Here's what's on their side:
A. It's about to be April, Carmelo Anthony 's career-best month, in a contract year. He may score 50 per game.
B. J.R. Smith may have fixed his knee issues/confidence issues/hangover issues.
C. They have two against Brooklyn who they split with this year, get Washington when they're falling apart, and get Chicago and the last game of the season at home.
D. Atlanta may just be too injured to continue.
It's going to take a lot of help, but there's still a chance if they can go on one more run. A 6-4 record in the final 10 may honestly do it. Beat Utah, Washington, split with Brooklyn and Toronto, and you've got four of the six. You just have to figure out two more from Phoenix, Golden State, Miami, and Chicago.
Here's what's working against them:
They're the Knicks.
Wesern Conference No.1 vs. No.2 vs... No.3?
Spurs lead Oklahoma City Thunder by three games, do not own tiebreaker.
This one's starting to slip from OKC a bit, but the tiebreaker advantage helps. The Thunder face Sacramento twice, Utah, New Orleans twice, Detroit amid the usual slate of playoff teams. If the Spurs will ever lose again, there's a chance OKC can climb back up. The Spurs have a tougher stretch, with Denver, New Orleans, and Minnesota as their only easy games remaining. San Antonio has two back-to-backs remaining, which you have to figure the Spurs will rest for. San Antonio's magic number for the No.1 overall seed is nine.
The Los Angeles Clippers find themselves just two back after Thursday's win over Dallas, and they have tiebreaker over the Thunder as well. LA has two back to backs remaining and three non-playoff opponents left (Wolves, Los Angeles Lakers , Sacramento Kings ). Typically, landing top two is a great thing, ensuring homecourt for two rounds. But the Clippers might end up against the Memphis Grizzlies if they climb to No.2. That might give them pause.
The Spurs have clinched a playoff spot. Their magic number for the division is six. The Thunder have clinched a playoff spot, their magic number to clinch their division is four. The Clippers' magic number to clinch a playoff spot is one, to clinch the division is five.
Western Conference No.4: Houston Rockets
Houston's a game back of the Clippers. They could work their way into the conversation for a top two seed very easily. For right now, it looks like Houston's not going anywhere, up or down. The Clippers have tiebreaker over the Rockets, and Houston is up four games on Portland for the No.4. It works out, because they'll either face a haemorrhaging Blazers team, an underwhelming Golden State Warriors team, or one of the current bottom three.
Houston's magic number for a playoff spot is four.
Western Conference No.5 vs. No. 6 vs. No. 7. vs. No. 8 vs. No. 9, the Battle Royale
Portland's been in freefall. Their magic number for a playoff spot is seven with nine games remaining. It seems unbelievable given how the started the season and at the five spot, but it's still possible Portland falls out. That's how well the rest of the West is playing and how tough things have been for Portland.
The Blazers have no back to backs remaining and have the Lakers, New Orleans, Sacramento, and Utah on the schedule. That gets them to four, and 50 wins should be enough to secure a playoff spot.
The Warriors' magic number is eight, and their schedule is much tougher. Three back to backs, five road games, and the same approximate distribution of lottery teams with the Kings, Utah Jazz , Denver Nuggets (twice) and Lakers left. They are a game behind Portland for the No. 5 seed, and two games ahead of Dallas for a playoff spot. That's how tight this is.
Memphis just keeps plugging along. They're 8-2 in their last ten, and keep finding wins that they need. Still, they're just a game up for a playoff spot. Having tiebreaker over Phoenix is big, but they also lost tiebreaker to Dallas.
Phoenix is back from the dead and now control their own destiny for a playoff spot. They don't have tiebreakers and their schedule is unfriendly. It's going to be tough between them and Dallas.
Clinched playoff spot: Indiana, Miami, San Antonio, Oklahoma City. Clinched top-two seed: Indiana.
Current Playoff Matchups: 
Indiana (1) vs. Atlanta (8)
Miami (2) vs. Charlotte (7)
Toronto (3) vs. Washington (6)
Chicago (4) vs. Brooklyn (5)
San Antonio (1) vs. Phoenix (8)
Oklahoma City (2) vs. Memphis (7)
LA Clippers (3) vs. Golden State (6)
Houston (4) vs. Portland (5)
The NBA stayed to the point in their response to the Greek basketball federation

The Pacers believe the Lakers tampered with Paul George before they traded him

Among the questionable decisions by Jackson was signing Noah to a long-term, lucrative dea...
This Akron store doesn't want their hometown hero to leave again

Milwaukee's star did not get cleared to play for his national team due to a painful knee i...

Ball, the second overall pick in the NBA Draft, is receiving even more hype