NBA Playoff Picture and Magic Numbers: Things gettin' serious
Playoff matchups, scenarios, and magic numbers for Friday, April 4th, 2014.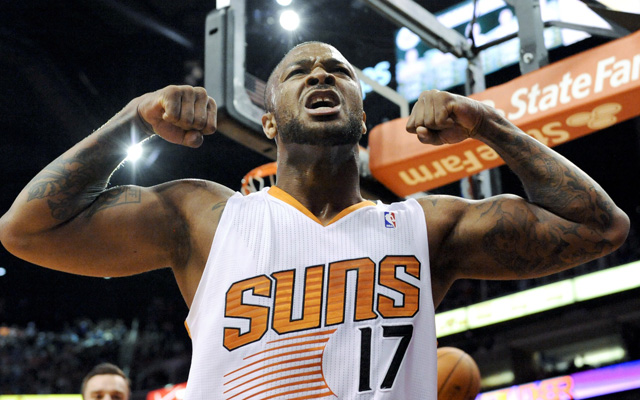 More NBA: Power Rankings | Expert Picks | Latest news, notes
For Thursday's update, click here.
Results entering Friday's games (April 4):
Clinched playoff berth: Pacers, Heat, Spurs, Thunder, Clippers, Raptors, Bulls,Nets, Wizards
Clinched division title, top-four seed: Pacers, Heat, Spurs, Clippers
Magic Numbers (combined wins and losses with closest team out of the playoffs) for playoff berth: 
Bobcats: 3
Knicks: 8
Rockets: 2
Warriors: 6
Mavericks: 6
Grizzlies: 7
Magic Numbers for division title:
Raptors: 6
Thunder: 1
Current matchups: 
Heat (1) vs. Knicks (8)
Pacers (2) vs. Bobcats (7)
Raptors (3) vs. Wizards (6)
Bulls (4) vs. Nets (5)
Spurs (1) vs. Grizzlies (8)
Thunder (2) vs. Mavericks (7)
Clippers (3) vs. Warriors (6)
Rockets (4) vs. Trail Blazers (5)
East Nos. 1-2: Heat, Pacers (No change Thursday.)
The Heat and Pacers both won Wednesday, getting Indiana at least a little confidence as the Heat kept rolling. Miami's magic number for the No.1 overall seed is 8. 
To be noted, the Pacers 36-11 in conference games vs. the Heat's 32-14 mark. Each team plays 52 Eastern Conference games. So even if Indiana loses to Miami in their matchup April 11th (evening the season seris 2-2), should the Pacers tie the Heat in the standings and in doing so win at least three more Eastern Conference games, Indiana would still have tiebreaker. 
Relevant games Friday: Indiana survived against the horrible Pistons Wednesday, but now they've got one of the tougher remaining games on their schedule. They face the Raptors in Toronto, where the Raps are 8-3 over their last 11 at home. It's a conference game which they could need for tiebreaker. It's big. 
The Heat play Minnesota at home. The Wolves have been scrappy, but Miami's motivated. The question will be who Miami rests. They're running out of rest opportunities and they hae guys they need to get healthy. 
East Nos. 3-6: Raptors, Bulls, Nets and Wizards (No change Thursday.)
Washington clinched a playoff berth or the first time since 2008. Throw some confetti. They also clinched no worse than 7th. Even if they lose out, they wouldn't fall to 8th. Miami, Indiana, Toronto, Chicago, and Brooklyn have already clinched that as well. 
Toronto's win and Brooklyn's loss moved the Raptors' magic number for the division to two. The Wizards are back to within 1.5 games of Brooklyn for the fifth seed. The Nets are now back 2.5 games for the division, two in the loss column. 
Relevant games Friday: Toronto obviously has a tough challenge -- or maybe not considering how Indiana has been playing. .They're playing for the division at this point. That's their target right now. 
The Bulls get an easy one with Milwaukee in town. So no matter what, they won't slip tomorrow barring a disaster. How's that for a jinx? 
Brooklyn, 2.5 back of Toronto, has Detroit. So if the Raptors slip up, the Nets can move back within 1.5 of the division. 
Washington is in New York to play the red hot Knicks. They have two games on Charlotte, and are 1.5 back of the Nets. It's a big game for them to keep pace, but they have little chance of gaining ground and it's unlikely they fall to 7. They can live with a loss to the Knicks, a win is gravy. 
East Nos. 7-9: Bobcats, Knicks, Hawks ,... Cavs?(No change Thursday.)
The Bobcats won, cutting their magic number to four. Their magic number to avoid the 8th seed is three. The Cats are making the playoffs, essentially. 
Atlanta lost and New York won, so the two teams are tied, but New York is up one in the win column so their winning percentage is slightly better. It's virtual tie and they split the season series, but winning percentage gives it to New York for now. 
Cleveland won again and continues to lurk. If the other two tumble, Cleveland will be ready to take their place. 
Relevant games Friday: OK, Friday's pretty big here. First the Bobcats. They have the lottery-bound Magic, but they lost to Orlando last week. Their magic number is four so they can make a big push no matter what happens Friday.
Cleveland, two back of New York and Atlanta, faces the Hawks. A win and a Knicks loss to Washington means the Cavs are just a game back. 
The Knicks have a big test in Washington, but a win and a Hawks loss puts them a game up with tiebreaker. 
All three teams are in must-win situations. 
West Nos. 1-2: Spurs, Thunder
Streak: Over. Lead: Down to three. Season series: Swept. The Spurs were manhandled by the Thunder once again, as the athleticism that has plagued them once again was their undoing. 
But is it too little too late? Three games is pretty rough with the kind of schedule the Thunder have left. 
Relevant games Friday: The Thunder can clinch their division and a top-four seed with a win, on the road, on a back to back in Houston. But of course, they're on the road, on a back to back, in Houston. Houston has been struggling but Dwight Howard could be back. Even if the Thunder can't catch the Spurs, every win forces San Antonio to not rest their starters, and that has value in and of itself. 
West Nos. 3-4: Clippers, Rockets
The Clippers lost, but since Houston's been on a slide, they're not in danger of falling out. They're 1.5 back of the Thunder, but that's a bridge they can catch up to. So it wasn't that bad of a loss, honestly. 
Relevant games Friday: Houston's got to figure out a way to right itself and here comes OKC. They're in danger of Portland catching up for the four spot. Home court's in play. 
West Nos. 5-6: Blazers, Warriors (No change Thursday.)
Golden State lost, putting them 2.5 games back again. It's looking more and more like the sixth seed for the Wariors. The loss did good things for Portland who expanded their lead without playing.  
Relevant Games Friday: Suns in town. Because their win effectively counts twice against Phoenix and secures tiebreaker thanks to conference record, and Phoenix plays Memphis and Dallas remaining, a win clinches a playoff berth for Portland.
Golden State's facing Sacramento. Their magic number is six, but with the Suns playing Portland, it could move to four easily. 
West Nos. 7-9: Mavericks, Grizzlies, Suns
Finally some normalcy. The Mavericks won, so nobody moved Thursday. Mavs now a half-game up for the 7th, then Grizzlies in 8th over Suns by virtue of tiebreaker. 
Relevant games Friday: Dallas gets a break by playing the Lakers on a back to back. They can move 1.5 games up if either of the other two lose. And with those two playing one another before season's end, that moves the magic number to three with a win if both of them lose. 
Memphis has an early game at home vs. Denver. It's a must-win, because they play in the Western Conference. 
The Suns are on the road in Portland. This isn't their entire season on the line, but if they lose and Dallas wins, they're in serious trouble. 
A report last week indicated Charlotte is looking to move Walker, along with one of its hefty...

Barea responds by claiming that none of Wall's teammates like him; the Wizards continue to...

Cousins finished with 44 points, 24 rebounds, and 10 assists
Love left Saturday's game, which the Cavs lost 148-124, due to illness

Kidd was fired by the Bucks on Monday afternoon

We've got all the scores, highlights and news from an NBA Monday