NBA Playoff Picture and Magic Numbers Update: Warriors survive
A look at the playoff standings, matchup, magic numbers and scenarios entering the games of Wednesday, April 2nd.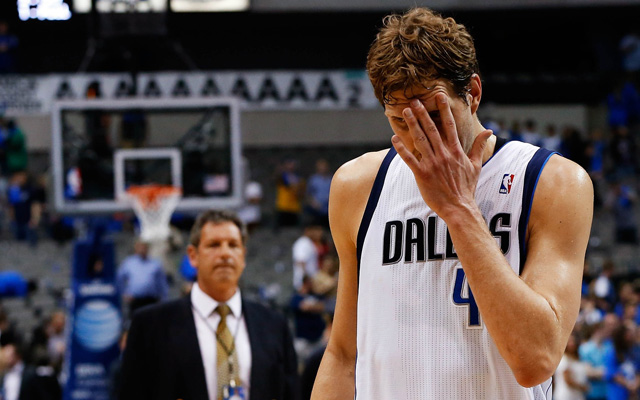 More NBA: Power Rankings | Expert Picks | Latest news, notes
For Tuesday's update, click here.
Results entering Wednesday's games (April 2):
Clinched playoff berth: Pacers, Heat, Spurs, Thunder, Clippers, Raptors, Bulls, Nets
Clinched division title, top-four seed: Pacers, Heat
Magic Numbers (combined wins and losses with closest team out of the playoffs) for playoff berth: 
Wizards: 1
Bobcats: 4
Hawks: 8
Rockets: 2
Trail Blazers: 3
Warriors: 5
Grizzlies: 8
Mavericks: 8
Magic Numbers for division title:
Raptors: 8
Spurs: 1
Thunder: 2
Clippers: 2
Current matchups: 
Clippers (3) vs. Golden Sate Warriors (6)
Rockets (4) vs. Trail Blazers (5)
East Nos. 1-2: Heat, Pacers
(Unchanged from Tuesday)
Welcome back to the top, Miami. 
Interesting quirk: the Pacers and Heat are tied. The Pacers have one more win and one more loss. The result is that by virtue of winning percentage (being up one in the loss column), Miami takes over the No. 1 spot. 
The Pacers have moved past "Oh, they're struggling a little bit" to "we have some serious issues," to "everyone is unhappy and miserable and facing a complete meltdown the likes of which we may have never seen in the NBA before." 
Miami meanwhile has won 7 of 10 to reclaim the top spot. Three of the Pacers' next four games are against teams under .500 before their April 11 matchup vs. the Heat in Miami. Three of Miami's next five opponents are under .500. We're about to see how bad each team wants the top seed. 
Both the Heat and Pacers control their own destiny. If either one wins out, they get the No. 1 seed regardless of what opponent does. 
Relevant games Wednesday: Indiana faces Detroit, one of the few teams they've beat lately, arguably the worst team in the league right now, and have a chance to get back tied if...
Wait, never mind, the Heat play the Bucks. So that's not happening. If Indy loses, Miami will have a 1.5 game lead for the No. 1 seed and a magic number of 7, provided they beat the Bucks. 
East Nos. 3-6: Raptors, Bulls, Nets and Wizards
The Nets clinched a playoff berth with their win, and moved 2.5 games ahead of Washington, two back of the Raptors for the division and the 3-seed. They're hitting their stride. Toronto's going to have to take it from them. 
Toronto's magic number for the division is 8. 
Relevant games Wednesday: Brooklyn has a monster game, a back-to-back wth the Knicks. It's not exactly a tough road trip, but it is a back to back. A loss would curb some momentum for the Nets and give the Raptors an opportunity to open the lead back up, and for Washington to potentially gain again. 
But a win not only busts their rivals but it can start putting some real heat on the Bulls and Raptors. 
Toronto meanwhile gets Houston who is super banged-up right now and is on a road-road back to back. This is a wounded opponent trying to find its way on a back to back. They should win this one, they need to win this one. 
The Bulls get Atlanta, and this one should be easy for them. A loss and things could get complicated in a hurry, though. You have to take the easy games and Atlanta right now is an easy game. 
Washington faces Boston, and a win (or Knicks loss) clinches the Wizards' first playoff berth since 2008. Big game for them against a weak opponent. 
East Nos. 7-9: Bobcats, Hawks, Knicks
No relevant action Tuesday.
Relevant games Wednesday: OK, New York. Let's see what you're made of. The Knicks are a game back, Atlanta has to face the Bulls, and the Knicks get Brooklyn on a back to back. The table is set for them to make a move. Huge game tomorrow in the Garden. 
Atlanta has to try and hold on, and additionally, shouldn't panic if they wind up in a tie with New York. There's time for them to retake the lead or at least retain tiebreaker. Beating Chicago would be huge, but it seems too much to ask at this point. 
Charlotte gets the Sixers. A win and a Knicks loss moves their magic number to 2. 
West Nos. 1-2: Spurs, Thunder
No relevant action Tuesday.
Relevant games Wednesday: Spurs clinch the Southwest Division and home court in the first round with a win vs. Golden State. It also clinches no worse than third for San Antonio. 
OKC just has to try and hold on, to stay within range of San Antonio and hope the Spurs start resting or slip. A win moves them within a game of clinching the Northwest Division.
West Nos. 3-4: Clippers, Rockets
Houston's loss moves them a full three games behind the Clippers for the three-seed and that may be all she wrote for landing that spot. That is fine, if things stay where they are, because Houston would get a favorable matchup in Portland. But Houston needs to make sure they don't let Portland pass them and get home court. The Blazers with the home crowd could be dangerous. 
Relevant games Wednesday: Houston's got a back to back vs. the Raptors, so they could very easily be four back of the Clippers by end of action Wednesday. The Clippers are in Phoenix for a monster game for both teams. A win and a Warriors loss and LA clinches the Pacific title, moves four game ahead of Houston and, if the Thunder should lose, within a game of OKC for the two-seed. Huge games for both teams Wednesday.
West Nos. 5-6: Blazers, Warriors
Both teams won Tuesday and it was helpful for both. The Warriors may have secured no-worse-than-sixth with their win over Dallas.  Their magic number for the sixth seed is seven. 
Portland cut their magic number to three and this winnin streak has all but guaranteed they'll make the postseason. 
Relevant Games Wednesday: The Warriors needed to beat Dallas because they have the Spurs on a back to back Wednesday. They can afford to drop that one now, but a win, obviously, would be huge and all but assure they can avoid the Thunder and Spurs in the first round. 
Portland's rooting for a Rockets loss. 
West Nos. 7-9: Suns, Grizzlies, Mavericks
Dallas' loss to Golden State hurt. It dropped them back out of the playoffs into the ninth slot. It gave Golden State the tiebreaker. It surrendered control of their own playoff destiny. And, you know, it sucked. Tough loss for them, but good for everyone else in the West race. 
Relevant games Tuesday: Memphis faces Minnesota and the Wolves haven't been roadkill lately. This one is tough, and it's important. A win gives them a game buffer on the Mavericks, which is big because Dallas has tiebreaker. Memphis has a chance to gain some momentum and they need to take advantage of it. A loss would be crushing. 
Phoenix has an even tougher task. They're at home, but they've got the Clippers, playing to restablish momentum and clinch their division. This is a huge gam for both teams and it could be anothe epic showdown. The drama continues. 
The Rockets are on fire, and my money is on Durant to join LeBron and Harden in the MVP ra...

Then-Lakers owner Jerry Buss eventually shot down the idea

Bryant will have both No. 8 and No. 24 raised to the Staples Center rafters on Monday
The Lakers will be retiring Kobe Bryant's No. 8 and No. 24 jerseys at halftime

The Nuggets will look for their second-straight win with Nikola Jokic back in the lineup

This composition is absolutely amazing