NBA Playoff Picture and Magic Numbers: Wizards are going dancing
Updated scenarios, seedings, matchups, and magic numbers for the NBA playoff race.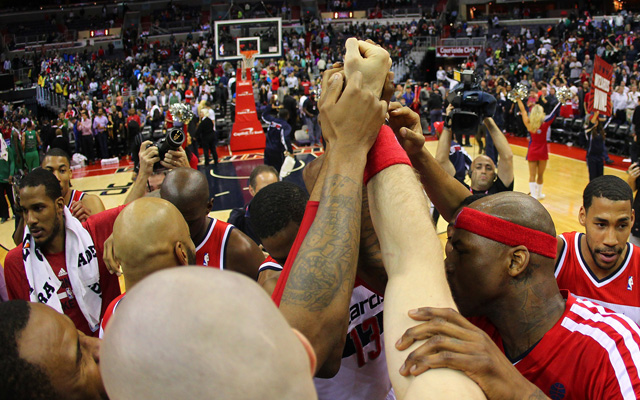 More NBA: Power Rankings | Expert Picks | Latest news, notes
For Wednesday's update, click here.
Results entering Thursday's games (April 3):
Clinched playoff berth: Pacers, Heat, Spurs, Thunder, Clippers, Raptors, Bulls, Nets, Wizards
Clinched division title, top-four seed: Pacers, Heat, Spurs, Clippers
Magic Numbers (combined wins and losses with closest team out of the playoffs) for playoff berth: 
Bobcats: 3
Knicks: 8
Rockets: 2
Warriors: 6
Mavericks: 8
Grizzlies: 7
Magic Numbers for division title:
Raptors: 6
Thunder: 2
Current matchups: 
Heat (1) vs. Knicks (8)
Pacers (2) vs. Bobcats (7)
Raptors (3) vs. Wizards (6)
Bulls (4) vs. Nets (5)
Spurs (1) vs. Grizzlies (8)
Thunder (2) vs. Mavericks (7)
Clippers (3) vs. Warriors (6)
Rockets (4) vs. Trail Blazers (5)
East Nos. 1-2: Heat, Pacers
The Heat and Pacers both won Wednesday, getting Indiana at least a little confidence as the Heat kept rolling. Miami's magic number for the No.1 overall seed is 8. 
To be noted, the Pacers 36-11 in conference games vs. the Heat's 32-14 mark. Each team plays 52 Eastern Conference games. So even if Indiana loses to Miami in their matchup April 11th (evening the season seris 2-2), should the Pacers tie the Heat in the standings and in doing so win at least three more Eastern Conference games, Indiana would still have tiebreaker. 
Relevant games Thursday: None.
East Nos. 3-6: Raptors, Bulls, Nets and Wizards
Washington clinched a playoff berth or the first time since 2008. Throw some confetti. They also clinched no worse than 7th. Even if they lose out, they wouldn't fall to 8th. Miami, Indiana, Toronto, Chicago, and Brooklyn have already clinched that as well. 
Toronto's win and Brooklyn's loss moved the Raptors' magic number for the division to two. The Wizards are back to within 1.5 games of Brooklyn for the fifth seed. The Nets are now back 2.5 games for the division, two in the loss column. 
Relevant games Thursday: None.
East Nos. 7-9: Bobcats, Hawks, Knicks
The Bobcats won, cutting their magic number to four. Their magic number to avoid the 8th seed is three. The Cats are making the playoffs, essentially. 
Atlanta lost and New York won, so the two teams are tied, but New York is up one in the win column so their winning percentage is slightly better. It's virtual tie and they split the season series, but winning percentage gives it to New York for now. 
Cleveland won again and continues to lurk. If the other two tumble, Cleveland will be ready to take their place. 
Relevant games Thursday: None.
West Nos. 1-2: Spurs, Thunder
The Spurs won, again, now 19 in a row. They clinched the Southwest Division and a top-four seed in the playoffs. They are one win a way from clinching home court through the first two rounds, and their magic number for home court throughout the playoffs is five. 
Relevant games Thursday: This is a big one. The season series has already been decided with the Thunder rolling the Spurs. But a win by San Antonio drops their magic number for home court to 3, and puts them up 4.5 games, four in the loss column, with eight to go for Oklahoma City. 
The Thunder can climb back within three games of the Spurs and drop their division magic number to one with a win. 
West Nos. 3-4: Clippers, Rockets
Houston lost the back to back in Toronto and are reeling. The Blazers are just a game back of the Rockets for the fifth seed. 
Meanwhile, the Clippers won, clinching their division title and securing home court in the first round. They expanded their lead over the Rockets to four games, and are just 1.5 games behind the Rockets, tied in the win column. 
Relevant games Thursday: The Clippers have already secured the sweep over Dallas. But a win and a Thunder loss means they're just a half-game back of the 2nd seed in the West. Their magic number for no-worse than third would also drop to two. 
West Nos. 5-6: Blazers, Warriors
Golden State lost, putting them 2.5 games back again. It's looking more and more like the sixth seed for the Wariors. The loss did good things for Portland who expanded their lead without playing.  
Relevant Games Thursday: None.
West Nos. 7-9: Suns, Grizzlies, Mavericks
Here we go again. 
So the Grizzlies lost before the Suns game ended so for about two hours, the Suns were back in the playoffs in the 8th seed with Memphis at the 9th spot as Dallas moved back up to 7th thanks to tiebreaker. Then the Suns loss, which meant Dallas stayed at 7, Memphis moved to 8th in the three-way tie and the Suns fell to ninth. Got it? Good, me neither. 
Relevant games Thursday: Dalas needs this one. The Clippers are on a back to back and they can get off the troubles they've had lately and put a little breathing room between them and Phoenix. Every game is a must-win for those three teams right now. 
Our advanced computer model simulated Saturday's Thunder-Cavs game 10,000 times

The Jazz are reportedly looking into trading Rodney Hood before the Feb. 8 NBA Trade Deadl...

The Cavaliers are ready to reset everything if they have to. Their interest in Lou Williams...
It sounds like the Cavaliers are going to be active before the NBA trade deadline on Feb....

We've got all the scores, highlights and news for Friday night

George Hill, who is unhappy in Sacramento, could be a solution to Cleveland's backcourt si...