NBA Playoffs: Chris Paul shows 'the look' in Game 1 win over OKC
Clippers guard slices and dices up OKC in Game 1 victory.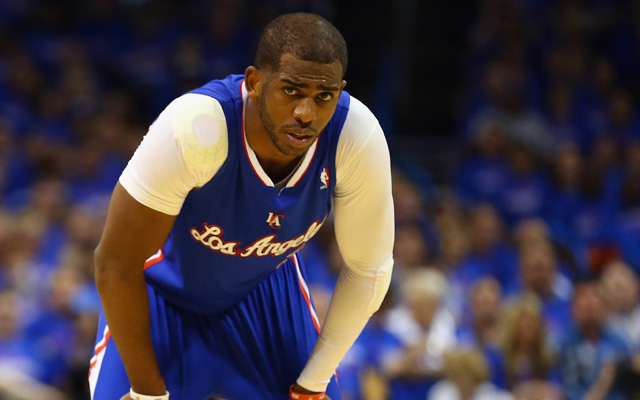 "The look" is one of the finer things in the NBA. It's rare, when it's honest. A lot of players will mimic the look but it's organic for few. The look doesn't define the player. The player's mindset creates it, that scowl, that stare, that focused intensity that both scares and leaves you desperate to know what they're going to do on the court next. 
In his 32-point, 10-assist, 12-of-14 performance in the Clippers' blowout win over the Thunder (122-105) Monday night, Chris Paul most definitely had the look. And the place it came from is what pushed Paul to take over the game, to contribute 55-points through scoring and assists in less than 28 minutes (not even counting his passes that lead to fouls). 
It was as brilliant and thrilling as it was unexpected. Incredible, for its efficiency, for its brutality, for its sheer unstoppableness. Unexpected, because quite honestly, there was a legitimate question if Chris Paul was this player anymore. 
---
Chris Paul was once a player who owned the game. He emerged in New Orleans in 2008 as not just a promising young player, but one of the league's truly elite players. He was able to see the game before it happened, able to find whatever look he wanted. He was like a gifted child playing with legos, building what was in his imagination, understanding conceptually the way to construct point after point after point. He was also a ruthless scoring machine, a killer when engaged. 
For several years after surgery to remove his meniscus forced him to reconsider his approach. He spoke openly, honestly about the need to conserve his energy. Instead of pushing forward inextricably, he would drift. He would spend what felt like months simply taking the ball up the court, passing off, and getting out of the way. Even with the Clippers, even this season, there were months where Blake Griffin was the best player on Los Angeles. Griffin had earned that spot, but Paul also wasn't aggressively demanding it. 
In part, this was because he understood both how much energy he had to save, and what his teams needed. The Clippers didn't need a player lighting up the scoreboard. He long ago learned that bright lines look great on highlight shows and tickers at the bottom, but don't necessary correlate to winning. Control over a game, leadership, floor generalship was the best thing he could give his team. And Paul embraced it. He was the orchestrator, the on-court coach. 
But going into Game 1, coming off an emotional series against the Clippers and the dramatic events of the past two weeks, vs. a raucous OKC team that was just happy to get the Grizzlies' defense off its back, Paul recognized that he needed something else. 
The Thunder will talk about how Paul "just hit shots." Doc Rivers said after the game the Clippers "just had one of those nights." Don't be fooled. Blake Griffin was 7-of-16. DeAndre Jordan had seven points. Chris Paul averaged 14 field goal attempts in the regular season... in 35 minutes per game, over seven more than he played in Game 1 vs. the Thunder. 
Paul went back to that bight-eyed kid in 2008, before the injuries limited what he could give, before the questions about why he hadn't advanced past the second round, before experience told him to keep his game contained. Sometimes the general makes tactical decisions, and sometimes he gets his hands dirty. Paul walked off the floor like a butcher coming out of the back, with OKC's defense wrapped in small packages. Try the Westbrook veal, it's especially tender, offering no resistance.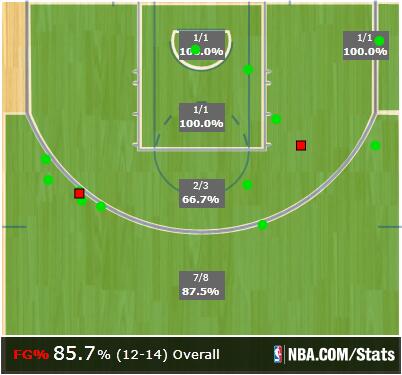 Can the Clippers rely on Paul to do this another three times? No. Paul can give this from time to time, but the Thunder will also have different looks (or, you know, a single effective one) in Game 2. But Paul had ten assists in Game 1 in part after the defense started to overreact. When they started overplaying his threes ater he hit five in the first half, he drove. When they doubled, he found shooters. Paul, much like his friend LeBron James, will make the right play. 
Monday wasn't an abandonment of what Paul has learned or what he's evolved into. But it was a brief and devastating reminder that beneath his patience, deliberation, and generosity, he's still a lethal scorer and very much the same guy that can take over a game. He can be both, and all, at once. 
They don't call him the Point God for nothing. 
We've got all the scores, highlights and news from all of Sunday's games

The Rockets beat the Warriors 116-108 on Saturday night

The Cavaliers gave up 148 points in their loss Saturday afternoon to the Thunder
Blatt made the comment before coaching in the All-Star Game in Turkey

Is this rock bottom for the Cavaliers because it sure feels like it is

Wade, as he's done so many times in his career, threw it up to LeBron for the thunderous f...