NBA Playoffs Machine LIVE blog: Day 2 starring Dirk vs. Duncan
Updating reactions, news, GIFs, and videos from day two of the NBA playoffs featuring Mavs-Spurs, Blazers-Rockets, Bobcats-Heat and Wizards-Bulls.
by

Eye on Basketball staff

• 3 min read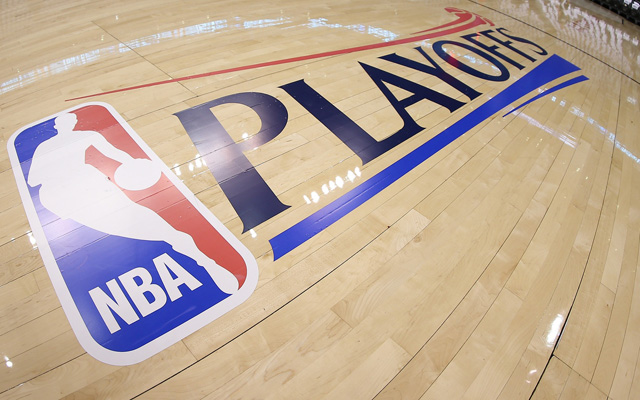 More postseason coverage: Playoff schedule, results | Court Vision insight
Updating the stories, GIFs, videos and more for the NBA Playoffs opening weekend of Sunday, April 20th. This post will constantly update with everything you need to know.
Update 12:52 p.m..: Damian Lillard cold. blooded. 
Jeremy Lin hit the brakes, and the Blazers flew right by: 
Update 9:15 p.m.: 
This is a good representation of the Bulls' offense. 
Nene hasn't been in the starting lineup since his return from injury, but he will start Game 1 vs. Chicago Sunday night. 
Nene starting.

— Sean Highkin (@highkin) April 20, 2014
Final: Heat win 99-88. It was both closer than the widest margin indicates and not as close as the final score does. Al Jefferson's injury is going to be a major plot line headed into Game 2 and the rest of this series. 
Update 5:33 p.m.: Josh McRoberts did something. He did something very bad in a good way. He took a pass going to the basket, went up strong with the right hand, and threw down all over Birdman. Don't believe us? Just have a look for yourself (video here): 
And here's a still from the crime scene.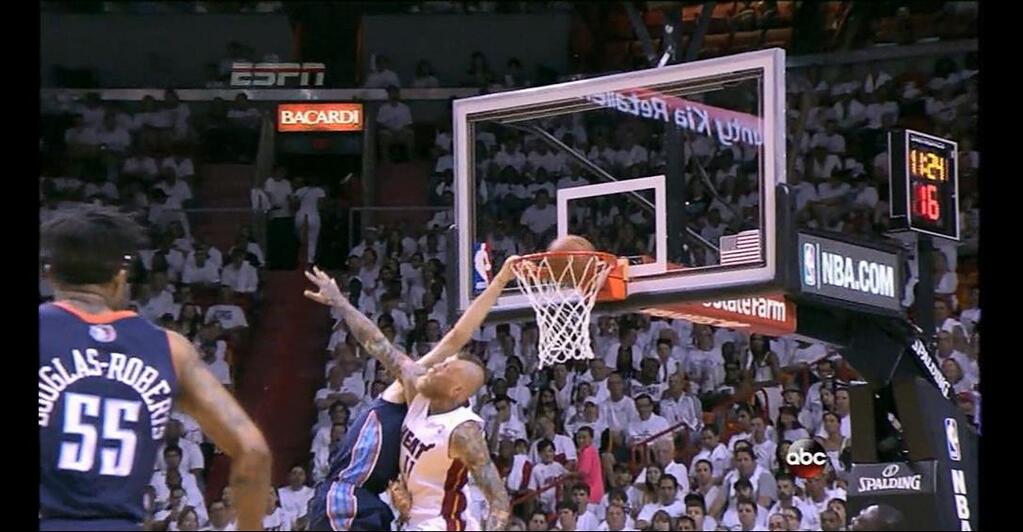 Updated 5:11 p.m: In what has been a surprisingly entertaining game, the Cats have gone back and forth with the Heat. But the Heat are still the Heat. And Dwyane Wade, after so much time off, still has this crossover: 
Updated 5:03 p.m.: Kemba Walker is doing WORK in the third quarter, including this side-step floater: 
Update 4:00 p.m.: Al Jefferson left the game and limped into the locker room with a left plantar fascia strain, but he's going to return to the game, according to sideline reporter Lisa Salters. Jefferson had eight points on 4-of-4 shooting in the first quarter. 
Update 3:45 p.m.: The Charlotte Bobcats don't get out and run a ton, but when they do it's a pretty good time. They've got some athletic players to run the floor and Kemba Walker can push the tempo as quickly as just about anybody in the league. With Josh McRoberts running the floor, that's a big finishing option at the end of the play.
Bobcats competing early as most teams who are well coached tend to do. 
Final score: Spurs 90, Mavs 85
Update 3:26 p.m.: After a rough first quarter for the Dallas Mavericks, they managed to take control of the game for the next two-plus quarters. It looked like Dallas might be in position to pull off the upset in Game 1, and they still have a chance with a couple minutes left in the fourth quarter.
But Tony Parker and Tim Duncan took over in the fourth quarter to reclaim the lead and control of the game and Mark Cuban is none too thrilled with this.
Cheer up, Cubes!
Update 2:24 p.m:  Tony Parker has himself a crossover. 
Somehow, despite allowing 17 to Parker, the Mavericks lead at half. After going down nine after one, they stormed back behind Devin Harris and by limiting the other Spurs shooters. 
Gregg Popovich is psyched about the start time of the first game of today.
Gregg Popovich: "I didn't even have any wine last night because it's a NOON GAME! That's the worst part about a noon game."

— Dave McMenamin (@mcten) April 20, 2014
The Rockets face a quandary with the Trail Blazers' LaMarcus Aldridge. Double him and leave shooters open? Terrence Jones was trapped in a nightmare trying to defend him. Omer Asik did well. So will the Rockets go back to the Asik-Howard combo?
Rockets coach Kevin McHale would not directly say he would play Asik and Howard together again, elevating it only from a topic he would not discuss to "it's possible.

"We haven't done it a lot lately," he said. "They were effective earlier at stages, and this might be one of those games where if we're having a heck of a time with Aldridge we might try one of our big centers on him."
via Ultimate Rockets » The Howard-Asik combo could return vs. Portland.
DH12 is picked for free throws after a teammate gets ejected. He makes both, and lets Scott...

Bell was injured defending a Robin Lopez dunk and had to be taken off the floor in a wheel...

Trevor Ariza and Gerald Green are reportedly both suspended two games
We've got all the scores, highlights and news from the night's games

Jonah Keri talks with NFL and NBA broadcaster Ian Eagle

SportsLine simulated Wednesday's Nuggets-Clippers game 10,000 times