NBA Playoffs Machine LIVE blog: Let the playoffs begin
GIFs, videos, news, tweets, everything you need to know for the first day of the NBA playoffs.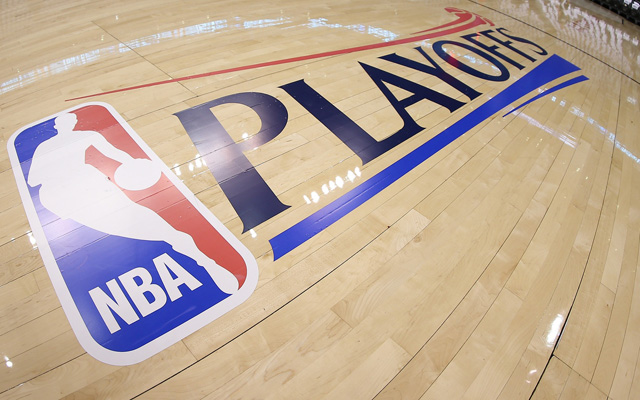 More Playoffs: Schedule | Threat Matrix | Previews: East | West | Picks
Updating the stories, GIFs, videos and more for the NBA Playoffs opening weekend of Saturday, April 19th. This post will constantly update with everything you need to know.
Final: Thunder 100, Grizzlies 86
After a scare from a tough Grizzlies team in the second half, the Thunder managed to put this one away behind a late scoring binge by Durant. He had 13 points on 5-of-6 shooting in the fourth quarter to answer Memphis' 31-point third quarter with OKC's own 31-point quarter in the fourth. Durant finished with 33 points, eight rebounds, and seven assists on the night. OKC was the only home team to win on Saturday and they did it behind Durant's offense and Serge Ibaka's defense.
Ibaka ended up blocking four shots in the game to go with 17 points and nine rebounds. He was a presence late in the game to thwart any final spurts by the Grizzlies. For Memphis, they just ran out of gas, playing their third quarter lineup well into the fourth quarter. They just didn't have enough to erase that massive halftime lead and still be able to carry out their execution late in the game. Zach Randolph needed 21 shots to get 21 points, and Marc Gasol struggled with 7-of-19 shooting. Grizzlies missed 13 free throws, 9-of-11 3-pointers, and couldn't capitalize on having just six turnovers as a team. 
Update 12:06 a.m: Caron Butler got up. Up, up and away. 
End of third quarter update: OR the Grizzlies are going to come roaring back with a 31-13 quarter is what we meant to write. Tony Allen dominated the majority of that third quarter and the Grizzlies finally got back to the style of play that put them in the playoffs. Westbrook and Durant were taken out of that quarter with great defense and their own bad decision-making. We've got a game here and possibly all four road teams could win the first day.
Halftime update: The Oklahoma City Thunder are rolling the Memphis Grizzlies after one half of basketball, leading 56-34 with seemingly minimal effort. Last postseason, the Grizzlies took advantage of the Thunder not having Russell Westbrook on the court. Westbrook seems aware of that series and wants to prove it was merely an outlier in their postseason history. He had 16 points, eight rebounds, and three assists in the first half, completely dominating his match-up with Mike Conley. And that's with Conley leading his team in scoring with 10 points too. Kevin Durant leads the game with 17 points, which means his total and Westbrook's total are just one point away from the entire Grizzlies team.
The Grizzlies simply can't operate in the half court right now and they look uncomfortable with the pace fo the game. Serge Ibaka, Steven Adams, Kendrick Perkins, and Nick Collison have controlled the paint and there doesn't look to be much upside at least in tonight's game. 
Game 1 Final: Hawks 101, Pacers 93
The Atlanta Hawks played a great game of basketball. They spread the Indiana Pacers' defense out, took their rim protector out to the perimeter and just abused the defender in front of them to throw everything off fo the Pacers. We shouldn't lose sight of how good Jeff Teague was, how effective Paul Millsap was, and how complementary DeMarre Carroll and the Hawks' role players. With that said, the Pacers embarrassed themselves with horrendous effort and terrible body language to make you feel like things might not get fixed.
It doesn't mean the Pacers will lose the series, necessarily. It's just I'm not sure how you can see what we saw for 2.5 hours and think this team has anything figured out. Roy Hibbert was nonexistent until the game was effectively out of reach. Lance Stephenson seemed to think it was a one-on-five competition. George Hill and Evan Turner have never looked so lost on defense. And once again the Pacers didn't have enough focus to handle their opponent. The Hawks were on the road as a sub .500 8-seed playing without their best player and they stomped the team with the best team in the East. It's time for the Pacers to get all of their problems with each other aired out, get over it, and come together. Otherwise, they might head into some embarrassing territory. 
Update 8:57 p.m.: Jeff Teague GOT 'EM: 
Meanwhile, David West and Pero Antic are not friends. 
Halftime Update 8:22 p.m.: It's not exactly the barnburner that Clippers-Warriors were, but it is competitive. The Hawks and Pacers are tied at the half, after the Pacers found themselves down nine at one point, at home. They haven't been impressive but they've shown some signs of life, especially Lance Stephenson and Paul George. Hibbert has five rebounds, but the Hawks are spreading the floor. 
I mean, they are spreading the floor. 
Atlanta had 23 2-point shots in the first-half, they had 18 three-point attempts. They're not even hitting. They just abandoned the paint and are using their floor spreaders to punish Indiana's scheme. Jeff Teague has done some good work attacking, but mostly it's been Kyle Korver and Pero Antic punishing the Pacers' tendency to sag down into the paint. 
The Pacers do not appear to have fixed their problems. 
Update 8:05 p.m.: Kyle Korver blocks Roy Hibbert, who is much taller than him. This is Hibbert's life right now. 
Update 6:35 p.m. ET:
Not going to lie, that was a miserable game to watch thanks to one of the worst officiating performances in NBA history. It wasn't uneven, it was reasonably terrible on both sides. Andre Iguodala barely played, Blake Griffin barely played, and the game turned when Chris Paul lost the ball down two, was fouled by Draymond Green and lost the ball, but no call. On review, the officials cannot assess a foul but had to award possession to the Warriors.
It was a fascinating game wedged around the unbelievable officiating. Jermaine O'Neal was huge for Golden State, keeping the Clippers off the glass and making plays. David Lee made terrific passes inside and Klay Thompson took ownership of the offense. Throw in bench advantage, 32-26 for Golden State and the foul trouble for Griffin and the Warriors have retaken home court.
The Clippers lost a home playoff game in which Steph Curry had more shots than points. There's trouble in Clipperland.
Here's the Warriors' third quarter shot chart.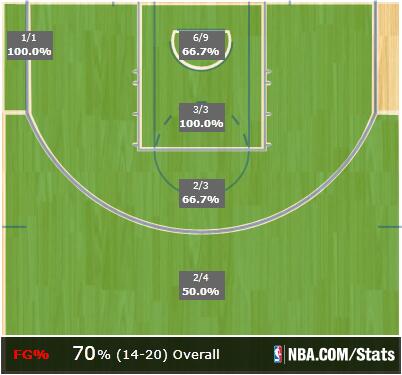 Halftime Update 4:52.pm. : It was ugly, ugly, ugly, which we didn't expect from these two teams. The officials, clearly spooked by this one possibly getting out of hand physically, called 29 fouls in the first half. Andre Iguodala has four, Blake Griffin has three, David Lee has three. It was out of control. 
Draymond Green suffered a knee injury but returned late in the half. The Warriors came back from an early 11-point deficit. Mark Jackson left Iguodala in with three fouls and it wound up burning him. With Iguodala out, J.J. Redick was able to get loose a little bit. 
It's looking like a tight game, and the tactics being used on Steph Curry and Chris Paul has been really interesting. DeAndre Jordan was dominant inside. 
Update 4:43 p.m.: Draymond Green suffered a knee injury in the first half against the Clippers and had to head to the locker room.  
Draymond Green going to the locker room

— Tim Kawakami (@timkawakami) April 19, 2014
Here's video of the injury:
Update 4:30 p.m.: Andre Iguodala picked his third foul with 3:34 left in the second quarter. Mark Jackson rolled the dice with Iguodala in the first quarter despite having three fouls and then had him out there in the middle of the second quarter as well. It was all going so well until Iguodala swiped down against Matt Barnes under the basket and was called for his fourth foul with 5:46 left.
It wasn't the cause for this reaction by Warriors' owner Joe Lacob but it certainly fits after knowing Jackson took a risk and it hurt the team.
(GIF via Ben Golliver)
Update 4:28 p.m.: Also from an exciting first quarter was DeAndre Jordan going stride for stride with David Lee, getting behind the defense in transition, and casually catching an alley-oop in the middle of the paint from a tough angle. 
This guy is athletic. 
Update 4:21 p.m.: A couple of extreme swings happened in the first quarter, which makes the fact that it was capped off by Jamal Crawford banking in a half court shot at the buzzer just a little too perfect. Crawford let it fly from deep and hit his first shot of the game in the process. He has "in the gym" range.
Different angles in .gif form:
Clippers led 29-24 after one quarter.
Final: Nets 94, Raptors 87
The Toronto Raptors worked hard for home court advantage in the first round of the playoffs this year, and in a very weird game that saw the shot clocks die for the entire second half, the Raptors gave home court to the Brooklyn Nets. The Nets came into a raucus Air Canada Centre and started their playoff campaign with the victory on the road. They weathered the storm of excitement and emotion early, and let the old guys the Toronto Sun dubbed "dinosaurs" handle the end of the contest. Paul Pierce had nine of his 15 points in the fourth quarter and Kevin Garnett's only field goal came in a key stretch near the end of the fourth. 
The Nets were led by Deron Williams and Joe Johnson, who each had 24 points. The Raptors had very spirited stretches fueled by Jonas Valanciunas, Kyle Lowry, and Patrick Patterson, but they couldn't find consistency in their attack. Lowry had 22 points, eight assists, and seven rebounds, while Valanciunas had 17 points and 18 rebounds in the game. The Raptors have to come back on Tuesday night and try to make sure they don't completely drop the ball at home. The Nets will fly back to Brooklyn tonight before traveling back Monday for the game. 
Update 2:33 p.m.: While the game is delayed because the shot clocks aren't working in Toronto, we've got Drake on the Toronto broadcast saying former Nets' part-owner Jay Z is probably eating fondue somewhere:
Update 2:20 p.m.: Jonas Valanciunas kind of looks insane when he's trying to take away the passing vision of his man and you should love it:
Mark Jackson announced who will start in place of Andrew Bogut vs. the Clippers 
Jermaine O'Neal will start and Draymond Green will play a lot, Mark Jackson said

— Marcus Thompson (@ThompsonScribe) April 19, 2014
Update 1:47 p.m.: Kevin Garnett getting into it with a short person? You don't say! That is totally new information! 
Also, Jonas Valanciunas tried taking KG off the dribble. Not a great plan: 
Update: 1:40 p.m.: The Indiana Pacers have ruled out Andrew Bynum from playing in the first round against the Atlanta Hawks but they're hoping he's available in the later round.
Vogel said center Andrew Bynum (knee) might play in the postseason, but he will not play against the Hawks. Bynum has played in just two games since the Pacers signed him in January.

"We're hoping to play for quite some time," Vogel said. "The longer we're able to play and hopefully advance, the better the odds become."
We're as shocked as you are.
Update: 1:17 p.m.: The Raptors had a rally in the streets outside of the Air Canada Centre prior to the game and Masai Ujiri has some interesting parting words for the Raptors' faithful that are definitely not suitable for work or the ears of babes:
(Via SB Nation)
Update 1:05 p.m.: Paul Pierce made a crazy layup in the first quarter vs. Toronto, Nets up early:
UPDATE 12:25 p.m.: 
Officials for Raptors-Nets Game 1 are Ken Mauer, Brian Forte, Ed Malloy. 
The Toronto Sun's front page Saturday: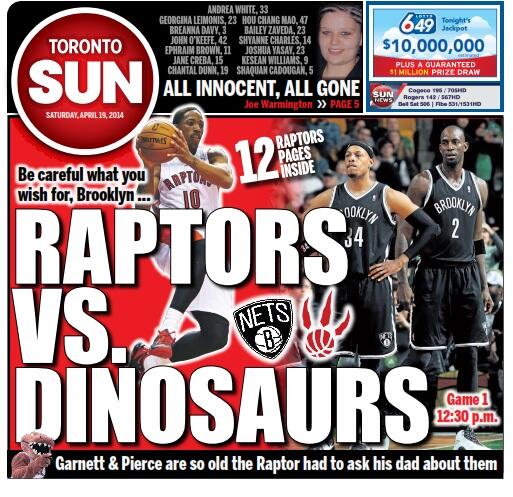 A must-read on how the Raptors' plan to fail went wrong. 
Toronto is nuts this morning:
Kyle Lowry's been shooting for hours before this game: 
DWill watch out RT @cathalkelly: Three hours before tipoff, Kyle Lowry is alone on the court taking jumpers. pic.twitter.com/A3iyQpiKxu

— Raptors Republic (@raptorsrepublic) April 19, 2014
The Thunder are just 12-14 on the season, despite the addition of Paul George and Carmelo...

The then-Heat teammates squared off during the 2011 ECF, but Erik Spoelstra put a stop to the...

SportsLine's Mike McClure, a DFS pro with more than $1M in winnings, gives optimal lineup...
Stephen Oh has his finger on the pulse of the Rockets and just made a pick for Wednesday night's...

Gasol doesn't seem opposed to the idea of a midseason trade

The Ball brothers better put their heads down and focus on basketball, according to Billy...