NBA Playoffs Report Card 5.6.12: Four series move to 3-1
Each night, Eye on Basketball brings you what you need to know about the games of the NBA. From great performances to terrible clock management the report card evaluates and eviscerates the good, the bad, and the ugly from the night that was.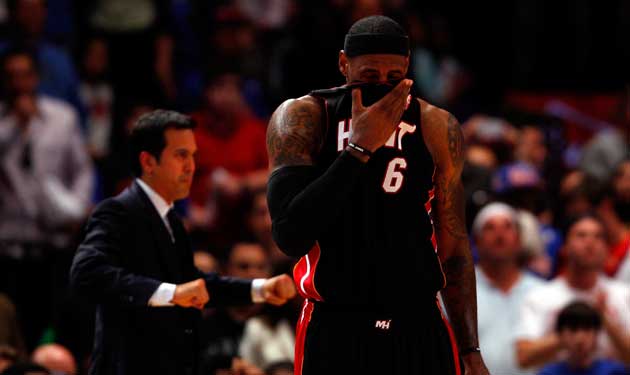 Heat tripped up against the New York Knicks on Sunday. 

(Getty Images)
Each night, Eye on Basketball brings you what you need to know about the games of the NBA. From great performances to terrible clock management the report card evaluates and eviscerates the good, the bad, and the ugly from the night that was. Sunday night's edition compiled by Royce Young and Ben Golliver.

Philadelphia 76ers

It's like the 76ers are part of 

The Hunger Games

 and are the innocent tribute that can't help its predicament and is just doing what it takes to survive. It's not their fault that they're snuffing out a wounded warrior. It's just what they have to do. They've looked far from impressive and haven't made any kind of statement that they're to be feared going forward, but they're winning. They're taking care of their business.

Spencer Hawes

was terrific and the Sixers didn't let anyone on the

Bulls

roster step up and make a difference. It's not necessarily the right or fair way to advance, but it's the situation the 76ers have found themselves in and they're only focused on handling their own business. -- RY

Chicago Bulls
You have to feel for the Bulls. It's just not fair for them. First Derrick Rose. Then Joakim Noah. The Bulls battled in Philadelphia trying to get back into the series, but simply didn't have the offensive horses to make any kind of progress. They now trail 3-1 and it's hard to picture a way back. Amazing to think how far the Bulls have fallen. Remember how everyone questioned how valuable Derrick Rose really was to the Bulls when he won the MVP last season? Yeah, I don't think anyone has any gripes now. -- RY
New York Knicks
It's one of the unwritten rules of the NBA: you get an "A" grade if you win your first postseason game in 11 years. That's what the Knicks did on Sunday, thanks to a surprise appearance from Amar'e Stoudemire, who played quite well (20 points and 10 rebounds) given his insane self-inflicted hand laceration. Carmelo Anthony made a brief starring postseason appearance too, scoring 41 points and adding 6 rebounds and 4 assists. New York almost certainly gets shown the door in Game 5 but at least the Madison Square Garden crowd had something to cheer about. -- BG
Miami Heat
Championship teams make life easy for themselves, not difficult, so it was perplexing to watch the Heat allow a double-digit comeback to the Knicks and then botched the final possession that could have forced overtime or produced a game-winning look. For once, LeBron James wasn't to blame for the meltdown. The good news is that Miami will likely get Indiana in the second round, so they'll have plenty of time to tune up. -- BG
Boston Celtics

Expert analysis: The Celtics are really good when they make lots of shots. Because that's what they did against the

Hawks

. They shot 51.3 percent from the field, hit 11 3s and scored 101 points without breaking much of a sweat.

Paul Pierce

went 10-of-13 from the floor.

Kevin Garnett

6-of-8.

Rajon Rondo

8-of-11. Let me tally that up: That's 24-of-32 from those three. That's 

75 percent

. That's really good. And it basically destroyed the will of the Hawks. Atlanta likely expected to grind out games, play ugly and try and beat the Celtics at their game. You can't prepare for them to shoot the lights out. -- RY

Atlanta Hawks

The Celtics made a whole lot of shots, but the Hawks really didn't show up. When you fall behind 32-19 after a quarter, it's obvious you weren't ready. But most times, teams bounce back. Instead, the Hawks dropped the second quarter 32-22 and essentially sealed their fate in both the game and the series. No real excuses either as they got

Al Horford

back for a few minutes and

Josh Smith

played. Both might not have been 100 percent, but the Hawks should've put on a better face than they did. Now it's 3-1 and while they're headed back home, seeing them responding isn't easy at this point. -- RY

Los Angeles Lakers
The Lakers got back to the pound-it-out style they prefer, outrebounding the Nuggets by 10 while getting 19 points and 7 rebounds from Andrew Bynum in the middle. Keeping the big guy engaged was crucial, as neither team enjoyed much success from behind the arc and none of the Lakers -- not even Kobe Bryant -- was able to consistently get to the free throw line. Steady late-game play and good ball movement on the closing possessions was the difference. L.A. returns home with a chance to close it out. -- BG 
Denver Nuggets
The Nuggets tried, boy did they ever. This was a series-swinging defeat, the kind that will eat at coach George Karl and company during the offseason. Nice efforts from Andre Miller and Danilo Gallinari had Denver in a possession to win this, but a series of empty possessions in the fourth allowed the Lakers to build just enough of a cushion to keep the Nuggets from getting back in it. L.A. is the better team but Denver had a real chance to steal this series -- or at least force it to seven games -- with a win on Sunday. As is, they could very well be done on Tuesday. -- BG 
Ball, who has missed the last 15 games with a sprained MCL, will be on a minutes restricti...

Larry Hartstein is in the midst of his best run of the season and released a pick for Mavericks...

Larry Hartstein has nailed 19 of his last 25 NBA picks and just released a play for Cavs vs....
The defending champs made their own plans after being disinvited to the White House

Stephen Oh has his finger on the pulse of the Rockets and locked in a play for Friday

SportsLine's Mike McClure, a DFS pro with more than $1M in winnings, gives optimal lineup...