NBA playoffs: Rondo or no Rondo, Celtics have issues after Game 1 loss to Hawks
Rajon Rondo may be suspended for Game 2 vs. the Hawks for bumping an official, but the Celtics' issues go much further than that.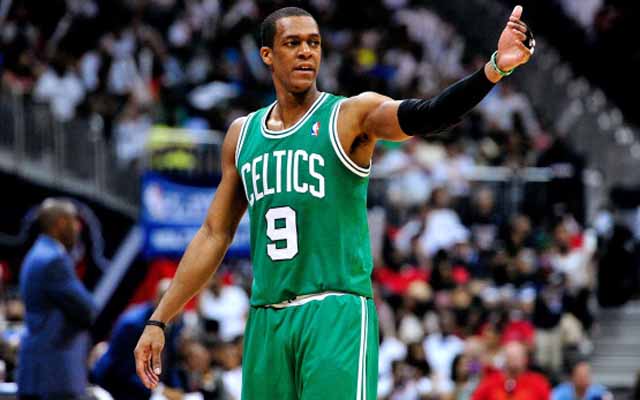 Rajon Rondo might be suspended for Game 2 vs. Atlanta.
(Getty Images)
There will be a lot of talk over the next two days about chest bumps, tripping, bad calls, and the word "intentionally" when it comes to
Atlanta's Game 1 win over Boston
. When
Rajon Rondo
, upset with a coin-flip call on a foul called vs. a tie-up in the closing minutes of Game 1, decided to clap incessantly and scream an officials face, he was assessed a technical.
Not smart, but it happens in the moment. Then he continued walking towards Marc Davis, and then tripped. He didn't trip fully forward. He didn't stumble. He didn't lose his balance. His foot momentarily shuffled. His momentum carried him into Davis, and upon contact, Rondo stuck his chest out, "chest-bumping" him. (
VIDEO: Rondo ejected for behavior and bumping official.
) It was really more of a "bosom-tap" though. If it was between players, it wouldn't have been anything. But it was with an official. The
NBA
rulebook states:
E. PHYSICAL CONTACT—SUSPENSION
Any player or coach guilty of intentional physical contact with an official shall automatically be suspended without pay for one game. (Cont): A fine and/or longer period of suspension willresult if circumstances so dictate.
So if you believe that Rondo's slight shuffle of his feet carried him into the official and that his natural reaction upon tripping is to stick his bosom out to catch his fall, then sure, the NBA can elect not to suspend him. By the letter of the law, Rondo should be suspended. Then again, Rondo threw
Kirk Hinrich
into a table in 2008 and didn't receive a suspension. Given Ron Artest's seven-game suspension or giving James Harden a concussion, there's not telling what the league will do.
The bigger issue for Boston? Their problems go well beyond Rondo.
The Celtics lost to the Hawks 84-73 in a game in which the Hawks lead wire to wire. The Celtics shot 39 percent from the field, but mounted a furious comeback in the second half. They clamped down on defense after a first half in which the Hawks shot 49 percent. They were on the comeback trail. They had momentum. But they couldn't pull it out, and on top of it, their best player in the game and star point guard lost his cool and may be suspended for a game.
There are reasons for Boston to believe this was a fluke, just a bad shooting night.
Kevin Garnett
, who led the league in field goal percentage on open jumpers (among players with at least 50 attempts) according to Synergy Sports, shot 8-19, including 4-13 in the first three quarters.
Brandon Bass
,
Paul Pierce
, no one could get it going. So they can consider that their shots will probably start to fall. But the fact that the Hawks came out and set the tone, and finished off the game should be noted.
Joe Johnson
had an extremely off night (3-15, 11 points), so the Hawks didn't have everything going either. The Celtics were missing
Ray Allen
with an injury. The Hawks were missing
Zaza Pachulia
. The clear outcome of who the better team is is far from settled.
Boston's road to the semifinals against what all of a sudden appears to be a very beatable opponent has become much harder. And the Hawks have set a tone. Everyone has overlooked them. Everyone has made a mistake.
SportsLine simulated Wednesday's Nuggets-Clippers game 10,000 times

Galin Dragiev has his finger on the pulse of the Lakers and just locked in a play for Wedn...

No more McNuggets allowed in the Barnes household
Leonard has played in only nine games this season for San Antonio

Pierce is set to have his jersey retired on Feb. 11, but there's been a lot of controversy...

Thunder will try to beat Lakers for 11th straight time at home