NBA Playoffs: What to watch for Rockets-Warriors Game 2
Golden State will look to take a 2-0 series lead in the Western Conference finals on Thursday.
• 2 min read
Previewing Game 2 of the Western Conference finals between the Golden State Warriors and Houston Rockets (Thursday, 9 p.m. ET, ESPN). The Warriors lead the series 1-0.
THREE KEY QUESTIONS:
1. How healthy/hurt is Dwight Howard?
For the Rockets, the availability and effectiveness of their franchise center is far and away their biggest concern. This spawns several smaller questions, which Matt Moore has already covered. Houston fared better than anyone ever expected when Howard was hurt during the regular season, but that doesn't matter much against the Warriors. It's hard to imagine this team beating the league's best defense and second-best offense -- that still sounds crazy, doesn't it? -- if Howard is hobbled or sidelined. 
Unfortunately, Howard, who has a bruised knee, is listed as questionable. He has played through plenty of pain before, and said he'll listen to his body on this one. If he's not out there, get ready for a lot of Clint Capela, who is quite fun but not as physically imposing.
"Clint [Capela] isn't going to turn into Dwight Howard overnight. He would have to hit the weight room." Kevin McHale

— Ben Golliver (@BenGolliver) May 20, 2015
2. Can Klay Thompson break through offensively?
The less celebrated Splash Brother scored seven quick points in Game 1, but couldn't keep things going after his hot start. He went 1 for 7 in the second half and finished with 15 points on 18 shots, missing six of his seven 3-pointers. Everyone knows he's capable of much more than that.
Thompson shouldn't take too much criticism for that performance, however. He spent his evening chasing around James Harden, forcing him into mostly contested shots. Harden made most of them anyway, but that was hardly Thompson's fault. The question now is whether or not he can play elite two-way basketball next time around. The Warriors should be trying to push the ball and wear Harden out on the other end. 
3. Can the Rockets slow Stephen Curry even a little bit?
The simple answer is probably "no," as the entire NBA has collectively failed to stop him. That's why he's the MVP. Houston, however, allowed Curry to get open way too many times on Tuesday. He scored 34 points on 13-for-22 shooting, making six of his 11 3-point attempts and dishing five assists.
Patrick Beverley's not walking through that door, but the Rockets still need to prevent Curry from getting comfortable. They can't afford to make mistakes. He's going to make some tough shots, but he shouldn't see lots of easy ones. Thirteen of his 22 shots were uncontested in Game 1, per NBA.com.
THE HIGHLIGHT: Speaking of tough Stephen Curry shots ...
BONUS HIGHLIGHT: If you were thinking we were going to preview Game 2 without revisiting the Riley Curry show, you are horribly mistaken.
ONE KEY NUMBER: 70. That's the number of passes Draymond Green made in the series opener, per NBA.com. He touched the ball 88 times. For context, James Harden had 93 touches and 58 passes. Stephen Curry had 89 touches and 63 passes. Trevor Ariza, who Green compared to himself on Wednesday, had 56 touches and 41 passes.
Green's defensive versatility has earned him endless praise this season, but we should also appreciate just how much he does for the Warriors' offense. It would be hard to design a more complementary power forward for this roster -- he's always looking to keep the ball moving, and he's a much better playmaker than he's given credit for. Few stretch 4s can pull off the drive-and-kick stuff that Green does regularly.
He finished with 13 points, 12 rebounds, eight assists and two steals in 43 minutes in Game 1. Houston would love to lessen his overall impact, but that's tough to do when you're so worried about Curry and Thompson.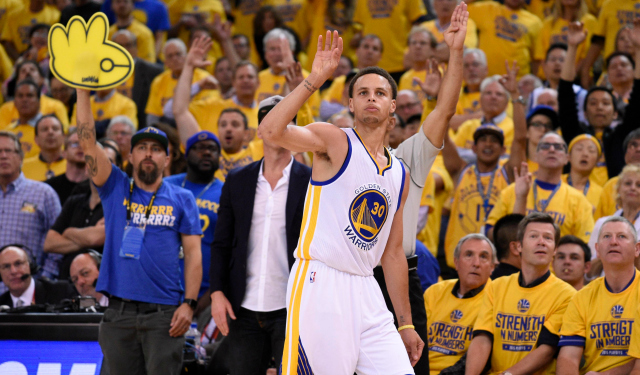 Jonah Keri talks to with Ringer author, and Grantland alum Shea Serrano

Green left the Warriors' opening night game vs. Houston with what the team is calling a knee...

Portis left Nikola Mirotic with facial fractures and a concussion after an altercation in Tuesday...
Bill Reiter and Reid Forgrave react to Hayward's injury and discuss Celtics, Cavs, Rockets...

In his Cavs debut, Rose's timely cut opened up Kevin Love for a 3-pointer which sealed the...

If the 21-year-old wing takes the next step, Washington could be much more dangerous this time...