NBA Quarterly Report: Pacers, Heat coming up aces in the East
We're roughly quarter of the way into the NBA season. Our experts grade each team and pick the best rookie and overall player for each division. Up first: the Eastern Conference.
by

Eye on Basketball staff

• 11 min read
Teams are all roughly 21 games into the NBA season, so it's time to hand out some evaluations after the first quarter of play. We'll do two installments, starting with the Eastern Conference. We've graded each team on a five-star scale and have given our picks for best rookie and overall player from each division. The season is still young, but it's already been thrilling with surprising parity between the East and the West -- the dominance of the Warriors notwithstanding. No one has really stepped forward as a legitimate challenger to Golden State outside of San Antonio (and maybe Cleveland) but there's still a lot to take in. Here's our Eastern quarterly report.
Read: Western Conference Quarterly Report
Atlantic Division

Toronto Raptors (12-9)
-- They've had injury troubles and a tough schedule (two games vs. the Warriors already) and yet they're still leading the division. There are signs of concern -- their continued reliance on foul calls being a major one -- but there's also a lot of reason to believe this team is better than last year's first-round flameout. They're holding steady with a top 15 defense even after facing some of the better offenses and Kyle Lowry continues to shine. I'm still not sure if a reliance on DeMar DeRozan with his level of usage is a good thing due to his inability to shoot from the outside, but DeMarre Carroll has brought a lot and Cory Joseph has been fantastic off the bench. They're still searching for a higher gear and need to get Jonas Valanciunasback, but overall, this looks like a very good Eastern Conference team, one I have fewer questions about than most. 

Boston Celtics  (11-9)
-- I get a little worn out on the "Brad Stevens is a mystical being who can see beyond this dimension" talk. There are times when this team doesn't execute, elements of the team's role players that are being ascribed to things they can't efficiently or effectively do. For all the talk of his wizardry, Boston is 26th in points per possession on after-timeout plays, per Synergy Sports. I say all this as a preface to how important this is: Brad Stevens is a remarkable coach. Kelly Olynyk is a great -- not good, not plus, not decent, but great -- defender suddenly, and Stevens has built a team that capitalizes on opportunities nearly better than anyone. The Celtics are smart and effective defensively, and even though the offense has not been good, they're so good defensively they have a top-10 net rating in points per possession. And they've done this with Marcus Smartmissing significant time. Boston is a dangerous team that's still finding itself. 

New York Knicks (10-11)
-- Kristaps Porzingis gets five stars. I was tempted to give them four just because they're the Knicks and suddenly are fun to watch and have a bright future. There are still things to wonder about, like Jerian Grant' development, or the high percentage of ISO possessions, and some of the rotations seem a little funky. But overall, this team is making the most out of what it's got, and playing a fun brand of basketball to boot. It's been a long time since Knicks fans have had this much to feel good about, with no looming doom hanging over their heads. 

Brooklyn Nets (5-15)
-- The Nets kind of sneak up on you as a bad team. There's no real blaring red alert as far as a terrible roster or outstanding awful coaching decisions. They're not the Lakers or the Sixers. They just ... don't work. It takes very little digging to see that they just do not function well as a unit. There are times when they're competitive, but it's almost always gone the next game. The franchise needs a restart ... again. Regrettably, with their picks situation, that's not happening any time soon. 

Philadelphia 76ers (1-20)
-- When a team that has deliberately tried to lose as many games as it could while aiming for draft picks takes a major step backward, well, you get this: a one-win team in the month of December. The Sixers' tough defense from a year ago has fallen to shreds and their offense has not been boosted by the additions of supposed shooters. They are a total disaster. But at least Joel Embiid is on a completely conceptual and indefinite timeline for his return, and Jahlil Okafor is already in hot water over several off-court incidents. Other than that, things are going great! Trust the Process!
The NBA season is around 21 games in for each team, and it's time to take a look at the first quarter of the season and hand out some evaluations. We've graded each team on a five-star scale and have given our picks for best rookie and overall player. The season is still young, but it's already been thrilling with the rise of the Warriors and the shocking amount of parity between the East and the West. No one has really stepped forward as a legitimate challenger to Golden State outside of San Antonio (and maybe Cleveland) but there's still a lot to take in. Here's our quarterly report. Up first, the Eastern Conference.
Division MVP: 
Kyle Lowry, Toronto Raptors -- I so badly want to put Kelly Olynyk here as he has transformed the Celtics defense, and man, is that a weird sentence to type. But I'll go with Kyle Lowry. Lowry came into the season slimmer, bolder, faster, and has been playing out of his mind. DeMar DeRozan has been pedestrian and Lowry remains the one player on the Raptors who can turn a game in a handful of possessions. It's a copout, but this really is "best player on the best team.
Division ROY:
Kristaps Porzingis, New York Knicks -- His name is Kristaps Porzingis and he owns The Apple. I gave the Knicks an "A" on draft night, which is the only thing saving me from looking like a total fool because I felt it would be three to four years before we knew what he is on the floor in the NBA. Instead we figured it out in the first month, and what he is a monster. A total and complete monster. He's draining shots, making smart plays, blocking everything, dunking on fools and has captured the imagination of the league and the hearts of every single Knicks fan on the planet. He's right there with Towns for ROY of the league and looks like a transformative player for the Knicks franchise. -- Matt Moore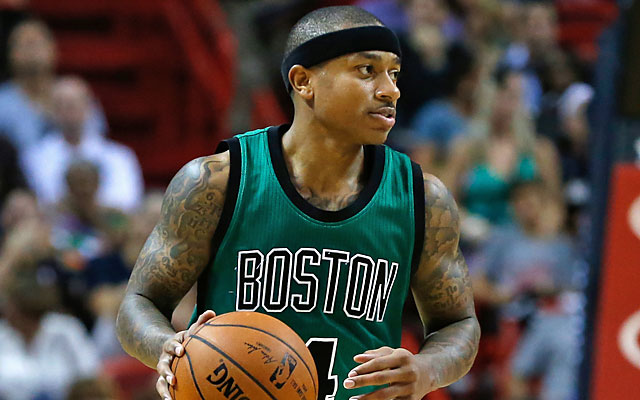 Central Division

Cleveland Cavaliers (13-7)
-- They're still clearly the best team in the Eastern Conference, and in general they've done a fine job without their starting backcourt. With LeBron James and Kevin Love on the same team, though, it shouldn't be surprising that Cleveland has one of the league's best offenses. The defense has been a bit disappointing, and it's hard to get that excited about the Cavs when you watch what the defending champs are doing. 

Chicago Bulls (11-6)
-- Shrug. Fred Holberg was supposed to reinvigorate the Bulls' offense, and he absolutely has not. Derrick Rose has largely been ineffective and the bigs have largely been inconsistent. Chicago has the talent and time to improve, but it has not been particularly impressive thus far. 

Indiana Pacers (12-7)
-- After a rough start, the Pacers have been elite on both ends of the court, surprising many who wrote them off after they parted ways with Roy Hibbert and David West. Paul George has played the best basketball of his life, but I'd like to mention C.J. Miles here -- the forward might be the most underappreciated player in the NBA. His ability to make 3s and guard power forwards, like Harrison Barnes does in Golden State's smallball lineups, is what has allowed Indiana to keep George comfortable and change its style of play. 

Detroit Pistons (11-9)
-- Their bench is a problem, their shooting has been rough, but it's easy to feel good about their future. Andre Drummond looks like a franchise player despite his free-throw issues, and Reggie Jackson is a perfect pick-and-roll partner for him. Stan Van Gundy's system will work with those two, but they are a few moves -- and some internal development -- away from being a real threat. The defense has been extremely encouraging. 

Milwaukee Bucks (8-13)
-- They shouldn't be quite this bad all season, but it's been a rough start. Milwaukee made some real progress last year, but it seems to miss the shooting of Brandon Knight, the defense of Zaza Pachulia and the savvy of Jared Dudley. Greg Monroe's numbers are basically the same as they were in Detroit, but he's had a harmful effect on the defense. Jason Kidd has his work cut out for him to get the Bucks back in the playoffs. 
Division MVP:
Paul George, Indiana Pacers -- By the numbers, this one is close. LeBron James has a slight edge in real plus-minus and PER. George has a slight edge in win shares and true shooting percentage. James has way more assists, but George is shooting way better from deep. I'm going to give this to George, though, based on what he's done with a Pacers team that could have gone either way. He put the burden on himself to get Indiana back to where it was a couple of years ago, and he's the biggest reason why it is in the top 10 in both offensive and defensive efficiency. What a story, and what a comeback. 
Division ROY:
Myles Turner, Stanley Johnson (tie) -- Before breaking his hand, Turner looked like a real steal for the Pacers, who selected him with the No. 11 pick in June. The 6-foot-11 center with a 7-4 wingspan showed polish and promise -- he shot 55.3 percent in seven games prior to the injury, scoring inside and outside and protecting the paint. Johnson has not been efficient on offense, but he's seen consistent minutes in Stan Van Gundy's rotation for 20 games. His 3-point shot has been a lot better lately, and he had a 19-point, 10-rebound performance against the Houston Rockets last week. -- James Herbert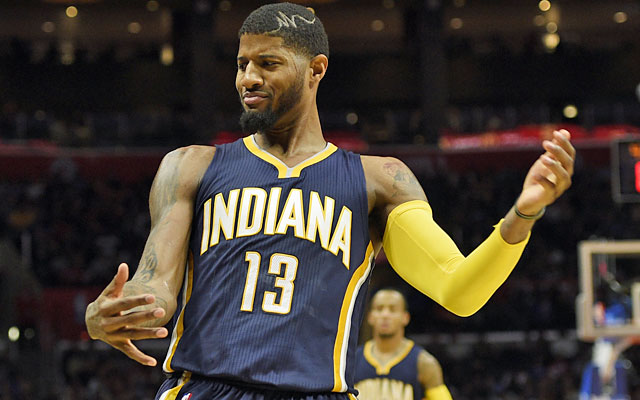 Southeast Division

Miami Heat (12-6)
-- The Miami Heat sit atop the Eastern Conference as of this writing and have been one of the most intriguing teams in the NBA. They have a lot of star power and have used that to navigate a fairly easy schedule. The key for their success has been the inspired play of their bench unit, and Hassan Whiteside proving that his 48 games of success last year weren't flukes. The schedule starts to get tougher for them, but they built up a buffer in the schedule and some continuity on the court.

Atlanta Hawks (13-9)
-- Hawks have done a good job of managing the first quarter of the season while dealing with bringing guys back from injuries. Kyle Korver's ankle recovery is still going, even with him missing just two games, and they've been working Thabo Sefolosha back into the mix pretty well too. Paul Millsap and Al Horford have been spectacular to make up for a lesser defense and a surprisingly low 3-point accuracy (12th in the NBA). 

Charlotte Hornets (11-8)
-- The first quarter for the Hornets has gone about as well as you could hope for. They've integrated a new perimeter-heavy offense quite well, and became a top-5 offense in the process. Considering they were 28th last season, that's a pretty quick grasp of Steve Clifford's appreciation for the 3-point shot. Toughest challenges they face are getting Al Jefferson healthy from his calf injury and finding a way to keep the recent hot shooting of Kemba Walker as a sustainable force.

Orlando Magic (11-9)
-- Scott Skiles comes in and makes things ugly, but he also finds ways to maximize his roster's potential immediately. Once the Magic figured out the balance of having Elfrid Payton and Victor Oladipo in the game but not together too much, they really started to take off. Skiles has taken all of that athleticism and youth and harnessed it into a top-7 defense so far this season. At a certain point, their offense has to come around though and a lot of that starts with Oladipo regaining his shooting touch.

Washington Wizards (8-10)
-- Even the 2 stars feel generous here. The Wizards were supposed to take their smallball success in the playoffs and extrapolate that into regular-season success. It was supposed to maximize the backcourt of John Wall and Bradley Beal. We've seen Beal take a step forward, while Wall seems to be struggling below his typically gaudy standards. And the questions about Randy Wittman's coaching come right back into play. Maybe they'll build during the second half of the season and turn it on in the postseason again, but this isn't the start we were looking for.
Division MVP:
Paul Millsap, Atlanta Hawks -- He just edges out Hassan Whiteside for me because the Hawks are more reliant on what Millsap does than the Heat are with Whiteside. Whiteside's shot blocking has been spectacular, but Millsap's overall defense is more impressive and versatile. Plus, the Hawks use the passing attack of Millsap so well within their "sharing is caring" offensive system that juxtaposing that with Whiteside rarely passing just adds a bit more to Millsap's side of the ledger. But it's a very close debate. 
Division ROY:
Justise Winslow, Miami Heat -- Part of this is because there isn't a lot to offer from the rest of the teams. Frank Kaminsky in Charlotte, Mario Hezonja in Orlando, and Kelly Oubre in Washington just don't have much of a résumé at this point. Winslow has also been an incredible defender and seems to make things happen without putting a ton of stats on the board. At some point, they'll get him comfortable shooting the ball and he'll be a must-start for them. For now, he's the perfect energizer off the bench. -- Zach Harper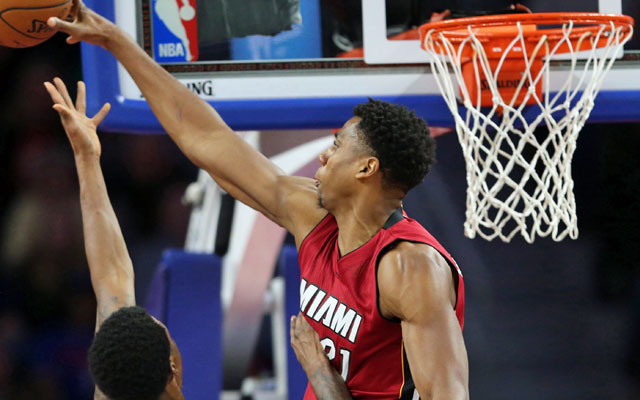 CBS Sports HQ Daily Newsletter
Get the best highlights and stories - yeah, just the good stuff handpicked by our team to start your day.
Please check the opt-in box to acknowledge that you would like to subscribe.
Thanks for signing up!
Keep an eye on your inbox for the latest sports news.
Sorry!
There was an error processing your subscription.
The Bucks got an impressive road win over the Raptors

The Suns are looking for some backcourt help and a draft pick

Bulls players refused to practice on Sunday after 56-point loss to Celtics
Embiid said earlier in the week that he was frustrated with his role offensively since the...

Green has been sidelined for nearly a month

A regularly updated look at the injuries that are causing the biggest stir across the NBA