NBA Regular Season Awards: Durant the MVP pick -- and not an easy one
LeBron or KD for MVP? Good luck picking one for this season -- or for years to come. But other end-of-season honors are easier to settle on. We dish out our picks.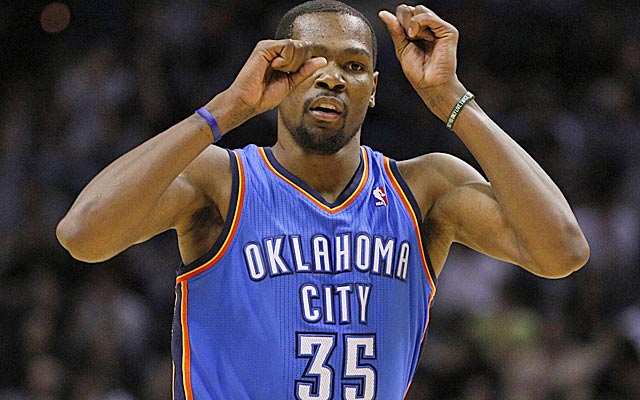 More NBA: Staff picks for awards | Power Rankings | Final grades: West | East
Making the case for LeBron James or Kevin Durant as the 2013-14 MVP equates to an exercise in futility, sort of like trying to guard either one of them.
It isn't that there's a lack of evidence -- statistical or otherwise -- for one to cite as proof that LeBron or KD was the best, most valuable player in the NBA this season. There is ample proof on either side. The problem is, whichever one you choose, there's an equally impressive array or tangibles and intangibles to make just as strong a case for the other.
If you focus on James' all-around greatness in carrying the two-time defending champions to the brink of nabbing the No. 1 seed in the face of three-peat fatigue and the absence of running mate Dwyane Wade for more than a third of the season, what does that get you? Only a strong counter-argument from the Durant camp citing the fact that the Thunder wound up with the same No. 2 seed in the West and were without Russell Westbrook for eight more games than the Heat were without Wade.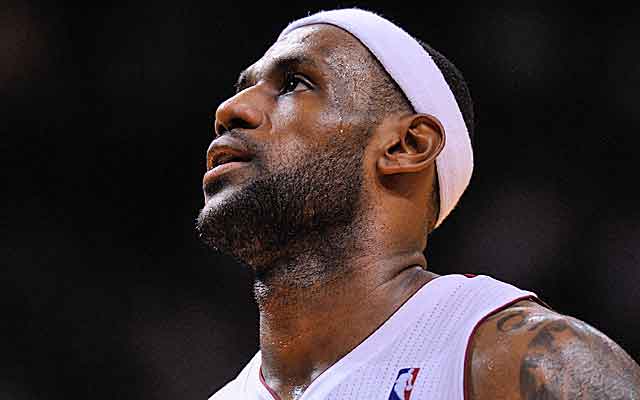 If you cite Durant's streak of 41 consecutive 25-point games, his 4.6-point margin over Carmelo Anthony in securing his fourth scoring title, all you get is a sound rebuttal citing James' 61-point game against defensively respectable Charlotte in March and his elite defensive ability and versatility, which routinely gets overlooked and taken for granted when it comes time to dole out regular season awards. (Guilty as charged.)
In the end, sometimes we complicate these awards picks more than we need to. Choosing James or Durant for MVP doesn't diminish the overall body of work on either side. It's simply a question of who had the best year. With Durant's historic assault on the record books and the hapless competition, it's difficult to argue that he shouldn't get the nod this time.
Durant is only the fourth player in NBA history to average at least 32 points, seven rebounds and five assists, joining Elgin Baylor, Wilt Chamberlain and Michael Jordan. The fact that his production skyrocketed -- and the Thunder's performance didn't wane -- with Westbrook out of the lineup isn't an indictment, but rather a boon to his MVP case.
Behind Durant's brilliance, the Thunder didn't quite catch the Spurs for the No. 1 seed in the West, but they surely handled San Antonio with a 4-0 regular season sweep that will make their potential meeting in the conference finals all the more intriguing.
So I'm going with Durant this time. If you've got LeBron? I won't argue with you. It's that close, and likely will be for years to come between these two. Here's how I voted.
Berger's ballot: 1. Durant, 2. James, 3. Blake Griffin, Clippers, 4. Joakim Noah, Bulls, 5. Stephen Curry, Warriors
Most Improved: Goran Dragic
Under new GM Ryan McDonough and first-year head coach Jeff Hornacek, the Suns figured they'd be cruising through the 2013-14 season with a lottery pick at the end of the rainbow. It turns out they will have a premier pick in this anticipated draft (to go with multiple other non-lottery picks from trades), but not by design. With a coach-of-the-year worthy performance from Hornacek and vast improvement from several rotation players, the Suns pushed for the eighth seed in the competitive West all the way to the final week of the regular season.
A strong argument could be made for teammates Markieff Morris, Gerald Green and Miles Plumlee for most-improved honors. But nobody in the desert or league-wide stood out more than Goran Dragic , who in a similar sampling of games and minutes played increased his scoring average from 14.7 to 20.3 and shot a career-high 51 percent from the field and 41 percent from the 3-point line. So El Dragon didn't just get this incredibly amusing Slovenian music video made in his honor. He also got my vote in the always subjective and competitive most-improved race.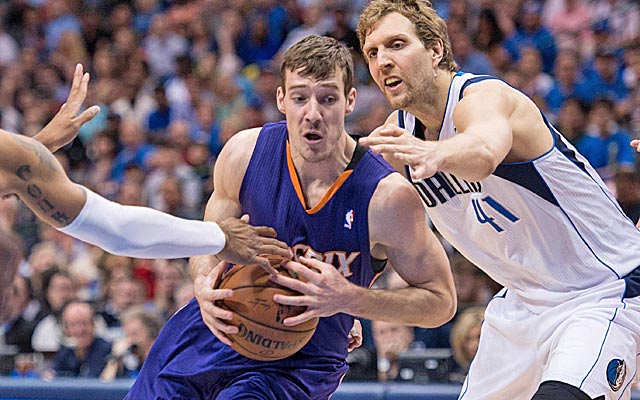 Berger's ballot:1. Dragic, 2. Kyle Lowry, Raptors, 3. DeAndre Jordan, Clippers
Defensive Player of the Year: Joakim Noah
There's no questioning Noah's vastly expanded role in the Bulls' offense with Derrick Rose missing nearly the entire season for the second straight year. There's no doubt he's one of the most interesting characters in the NBA. His defensive impact? That's always been a given, and this year, Noah raised his level of play on the defensive end enough to stand out in what is always a hotly contested race.
Noah's graceful footwork, instincts and communication make him one of the best big men in the league at defending the pick-and-roll, the staple of NBA offense. On nearly eight attempts at the rim per game, Noah held opponents to .467 shooting this season. (The Pacers' Roy Hibbert, who fell to second on my ballot due to his and Indiana's late-season slump, held opponents to .415 shooting at the rim on 9.8 attempts per game. Interesting, irrelevant note: The worst guy in the league in that category who played at least 50 games and defended at least seven shots at the rim per game? Kevin Love, who allowed a .572 percentage in those situations.)
The fact that Chicago was second in the league in defensive efficiency -- and got stingier after Luol Deng was traded in January -- can be attributed to Noah's presence as a rim protector, pick-and-roll disruptor and overall defensive maestro. Noah's on-court/off-court stats were hardly overwhelming, but that can be attributed to the fact that when Noah was off the court, the magnificent Taj Gibson typically was on it.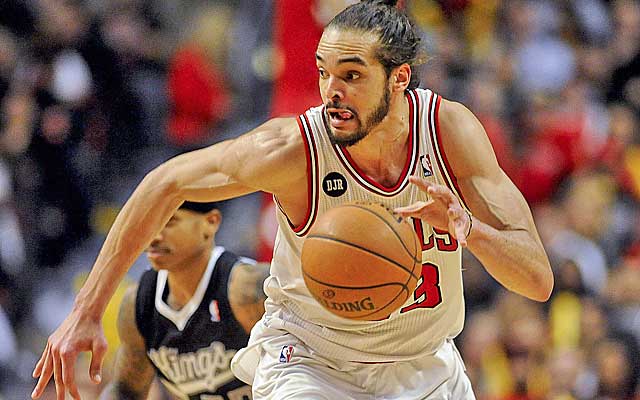 You could have a legitimate list of 10 deserving candidates for the third spot on the defensive player of the year ballot. My first- and second-team All-Defense votes were fraught with positional anomalies.
For example, the only way to get the closest approximation of the 10 best defenders in the league while still having a realistic positional breakdown of two forwards, two guards and one center was to consider 'guards' to be wings (which allowed me to squeeze Andre Iguodala onto my first team and Paul George and Kawhi Leonard onto my second team) and to equate forwards with frontcourt players (which gave Andrew Bogut a well-deserved spot on the second team).
With so many deserving candidates, I gave my third-place vote for DPOY to Iguodala, who held the top-five scoring small forwards in the league to 42 percent shooting, made a 6.5-point difference in defensive rating when he was on the floor and lifted the Warriors to No. 3 in defensive efficiency (while sending his former team, the Nuggets, plummeting to 21st).
Berger's ballot: 1. Noah, 2. Roy Hibbert, Pacers, 3. Andre Iguodala, Warriors
Sixth Man of the Year: Jamal Crawford
Every year, there's a new challenger to Jamal Crawford's sixth-man award. At this point, the NBA should just name it after him. After all these years, nobody does it better.
In his second season with the Clippers, Crawford, 34, upped his scoring and assists averages substantially and was ranked among MVP candidates in fourth-quarter scoring. His field-goal and 3-point percentages also go up in crunch time, proving once again that he provides the kind of instant offense off the bench that has become the hallmark of this award.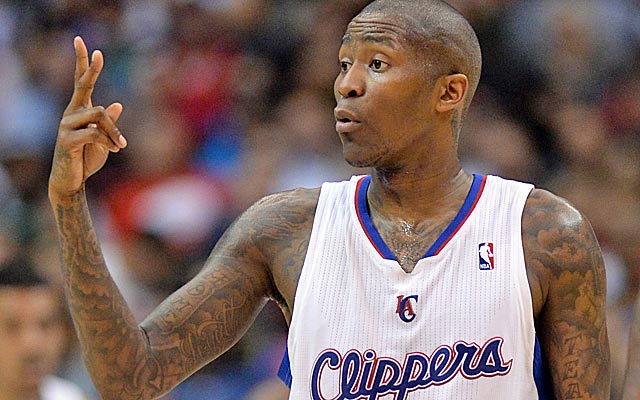 Berger's ballot: 1. Crawford, 2. Taj Gibson, 3. Manu Ginobili, Spurs
Rookie of the Year: Michael Carter-Williams
The 2013 draft was mediocre at best, but nothing about Michael Carter-Williams' rookie season in Philadelphia was average. The 11th pick out of Syracuse soared past more heralded names to become only the third player to lead all rookies in scoring, rebounding and assists. At least we know that MCW wasn't tanking.
Berger's ballot: 1. Carter-Williams, 2. Victor Oladipo, Magic, 3. Tim Hardaway Jr., Knicks
Coach of the Year: Gregg Popovich, Spurs
Perhaps the most subjective of the NBA's regular season awards, the coach of the year is in the eye of the beholder. Jeff Hornacek's miracle-working with the supposedly tanking Suns was more than worthy. Tom Thibodeau's methodical approach without Derrick Rose for a second straight season was nothing short of eye-catching. Steve Clifford deserves a parade in Charlotte for coaching 43 wins out of the Bobcats.
But how can you not admire the brilliance of San Antonio's Gregg Popovich in guiding the Spurs to the league's best record five or six years after everyone thought the Spurs were done?
Remember when everyone used to get mad at Pop for resting players and robbing the TV audience and paying customers of their hard-earned entertainment dollars? Now many others coaches in NBA cities near you are seeing the wisdom of saving something for the playoffs.
What's amazing is that Popovich managed to capture the league's best record while overseeing the NBA's first operation not to have a single player average 30 minutes a game since the NBA-ABA merger.
If you want to accuse me of just a hint of lifetime-achievement-award consideration, given Popovich's incredible run of 15 consecutive 50-win seasons, then I'm guilty as charged. As good as many of his deserving colleagues are, there's simply nobody currently coaching in the NBA who runs a team and executes a vision as well as Pop.
Berger's ballot:1. Popovich, 2. Jeff Hornacek, Suns, 3. Tom Thibodeau, Bulls
Berger's All-NBA ballots
First team
F-LeBron James, Heat
F-Kevin Durant, Thunder
C-Joakim Noah, Bulls
G-Chris Paul, Clippers
G-Stephen Curry, Warriors
Second team
F-Blake Griffin, Clippers
F-Carmelo Anthony, Knicks
C-Dwight Howard, Rockets
G-James Harden, Rockets
G-John Wall, Wizards
Third team
F-Paul George, Pacers
F-Kevin Love, Timberwolves
C-Al Jefferson, Bobcats
G-Russell Westbrook, Thunder
G-Goran Dragic, Suns
The Rockets are gunning for their 10th consecutive win

Victor Oladipo just wants to live his life and enjoy his breakout season with his new team

Keep it right here for all of the news, notes, scores, and highlights from around the Asso...
LeBron has a player option for next season, and is expected to opt out and become a free a...

The Pistons will be looking to snap a five-game losing streak when they host the Celtics on...

Bryant offers some advice for Ball and other rookies about having a sense of urgency in the...