NBA says Kobe Bryant was fouled by Dahntay Jones at end of game
The NBA has ruled that there was a missed call at the end of the Lakers-Hawks game when Dahntay Jones and Kobe Bryant collided.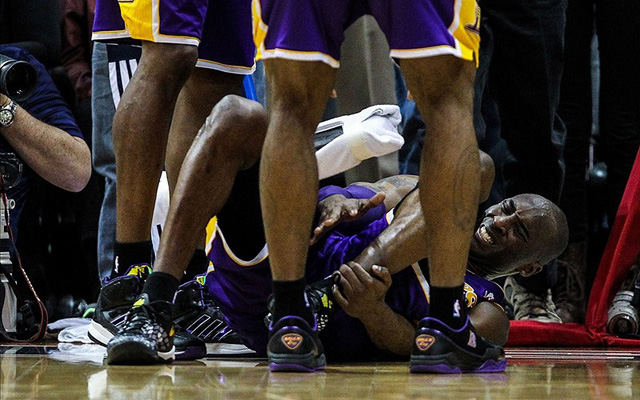 At the end of the Los Angeles Lakers' game against the Atlanta Hawks on Wednesday night, Kobe Bryant drove to the right baseline, rose up for a jumper over Dahntay Jones, and missed the shot that could have tied the game with just a couple seconds left. Bryant suffered a severe ankle sprain from coming down on Jones' foot. 
After many debated whether or not it was an intentional injury caused by Jones or if it should have even been an offensive foul by Bryant for kicking his legs out on the shot, the NBA has declared Jones should have been called for a foul for not letting Bryant land safely. From NBA.com:
With 3.9 seconds remaining in the Atlanta Hawks' 96-92 win over the Los Angeles Lakers on March 13, the Lakers' Kobe Bryant attempted a jump shot over the Hawks' Dahntay Jones. After review at the league office, video replay confirmed that referees missed a foul call on Jones as he challenged Bryant's shot and did not give him the opportunity to land cleanly back on the floor. Bryant should have been granted two free throws. 
This doesn't decide any of the conjecture going around about Jones being a dirty player, but it does resolve that the NBA feels the Lakers should have had another chance to tie the game at the free throw line. Bryant seemed to be in incredible pain, but would he have sucked it up and gone to the line to shoot the two free throws if the foul had been called?
If he had to leave the game, the Hawks would have been able to select anybody from the Lakers' bench to shoot the two free throws. They probably would have told Robert Sacre to do it, leaving nobody on the bench to celebrate the two made free throws to tie the game. 
Regardless, the Lakers would have been down a man in some respect.
Westbrook's late layup gave the Thunder a 109-108 victory

LeBron became the seventh player in league history to reach the milestone

There were a few things that stood out from Tuesday's All-Star selections
Here are three players from each conference who had legitimate claims to make the game

LeBron achieved the milestone in the first quarter Tuesday

Here are the full lineups for the 2018 NBA All-Star Game