NBA sets four-year deadline for new Kings arena or can reclaim team
The NBA has set a series of benchmarks for the new Sacramento ownership group to complete arena projects or risk losing the team.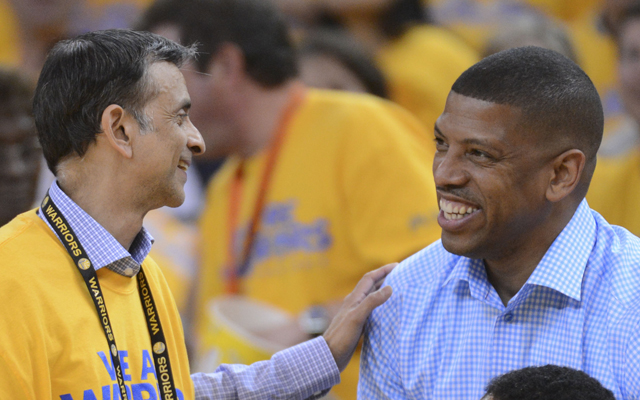 The nightmare is over for Kings fans. The team is safe in Sacramento and won't be going anywhere ... well, for four years at least. The NBA has placed a deadline on the new ownership group lead by Vivek Ranadive to construct a new arena, or the league may actually reclaim the team. From the Sacramento Bee: 
Hours after Vivek Ranadive and his partners completed the record-setting purchase of the franchise from the Maloof family, NBA Commissioner David Stern revealed that the Ranadive group must meet "a series of benchmarks" for a new arena - or risk losing the Kings to another city.

If deadlines are blown, Stern told The Sacramento Bee, the NBA has the option of pulling the Kings out of Sacramento and arranging for the team's sale to new owners.

The Ranadive group agreed to the deadlines in writing, Stern said.

Stern said he doesn't expect Sacramento to miss its deadlines, but league owners insisted on the doomsday option "in the unlikely event" Sacramento can't get the arena project rolling in a "reasonable" amount of time.
It's a unique situation I can't remember reading about in the history of the league. "Here, we're going to allow you to buy this team, but if you don't do these things we want, we're going to take it away from you." Then again, the league just told the Maloofs they couldn't sell the team to who they wanted to or move it where they wanted, so at least they're consistent. 
The league is requesting the new building open by 2017, a year after the ownership group promised it would. Four years should be enough time, but with the market conditions and with Ranadive without an NBA track record, there will still be concern. So Sacramento fans are out of the woods ... for a while.
Keep it right here for all of the news, notes, scores, and highlights from around the Asso...

LeBron has a player option for next season, and is expected to opt out and become a free a...

The Pistons will be looking to snap a five-game losing streak when they host the Celtics on...
Bryant offers some advice for Ball and other rookies about having a sense of urgency in the...

Burks has stepped up in a big way for the Jazz, averaging over 20 points per game since Rodney...

Nooooooo James Harden don't do Noah Vonleh like that