NBA, sports world react to death of Lakers owner Jerry Buss
Following the death of Jerry Buss on Monday morning, the sports world reacted to share its thoughts and pay respects to the longtime Lakers owner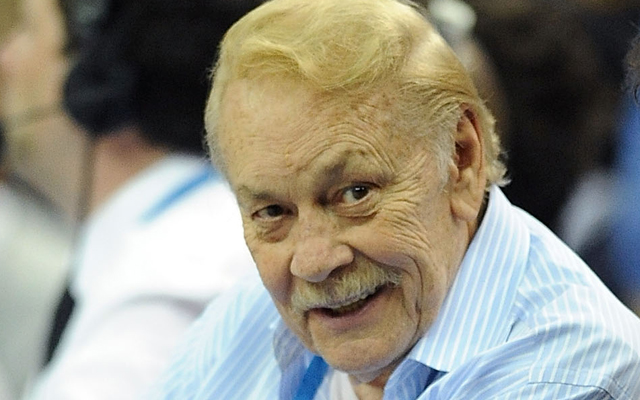 The sports world reacted to the passing of Buss Monday.
(Getty Images)
Following the death of Jerry Buss on Monday morning, the sports world reacted to share its thoughts and pay respects to the longtime Lakers owner. 
NBA Commissioner David Stern released the following statement: 
"The NBA has lost a visionary owner whose influence on our league is incalculable and will be felt for decades to come. More importantly, we have lost a dear and valued friend. Our thoughts are with the family at this difficult time."
Mavericks owner Mark Cuban tweeted his respect for the longtime Lakers owner. 
RIP Jerry Buss. Your encouragement and support along with your stories of staying true to yourself had an enormous impact on me.

— Mark Cuban (@mcuban) February 18, 2013
Cuban has enjoyed a long-standing rivalry with the Lakers but has always shown a great amount of respect for Buss and his legacy. Many consider Cuban to be the "new Buss" with his aggressive approach to overhauling how a league operates.
Cuban has been outspoken, featuring a more adversarial relationship with the league and Stern, but underneath his public bluster Cuban has always shown a deep respect for the great owners in the NBA. 
Lakers legend James Worthy also shared his thoughts on Twitter: 
Condolences to the Buss family. Dr Buss was not only the greatest sports owner, but a true friend & just a really cool guy. Loved him dearly
— James Worthy (@James_Worthy42) February 18, 2013
Worthy played 12 years with the Lakers, winning three titles. He currently serves as a studio analyst on Time Warner Cable Sportsnet in L.A.
Other players, executives, media, and sports entities shared their thoughts on Buss' passing Monday:
RIP Dr. The Legend Jerry Buss, one of the reason growing up in a LA was great, what you did for the Lakers & the NBA Is legendary.

— Nick Young (@NickSwagyPYoung) February 18, 2013
Jerry Buss was so cool he should be in the rock and roll hall of fame . He will be missed.

— Chris Rock (@chrisrock) February 18, 2013
Jerry Buss made great contributions to the sporting landscape of Los Angeles and America and was a true champion in every sense of the word.

— Los Angeles Dodgers (@Dodgers) February 18, 2013
My thoughts and prayers are with the Buss family. Dr. Jerry Buss was like a Dad to me and is a tremendous loss to @lakers fam. @jeaniebuss

— Dennis Rodman (@dennisrodman) February 18, 2013
Jerry Buss wasn't just the greatest owner in NBA history. He was, arguably, the greatest owner in the history of pro sports. #RIP

— Bonnie Bernstein (@BonnieBernstein) February 18, 2013
RIP to the legend Jerry Buss

— Kevin Durant (@KDTrey5) February 18, 2013
Huge loss for the @nba and the basketball world. RIP Jerry Buss.

— Kevin Love (@kevinlove) February 18, 2013
#RIP Jerry Buss.

— LeBron James (@KingJames) February 18, 2013
Rest in peace to the gr8est owner in all of sports. Dr.Jerry Buss. #NBA

— nick vanexel (@vanexel31) February 18, 2013
Thoughts and Prayers to the family, friends, and fans of Dr Buss! Basketball has lost a giant! God Bless

— Mark Jackson (@JacksonMark13) February 18, 2013
R.I.P. Jerry Buss the NBA has lost a true pioneer

— Billy King (@bkdefend) February 18, 2013
Really sorry to hear about Dr. Buss. Jerry R.I.P. my friend

— Micky Arison (@MickyArison) February 18, 2013
On behalf of the entire 76ers organization, we send sincere condolences to the Buss family and all at the Lakers. A great man has left us.

— Adam Aron (@SixersCEOAdam) February 18, 2013
R.I.P Jerry Buss

— Eric Gordon (@TheofficialEG10) February 18, 2013
A report last week indicated Charlotte is looking to move Walker, along with one of its hefty...

Barea responds by claiming that none of Wall's teammates like him; the Wizards continue to...

Cousins finished with 44 points, 24 rebounds, and 10 assists
Love left Saturday's game, which the Cavs lost 148-124, due to illness

Kidd was fired by the Bucks on Monday afternoon

We've got all the scores, highlights and news from an NBA Monday