NBA Store posts Dwight Howard Nets shirt for sale
The NBA Store website posted a Dwight Howard Nets t-shirt Tuesday night in anticipation of the Magic center's transition through free agency or trade to the future Brooklyn Nets. Problem is, at the time, he was on the floor for the Magic.
Tuesday night as Dwight Howard was defeating the Heat in what many felt was the last home game for him as a member of the Orlando Magic (a notion he publicly asked against afterwards), NBAStore.com unveiled a new product item.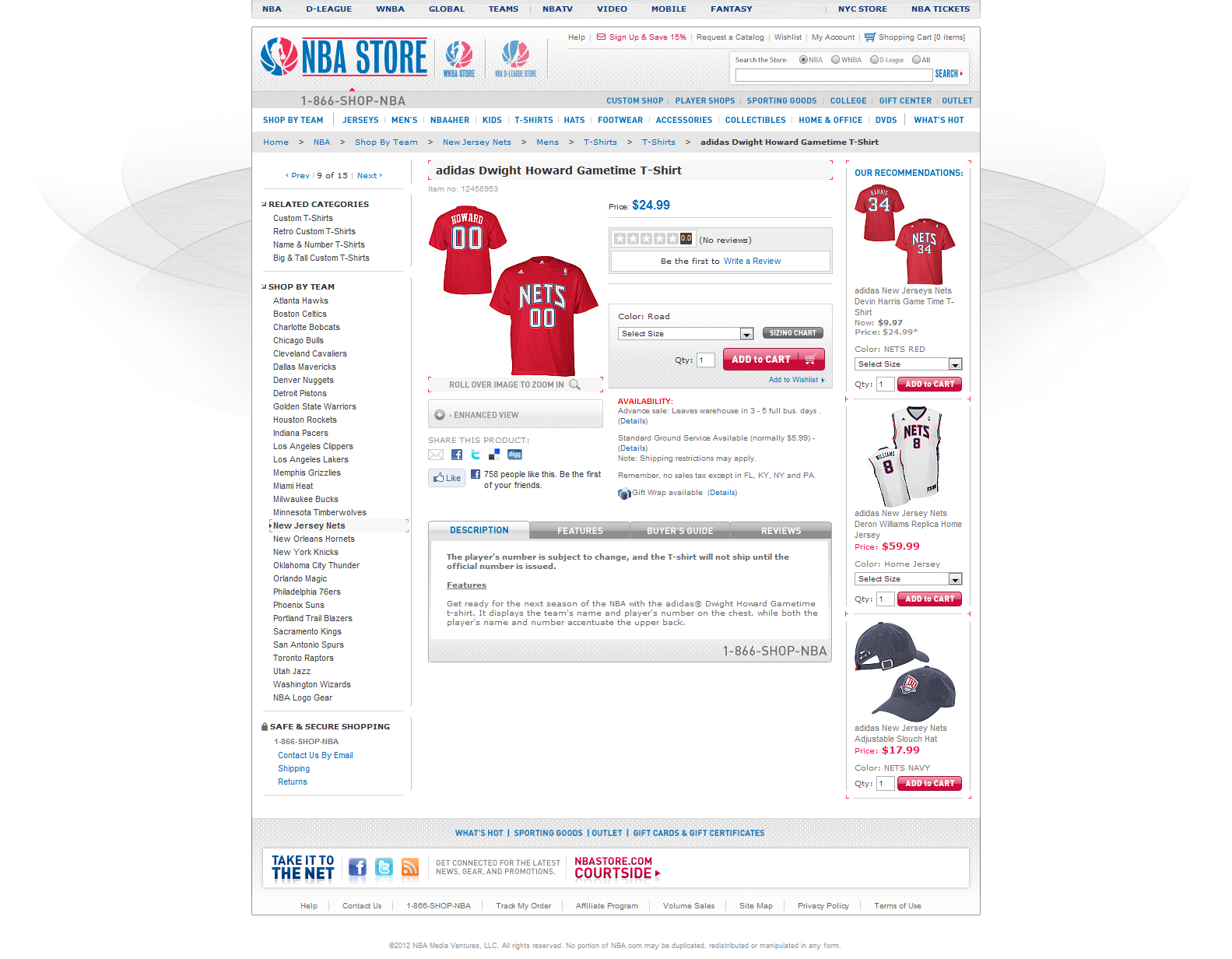 Yup. Click for larger image. 
(NBAStore.com)
That's right, it's a
Dwight Howard Nets
t-shirt. While he's under contract with the Magic, playing for the Magic, with two days till the deadline. 
Classy. The shirt has since been removed. 
Howard is reportedly very much leaning towards
joining the Nets in free agency if necessary or trade should the Magic choose that approach, or was, before the Magic's thrilling overtime win over the Souteast-division-leading Heat.  So it would make sense that there would be an effort to get out in front of this. But consider what this represents. 
The
NBA
locked out is players for four months, creating this chaotic, barbaric schedule in part because of the outcry from owners over the players' ability to dictate where they wanted to go in free agency prior to entering it. Now here's the NBA not only allowing this charade in Orlando to go on after facilitating a trade for Chris Paul to the Clippers instead of forcing him to swallow the money lost by signing elsewhere, but profiting over the hype and hysteria of Howard's seemingly inevitable transition to Brooklyn.
Hey, whatever sells, right?
The more this season progresses, the more you understand why Mark Cuban feels the lockout was such a colossal waste of time for both sides.
Bryant said that execution is the key to taking on 'the big guys'

KD finished with a career-high seven blocks in the Warriors' win over the Pelicans

Rose left Friday night's game with a sprained ankle, and is expected to miss at least one...
Ball, who finished with 29 points, 11 rebounds and nine assists, came up big down the final...

Lakers rookie got his shot to fall, thanks in part to some of the worst defense you will ever...

The singer of the national anthem at the Nets game took a knee at the end